Wedding Invitation Mockup | 25+ Creative Designer card & ticket Template: Wedding is undoubtedly one of the most important days. We do every possible thing to make it memorable, including opting for the best possible Wedding Invitation card. The couple who will take the vow to spend the rest of their life together and their close friends and relatives spend significant time finding the wedding Invitation card that will best suit the wedding theme.
If you haven't found something striking yet, we present all the latest and impressive design wedding invitation mockups. Invitation cards are the critical part of getting entry to any place, whether it is a concert, cinema hall, event, or another program, including a wedding. Editing these invitation cards are very much comfortable. The only thing you need to have is Adobe creative Cloud 4+, and you can edit any of this Wedding Invitation Mockup the way you want.
In this particular post, we will share with you some of the latest and striking wedding invitation tickets designs mockups that you can download for free and can use for your wedding invitation tickets. We provided here all the Invitation tickets in Photoshop PSD formats. You can download the structure and can edit it in photoshop.
Also, Check – 
UNLIMITED DOWNLOADS: 500,000+ Product Mockups & Design Assets
We also customize various mockups at Fiverr. If you want to get any of you design personalize as per your wish, then you can freely text.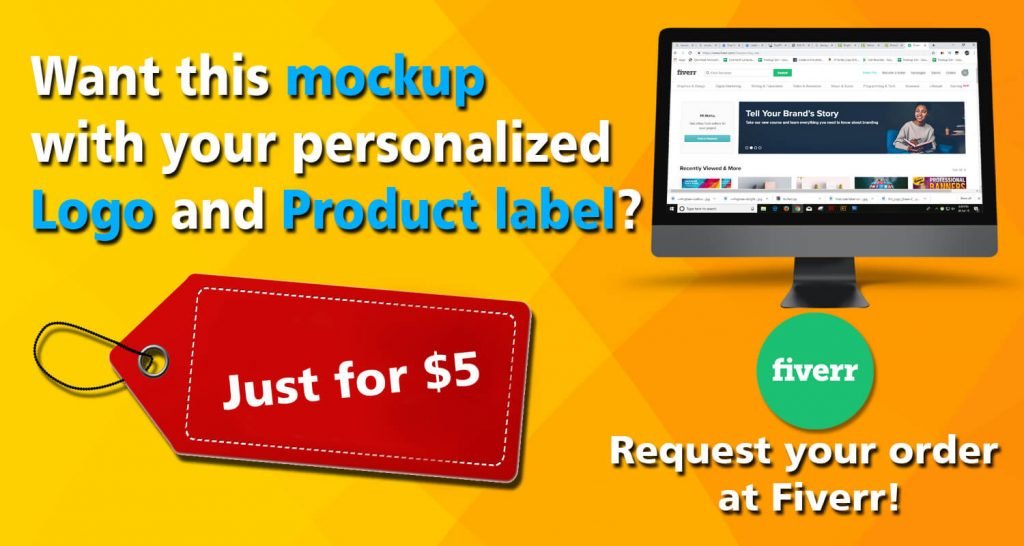 ______________________________________________________________________
Mockupden Exclusive Free Wedding Invitation Mockup PSD Files for our Visitors:

Updated New Inclusion on 11/06/2021
Free Wedding Invitation Mockup PSD Template
Free Creative Design Invitation Card Mockup PSD Template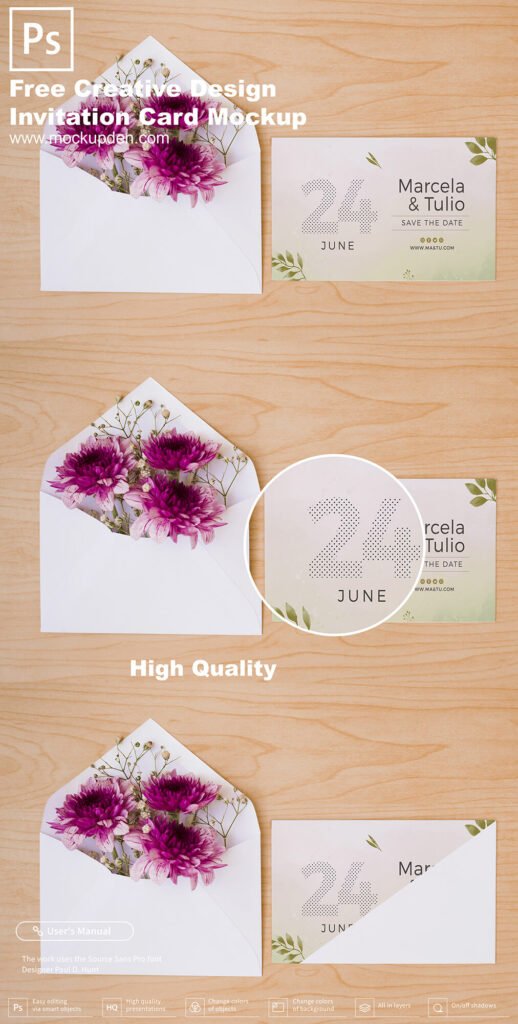 #1 Floral theme Wedding Invitation Mockup PSD
This flowery-themed retro look wedding invitation Card Mockups could be an automatic choice if you have planned your wedding on a floral theme. This sophisticated, designed card is one of the best option available. Free to download, and you can customize as the.PSD has the smart editable layers.
#2 Folded Wedding Invitation Mockup
This ready-made photo realistic wedding card invitation will help you to showcase your design in style. This Smart-Object featured Mockup is quite easy to edit and can be changed effortlessly.
Key features 
File Size: 3000×2000px.
08 different Mockup available.
Smart Object enabled for easy and quick customization.
RGB Colors.
300 Dpi.
#3 Ornamented Wedding Invitation Mockup
#4 Wedding Invitation Jacket Mock-up
Show your Wedding Invitation designer card in style! This mockup will enable you to Create a realistic Wedding Invitation Jacket display in few seconds with the ready-made 4000×2666px high-resolution File.
Key features 
File Size: 4000×2666px
Smart Object for easy customization
Easily changeable background color.
5 different Mockup
Things to consider while designing wedding invitation cards:
A wedding is one such occasion we strive to make perfect and memorable that we can cherish for the rest of our lives. So as a designer, you should make sure the wedding invitation card also stands out and has all the essential details. Keeping in mind all the weddings are different, which calls for additional perspective and information to be included in the card, there are some common attributes and features you should not miss. Keep this checklist in your mind while working for creating an invitation card design from scratch.
1. Couple's Names, Date, Timing & location of the wedding: The first and foremost things you should always check for the names of the couple's date, timing, and location of the marriage is mentioned in the proper place of the card with bold letters that it could be noticed right at first glance by the receiver.
2. Theme based or not, if yes, then mention the AttireWell this is one such details which may vary from occasion to occasion. Before starting working on the design, gather all the information from the couple if they wish to have a theme wedding. Once they confirm, you would like to mention that at the top right or bottom of the card and what attire is expected from the guests. The standard forms of attires are Formal, semi-Formal, Cocktail Attire, and casual.
 3. Reception details and program schedule: Do not forget to include all the program schedule and reception details that guests have to wonder that they can expect.
4. Maps, Direction, Rehearsal Dinners, Brunches, and many other things: Apart from all the details mentioned above, you may wish to add things like maps and direction of the wedding venue, rehearsal dinner, and any other specific details which are worth including.
#5 Elegant Wedding or Engagement Invitation Mockup PSD

#6 Accordion Wedding Invitation Mockup
#7 Gorgeous Styled Invitation Card Mockups + PSD
This gorgeous styled stock mockups will enable you to Showcase your beautiful wedding invitations and designs. With the clean and neat placeholder design, your artwork will take center stage for sure.
#8 Simple Yet Classy Wedding Invitation Mockup PSD
#9 Green Foliage Wedding Card Mock Up
#10 Eucalyptus Wedding Card Suite Mockup
#11 Wedding Design Kit Mockup
#12 Blank Wedding Ticket Mockup:
The above Blank Ticket Mockup with the dark background is the perfect simple wedding ticket design. There are four ticket variations. You can download this PSD file design from here, and by editing in photoshop, you can insert your name and program details.
Key Features:
PSD file.
1913 x 1352 Px.
4 ticket variation.
200 dpi.
Printable.
#13 Creative Wedding Invitation Mockup:
This is the creative wedding invitation card mockup/portfolio with very good layered and background. This portfolio contains PSD files, with 300 dpi RGB. You can buy this striking card and can insert your name on it through editing it in photoshop.
Key Features:
AI & PSD File.
5.5×2 +bleed.
300 dpi, RGB.
2 different color.
#14 Single Color Wedding Invitation Mockup:
This is the single color editable wedding invitation ticket mockup with 300 DPI and 5.5 x 2 bleed size. This available color wedding invitation ticket mockup has a well-organized layer, and you can insert your name in this by editing it from photoshop.
Key Features:
300 dpi.
5.5 x 2 +bleed.
Editable mockup.
2 different designs.
#15 Creative Weeding Invitation Mockup:
Have this creative Wedding invitation ticket downloaded from here for free. You can download this PSD 1400 x 1400 px ticket mockup file and can insert your name through editing it on photoshop.
Key Features:
1400 x 1400 px size.
PSD file.
Striking background.
#16 Dark Background Weeding Invitation Mockup:
This fascinating dark background wedding invitation mockup is of 300 dpi PSD file of 9.25 x 4 with bleed size. You can get from here five different colors of it, which are fully customizable.
Key Features:
300 dpi image.
5 different colors.
Fully customizable.
9.25 x 4 with bleed size.
#17 Bicolor Weeding Invitation Ticket Mockup:
#18 Red Background Weeding Invitation Mockup:
#19 Old Style Weeding Invitation Mockup:
#20 Simple Wedding Invitation Mockup:
#21 The Wedding Invitation Mockup PSD

#22 Wedding Invitation Mockup Suite
#23 Handdrawn floral wedding invitation card Premium Psd
#24 Watercolor invitation template, wedding stationery set Premium Psd
#25 Wedding Invitation