Candy Bar Mockup | 37+ Candy Bar PSD Packaging Template: Earlier we have published a roundup on 20+ Free & Premium Chocolate Packaging PSD Templates and thought of creating a separate post for Candy bar mockup which you can use for marketing purpose, new year's offer promotion, product branding, marketing campaign or even for Halloween offers as well. If you are a designer and looking for some Candy bar packaging design idea to utilize in your project, then explore these 37+ Candy Bar PSD Packaging Templates which is fresh and features brand new packaging design style. Use these templates to create a memorable branding campaign and stand out from the rest.
This diversified list of Candy bar packaging design templates will give you enough alternatives to use in any requirement. They are professionally designed with innovative ideas, complementing related background, excellent presentation format and above all, have multiple well-organized layers for effortless personalized customization. For customization related assistance, consult added help file.
Also check,
UNLIMITED DOWNLOADS: 500,000+ Product Mockups & Design Assets
In case, if you want to get any one of these design customize, then we can help you out in that at Fiverr.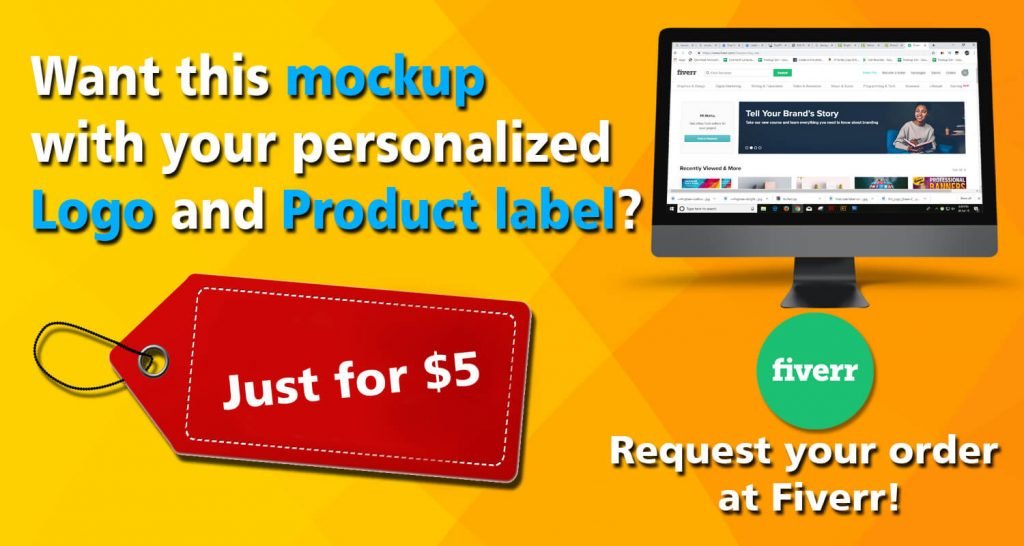 _______________________________________________________________________
Mockupden Exclusive Free Candy Bar Mockup PSD Files for our Visitors:

Updated New Inclusion on 10/06/2021
Free Candy Mockup PSD Template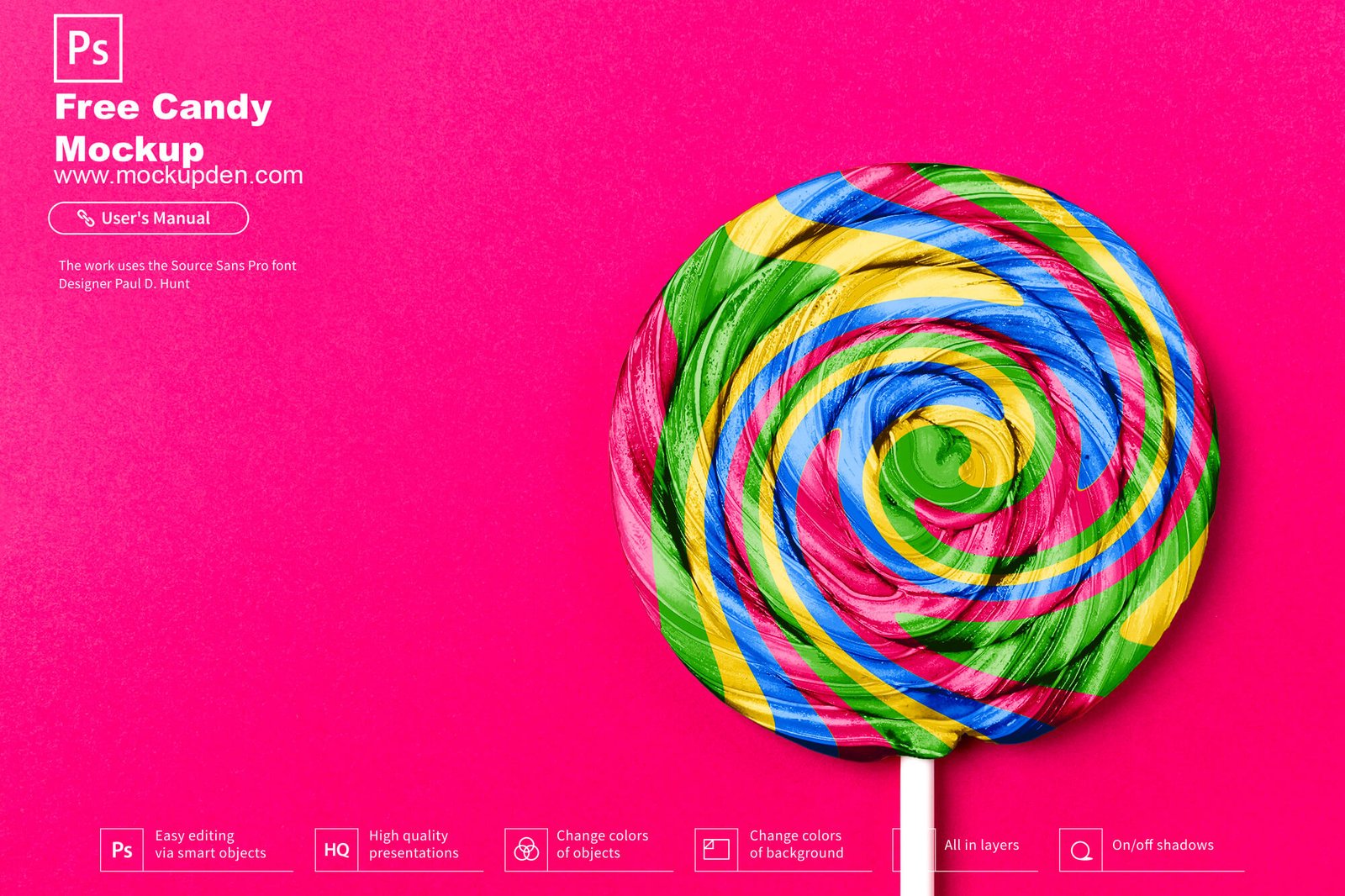 Free Candy Bar Mockup PSD Template
#01

– Bar of Candy Mockup:
#02

 – Finger Sized Candy Cover Mockup:
There are three different designs of candy cover given in this mockup. The package has some realistic design printed all over the body. You have the option of working with three color brown, pink or yellow. The package designs have texts printed which you can remove using the smart object in the PSD file and insert the name of your Company. By this way, you will create a good-looking customized branding.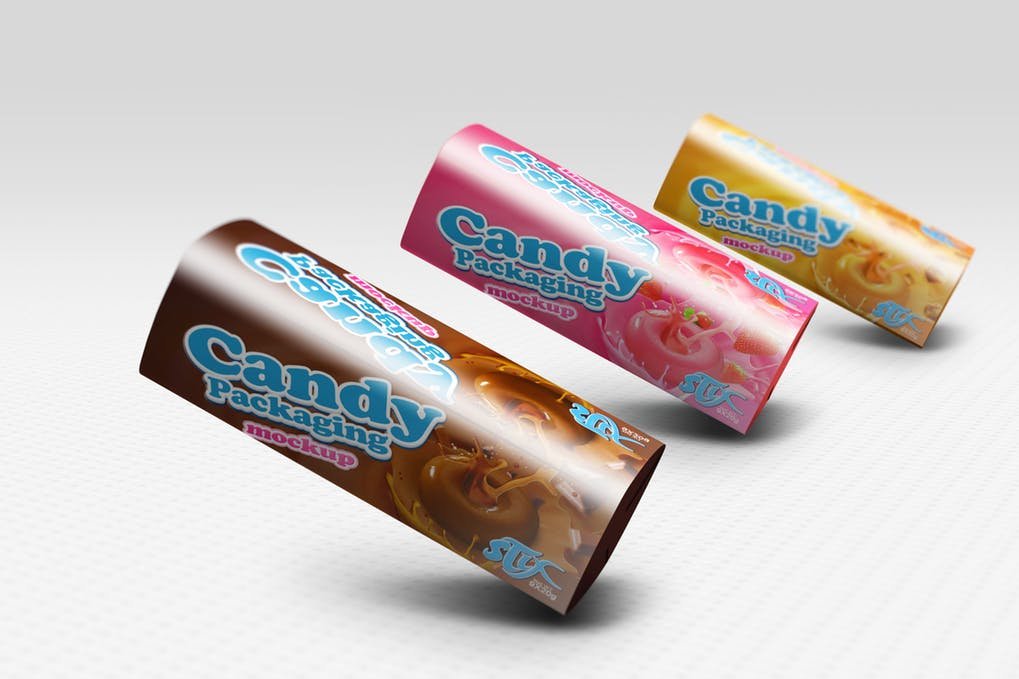 #03

 – Customizable Candy Package Design Mockup:
In this mockup, you will find a closeup of a person's hand holding a candy bar. The package is straightforward with no pictures or even details about the product, but you can take the opportunity to populate those filed according to your need. With the help of editing software, you can make alterations like changing the color combination, inserting some pictures, the name of the Company etc.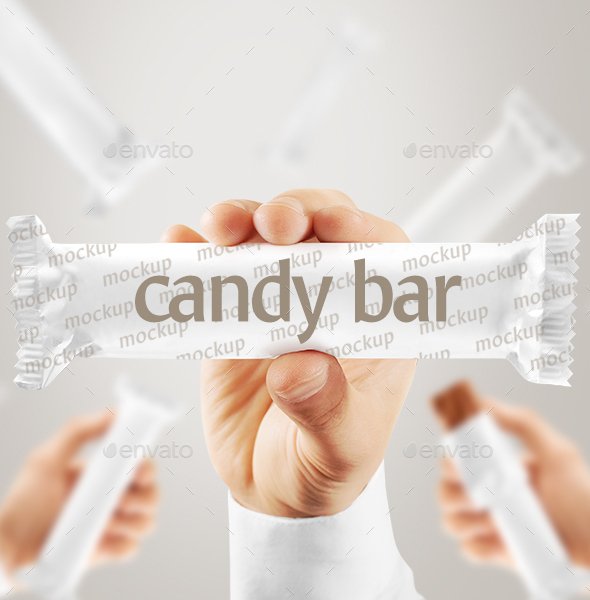 #04

– Realistic Peach Candy Mockup:
#05

– Simple Candy Bar Mockup:
#06

– Multiple Design of Candies Vector Mockup:
#07

– Colorful Candies Vector:
#08

– Happy Candies Vector Illustration:
#09

– Layered Package Design of Candy Mockup:
#10

– Coffee Candy Mockup:
#11

 – Candy Packet Design Mockup:
You can see three single colored candy packages in this mockup illustration. This package has outstanding contrasting color options as candies are popping out from a colored fluid. Well, to the package design you can insert your Company name and also the details about the candy. The flavours, preservatives added may also be mentioned at the posterior portion of the package. This template offers 1 Snack bag Packaging in two different front and back view, which have four plastic finishes; metallic gloss /matte, gloss and matte features. Separated shadow & Light will let you customize the 2000×2000px, 72dpi image conveniently through Well organized and named layers.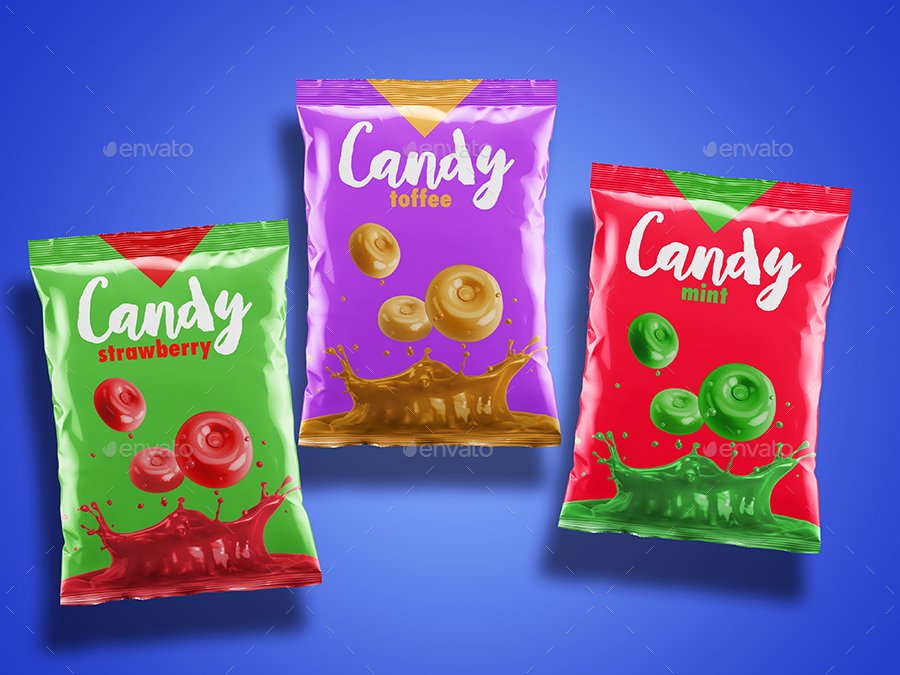 #12

 – Candy With Stick Vector:
Two candies option is included in this vector design. Each of the candie has a long stick which provides a firm grip. To make modifications in this vector design, you must extract the file first and then do the needful.

#13

 – Candies with Colorful Wrappers Picture:
This particular image illustration may be used as a background image in any food or candy-related project. There are an innumerable number of candies given in this picture. Each has a colorful wrapping around it.

#14

 – Set of 3 Candies Vector Mockup:
Another vector representation which shows three candies. These three candies have different shape and sizes and have a realistic print view as well.
#15

 – Candy With Ribbon Tied Mockup:
This mockup is featuring a handful of candies is found lying on a blue surface. You may notice a unique feature, and the wrapping papers have a print of a Halloween look geometric shapes. There is also a pink ribbon tied along to provide a presentable and classy look.

#16

– Halloween Candies Picture JPG:
#17

– Editable Bar of Candy Package Mockup:
#18

– Transparent Candy Wrapper PSD Design Mockup:
#19

– Colorful Candies PSD Mockup:
#20

 – Textured Candy Wrappers PSD Mockup:
Some realistic designs of candies is included in this mockup design. Blue, Purple and Green colored wrapped candies is placed on the surface. The text "Candy" may be edited by using the Photoshop software.

#21

– Editable Colored Candy PSD Mockup:
#22

 – Candy With Starry wrapping paper Vector:
This candy has a beautiful plastic paper wrapped around it. There are stars all over the plastic wrapper. With the Adobe Illustrator file, you may change the color option included in this vector file.
#23

– Spiral Candy Mockup Vector:
#24

– Candies with Transparent Wrappers Photo:
#25

– Christmas and Candies Mockup:
#26

 – Mouth Freshener Candy Mockup:
A mouth freshener candy is what you see in the picture given below. A handful of candies are seen to be within the small box. There's a label present right at the top which one can to brand your company. A Minimalist background is being used to make the project stand out in this High quality/resolution file of| 5400×3600 | 18″ x12″ | 300dpi mockup.

#27.

Chocolate Bar With Its Packet Mockup.
Here we are presenting a packaging wrapper for your candies and chocolates. In this image, a chocolate bar is placed along side its packaging packet in an editable background.
#28.

A Table Full Of Candies PSD Mockup. 
This high-resolution picture of 3648*5472 px presenting a table which is fully covered with different types of candies and chocolate. By using the Photoshop app, you can replace those candies with others and make a transparent background.

#29.

Wrapper Of A Candy Bar PSD Template



#30.

Kraft Snack Bar Mockup. 



#31.

Delightful Wedding Candy Bar PSD Mockup. 



#32.

Chocolate Candy Packaging Mockup.



#33. Candy Bar Mockup

 On A Dessert Table PSD Template. 
The desserts on the table are well separated. There's a vast quantity of candies placed in this wedding table. This ideal projects is about 3648*5472 px in size and are fully customizable in all aspects by using adobe Photoshop app.
#34.

Chocolate And Candy Bar Mockup Design.

 

#35.

Colorful Candy Bar At The Wedding PSD Mockup. 



#36.

Nutrition Candy Bar Mockup.
In this mockup, there are three different packaging labels for your candy bar and chocolate bar. Each labels have different graphic layered which are easy to use and flexible.

#37.

Different Kinds Of Candy Bar Mockup. 
This archive contains high-resolution and editable files. For creating your own combination, there is no limits upon changing the color, or background effects.