Best Chocolate Box Mockup | 22+ Free & Premium Chocolate Packaging PSD Templates – There's no introduction needed for chocolate; chocolate is love! There are hundreds of renowned chocolate brands in the market that are being consumed daily all over the world. Chocolate is a kind of food product which requires to have great packaging along with great taste because of the market segment it belongs to is highly competitive. It is a proven fact that having great packaging can help a company build a reliable brand and boost a particular product type. For all the companies trying to rebuild their branding awareness campaign, launch a new chocolate product, or have taken alternative marketing strategies to establish their chocolate brand, we can look forward to our 20+ outstanding Chocolate Box Mockup PSD template samples to use in their campaign.
Also, Check – 
Our Chocolate box mockup list is diversified in nature, featuring different customizable chocolate packaging. All you have to do is select the best chocolate box packaging you think would work best for your branding campaign, open that sample file with Photoshop, edit the company logo and brand product name along with product details through smart layers, and that's it, you have just created your own personalized chocolate box packaging!
Please be aware and our list comprises free and premium chocolate box mockup. Free design files can be downloaded from the respective links just by clicking at the download button, whereas premium files require you to pay the fee before downloading and customizing those files. Check out the Creative market's offers from here.
 Also check,
UNLIMITED DOWNLOADS: 500,000+ Product Mockups & Design Assets
If you are looking to personalize any mockup design, then you can contact us at Fiverr were we can help you out.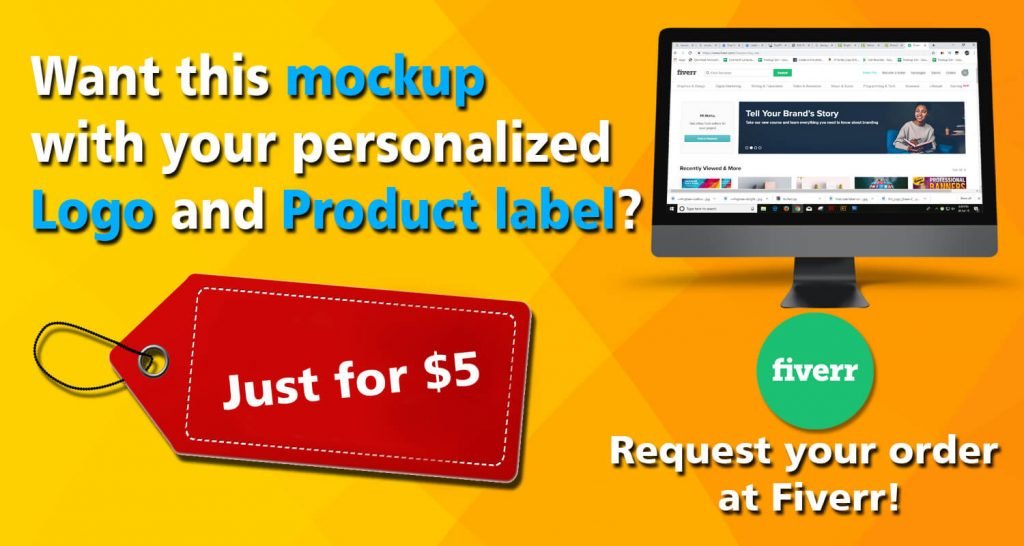 _______________________________________________________________________
Mockupden Exclusive Free Chocolate Box Mockup PSD Files for our Visitors:

Updated New Inclusion on 09/06/2021
Free Chocolate Box Mockup PSD Template
#1. 

Open

 Chocolate Bar Box Mockup
This box mockup can contain different chocolate bars. The box is prepared by using two different color shades, pink and purple. This mockup design is changeable in different colors and designs. The layers of this mockup are well-organized with a great white colored background. The colors are changeable with Photoshop. The resolution of these 4 different views comes at 3000*3000PX.

#2. Chocolate Box Mockup With Heart Shape Chocolate
This chocolate mockup box is made for special occasions. The packaging of this mockup will protect your chocolates. The outer layer of this mockup is red, and the inner portion is dark black. The color may be changed to your choice by using editing software such as Photoshop. You can insert your required text in the card, placed at the top of the box. This mockup is placed on a light-colored wooden table to deliver a beautiful presentation.
#3. Pink Chocolate Box Mockup PSD File
This beautiful mockup box has been prepared to packaging your chocolate in different shapes and sizes in a pink colored box. There are two types of containers, one is square, and the other is heart-shaped. The box's upper surface is in a square pattern with white dots, and a ribbon is placed in the middle. The background has a fantastic texture in light-pink colored, customized to your choice by professional editing tools or Photoshop.
#4.

Three Different Color

 Chocolate Box Mockup
Show your creative packaging design idea with this new mockup. Here in this mockup, there are three different colors in different colors that are customizable in your favorite color. You can change the logo of this mockup to your brand or company through the smart object feature. This mockup has well-organized layers and four types of paper, such as black paper, gold paper, aluminum paper, and craft paper. The resolution of this mockup is 3000*2000px.

#5.

 Golden Color Chocolate Box Mockup
There is a massive collection of chocolate mockup box, but this mockup has got something special for you. This mockup box is placed on a transparent surface. The color is of this square mockup box is golden, with a shiny red ribbon is attached at the top of the box for a beautiful gesture. Place a large number of chocolates inside this 3000*3000px box. Different editing tools can change the color and shape of the mockup box. Place the name of your brand on the box and add a design or texture to the background.
Things to keep in mind while choosing your chocolate brand packaging!
As we mentioned above, branding is one of the most crucial parts of business success, and packaging is the backbone factor of branding success. So while choosing the packaging design for your chocolate brand, there are some essential things you should keep in mind.
Chocolate has different flavors and ingredients. So while choosing the packaging, make sure it has complementing or the same color combination as the product favor type.

Primarily the targeted customer segment for Chocolate is kids, and kids love flashy attractive things. Make sure you choose an appealing packaging design for Chocolate that kids fall in love with the product's looks before even they taste it. If the product has the desired quality, in no time you will witness your sale starts zooming!

If you already have a presence in the market or established your brand with other product types in the same category, do not forget to utilize that to your advantage. Use your company brand most prominently to harvest the benefits.

Ensure that on the backside of the chocolate packaging bears the list of all ingredients used to produce that particular chocolate type.
#6.

 

Red Heart Shape

Chocolate Box Mockup
This mockup box has the most attractive look compared to other mockup boxes. The box is in the heart shape with different layers for chocolate. The storage is also excellent in this 3500*2900px mockup box. The background is pure white, but you can add color according to your choice. The best part of this mockup box is its color. You will get the most attractive color in this mockup box and place your company's logo wherever you want on the box.
#7. Black Color Chocolate box Mockup
This royal mockup box has the most attractive cover. The shape of this mockup box is rectangular, and its resolution is 4500*3600px. The box's utter layer is dark black, and the inner is in blood-red colored, and it is placed on a grey colored background. Put the name of your client or company on this box for the perfect presentation. You can change this mockup box's color and design according to your choice by using an editable smart object. Change the color of the background, which suits the mockup design.
#08. 

Purple Color Chocolate Box Mockup
This mockup box is classical in style with a simple background. The whole cover is purple with a light blue border. This mockup design can be used for many occasions. Each layer of this box is well-organized. Paste your company's logo on the top front of the box. The color of the background and the mockup box can be changed into many varieties. The given resolution of this mockup box is 6000*4000px. The well-designed layers and colors could be altered to your design by applying a smart design object.
#9

.

 Two colored Chocolate box mockup
This mockup design is in a great rectangular shape. This mockup is placed in a white background. The curves area are sharp. The picture is taken from a top angle for a better view. The box is in light and dark brown color. The dark middle portion is blank to add your text or company's name to deliver the best presentation. Various Photoshop and a smart designing object can change shades of both background and mockup box. By clicking this option, you will get an additional two more sets of new mockup boxes.
#10

. 

Blue Color with Floral Printed Chocolate box Mockup
This chocolate mockup box is designed to carry a large number of chocolates. It is the biggest among all the given mockups. This mockup has an attractive shiny blue color. Red-colored flowers and green colored leaf stickers are placed at the top of the box and some pink floral at the side. The front position is to add your text. This mockup box is placed at the clean surface, customizable from your favorite texture or color. By Photoshop, you can add your company's logo on each side of the box. This box is 5000*4500px in size.
#11. Yellow color Chocolate box mockup
This chocolate box mockup has a gorgeous and stunning outer layer which is placed in a dark background. The layers of the Box is separate in a way to give you the desired result. The upper layer is transparent, but the borders are highlighted yellow-colored. The inner part has a beautiful pattern for your greatest presentation. A circle is formed at the top to add your trademark. The size and colors can be changed with new editing tools available in the market. Customize your Box in a way that everyone should love this. The big size allows you to put some more quantities of chocolate into it. Its size is 3000*2000px.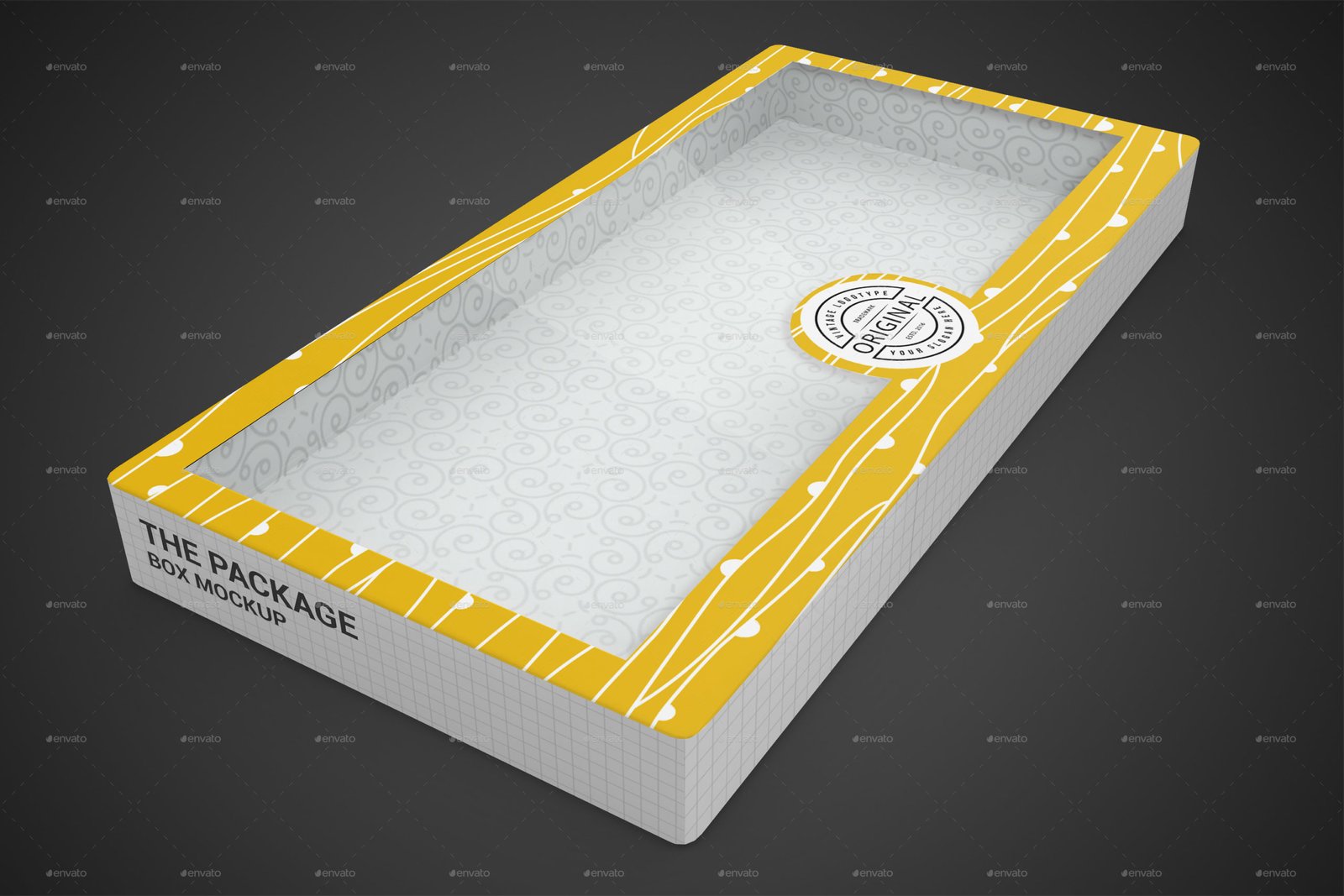 #12. Yellow And Orange color Chocolate box mockup
#13. Customizable Chocolate box Mockup with Red Ribbon
#14 –

Vector Heart Shape Chocolate Box
#15 –

Red Color Chocolate Box Vector File
#16 –

Valentine's Chocolate Box Set Vector File
#17 –

Photorealistic Chocolate Box Vector Set
#18 –

Chocolate Gift Box With Valentine Card Vector Illustration
#19 –

3 PSD Chocolate Bar Packet Vector File
#20 –

Amazing Chocolate Box Mockup Packaging PSD

#21 –

Brown Background with Chocolate Box
#22 –

Box Of Chocolates Mockup
Things you should add while creating a chocolate Box Packaging Mockup:
We hope our list will help you have your customized chocolate box packaging design, but if you still want to create one of your own, here are the things you should include while designing.
The company name and product brand name should be there at the prominent place of the packaging. Make sure they are visually attractive to strike on the customer's mind on the first go.

Use the product tag line below the product logo or product name if you have any.

If that packaging is for any particular occasion like "Valentines' day special', Christmas Special," does mention that on the packaging.

List all the product ingredients on the backside of the product packaging that customers have the exact idea of the things being used to make that chocolate.