Truck Mockup | 42+ Creative Truck PSD Free & Premium Templates: When it comes to brand awareness display strategy for Truck marketing, not only for the designer's perspective but also for any businesses, it is extremely crucial that they offer something unique and attractive to their customers that they get highly influenced. The agenda of the marketing lies to the ground to attract more customers to your newly launched track model or brand and for that, there could be a brand campaign awareness in the form of an "advertisement or teaser of the exclusive product". There could not be any other helpful medium than mockups to showcase the teaser in different perspectives.
Here we have listed 42+ creative Truck PSD Free & premium templates which could be used in product brand awareness campaign. All the mockups are customizable and have different background presentation. While collecting these designs we have paid close attention that all these designs are professionally made, have attractive and catchy design perspective, customizable and covers the wide range of Truck variety such as food truck, trailer, delivery truck, Semi-Trailer Truck, Cargo Truck, Milk Van Truck, Ice Cream Truck, Pickup Truck, Billboard ad Truck and much more. We suggest you to explore the whole list to find the one you are looking for.
You are provided here with various Trcuk mockup designs. You can download the one you want and if you want that we customize any mockup design for you, then you can contact us at Fiverr.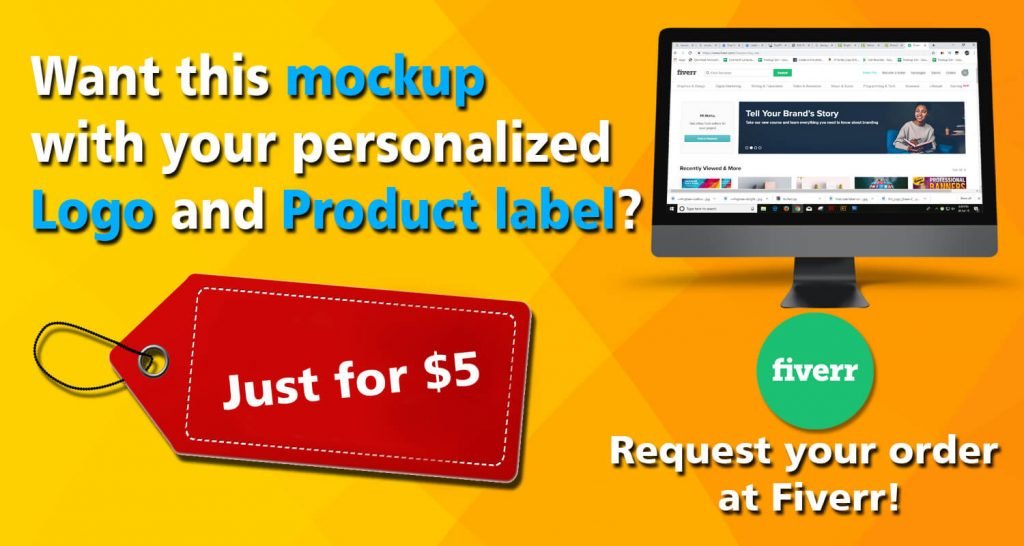 UNLIMITED DOWNLOADS: 500,000+ Product Mockups & Design Assets
_______________________________________________________________________
Mockupden Exclusive Free Truck Mockup PSD Files for our Visitors:

Updated New Inclusion on 02/06/2021
Free Ice Cream Truck Mockup PSD Template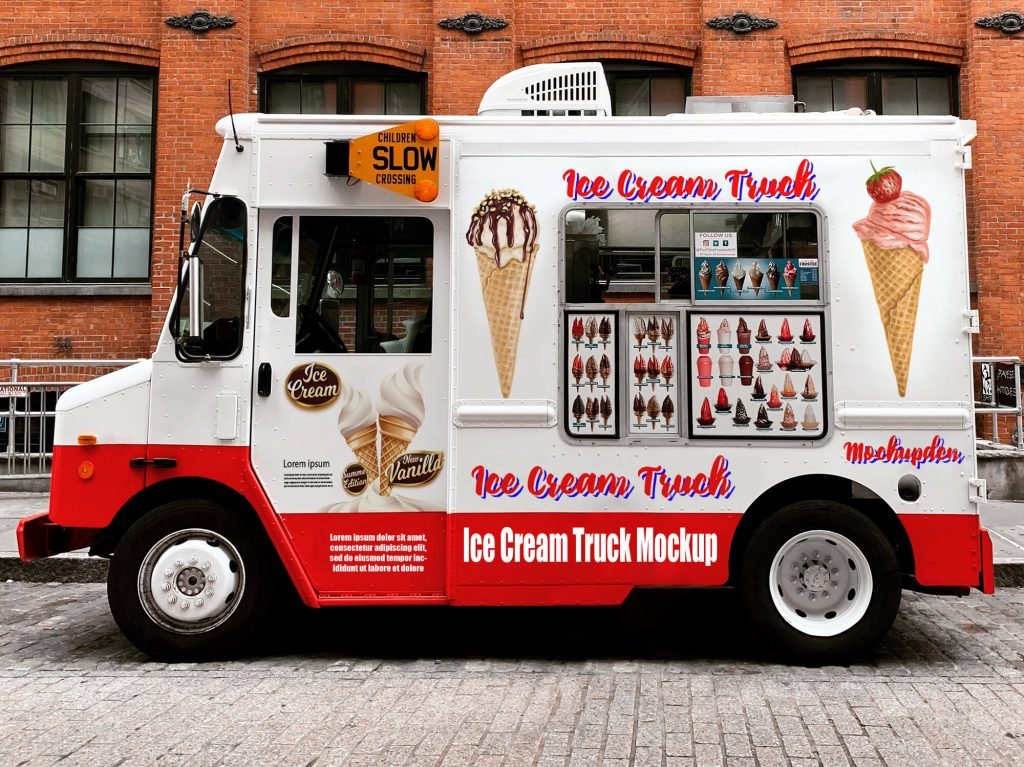 Free Pickup Truck Mockup PSD Template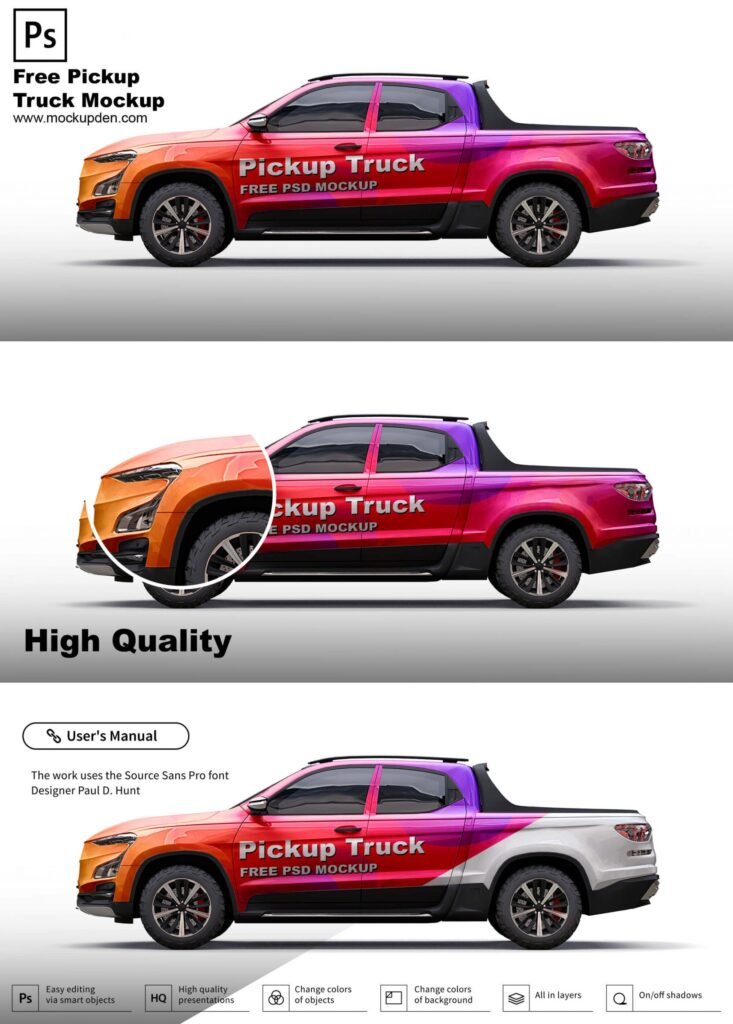 Free Garbage Truck Mockup PSD Template
Free Truck Mockup PSD Template
Free Food Truck Mockup PSD Template
#1. Photorealistic Truck PSD Mockup.

#2. Light Commercial Truck Mockup
In this mockup, there are two trucks placed to show the possible result after editing the mockup. You can use these trucks to transport food materials for on place to another. There were many troubles coming across for a blank truck mockup so this mockup has been retouched and masked out this truck. Change the design of this truck by using smart objects and Photoshop app, as you can see an example of the design to this 10*8 Dpi sized mockup.

#3. Truck Mockup
In this mockup, a professional design of the semi-trailer truck is placed in a white background. Using instructions, you can easily change the labels. As you can see that the shadows and light reflections are automatically done using smart objects so it will be extremely easy to preview and decide which effect would match with the color combination at the time of customization. There are different parts of the truck such as cargo lateral, cabin air dam, cabin lateral, back and the number plate, you can make changes in these four parts of the truck by using smart objects. In this given picture below, the trucks are placed in 3 different angles to create 9 different images with very high details. Place your design on the semi-truck and cargo by using smart objects, as the smart objects have checker space to manage your design and you can also change the shape of the design in oval, round, square and many others. Place any color at the background and also at the car parts such as wheels, cargo, cabin, mirror and plastic, chassis truck and cargo, and many more. You will be able to see that the shadows under the truck has separated layers. There are 4 PSD files in this mockup of a size of 8000*4000px, 3860*2200px, 300 dpi including detail instructions.

#4.

Vector Retro Delivery Milk Tanker Truck
In this picture, a high detailed lorry is placed with 3 different angles. Create a realistic branding design and show off it to your clients. By using smart object features to this PSD file, you are able to replace the design of this truck and paste your professional design. By double click on the smart objects, it will be easy to paste your artwork. The other features of this mockup are given below:-
High detailed image.
Well separated layers.
Changeable background.
Separated light.
Separated shadows.
300dpi.
Has a large resolution of 3500*2500px.

#5. Food Truck Mock Up Kit
In this picture given below, there are four samples truck are given with different colors and designs combination. These file can be customized which is in 16.67*11.67 in 300 dpi. All the elements of the truck can be editable in different color and designs as shown in the picture.
#6. Lorry Branding Mock-Up
To promote your business, use these food trucks like a billboard on the wheels. This adjustable mockup will give you an incredible opportunity to modify the design and preview them from all the angles to decide which option looks more realistic and attractive. This file contains an isolated image that will make changes easily. Just create your design and paste it in the picture of 4000*2000 px at 72ppi.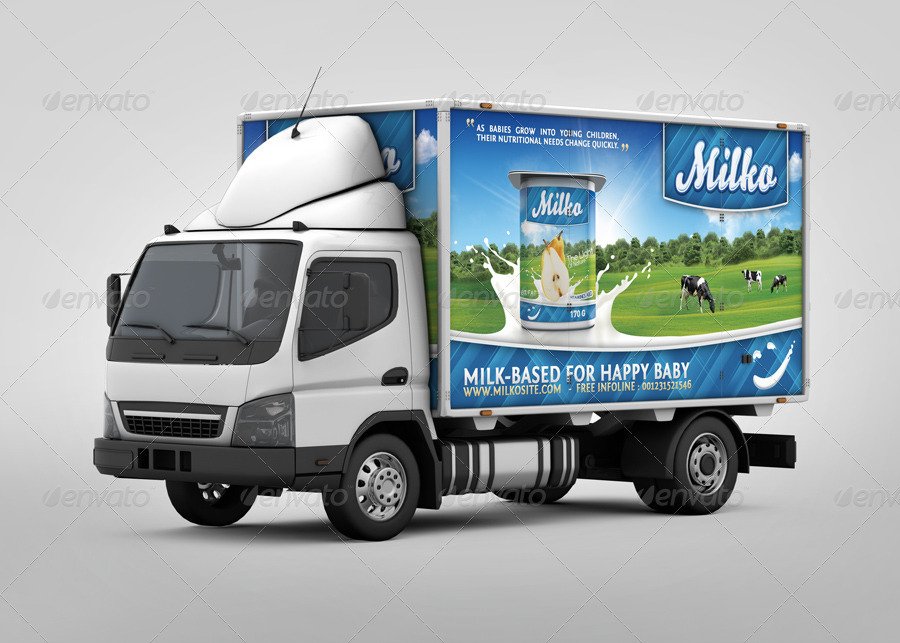 #7. Mock-up For Pickup & Truck Vehicles
In this mockup, there is a huge collection of truck designs. By using smart objects, you can replace the design of any part of the truck. The changeable parts of the truck are back and plate number, top of the cap, lateral and front side. In this highly detailed picture, there are three different angles are shown such as back, front, and lateral sides.

#8. Food Truck Mock-Up. Unique 3D model mockup.
#9. F450 Super Duty Truck Mockup
Types of different Truck Mockups:
There are different types of truck so obviously the design would be different for them as well. That is why we have listed different types of truck design for different truck category.
Food truck Mockup: We have included a couple of food truck design templates in this list that you can utilize to attract more customers to try out our food dish. Design is enticing that people can not ignore your food truck.
Trailer Mockup: Companies who own trailers and want to advertise their transportation service may take the help of these mockups template to let people know about their service.
Delivery track Mockups: If you own a business of a delivery track and looking for a design template to advertise your service then look no further, because we have included a couple of customizable delivery track mockup in this list which you can use after inserting your company or brand name in them.
Ice Cream Truck PSD: Ice cream truck design needs to be attractive that kids feel the urge of having ice cream as soon as they see an ice cream truck. Take the help of our listed Ice Cream truck design to flourish your business.
Pickup Truck PSD, Cargo Truck Template, Milk Van Truck PSD Mockup, Billboard ad Truck Design Template and much more: We have made sure to include all the aforesaid mockups in this list that find every category of track design you might need to advertise your brand or business.
#10. Road train, Trailer Truck mock-up
#11. Truck Mock-up
#12. Artistic Food Truck Mockup.
This incredible street food truck design template could be used to demonstrate the design idea for mobile coffee shop, ice cream shop, burger cafe or any other street food. Realistic reflection of this High resolution (5000×3500) file comes with 6 different backgrounds presentation.
#13. Transport Company Truck Mockup.



#14. Billboard and Truck Mockup PSD.



#15. Truck Trailer Running on High Way Mockup.
This ready-made design has the unique feature which will give you liberty from not Cropping, changing perspectives and layer masking because all the effects are already in-built in this creative design. This 3000x2000px at 300dpi layered and Grouped PSD file has beautiful photo filters included .
#16. Elegant Box Truck PSD .
This mockup design is exclusive for Box Truck. This design comes in different format that you can use this Box Truck Mockup Template for different perspectives like presenting artwork on International Box Trucks or you can even use this design for flyers and posters. The additional feature of this mockup is it has got Color Coded Layers for both 2943×2268 Pixel and 3036×2001 Pixel Mockup.
#17. Front View Truck Design template.



#18. Awesome New Model Truck PSD template .

#19. Burger Food Truck Mockup PSD.



#20. Commercial Truck Carrier Mock-Up

#21. Box Truck Mockup
#22. PSD Truck Mockup
#23. Food Truck Mock-Up. Van eatery mockup.
#24. Big Clean and Simple Design Truck Mockup.



#25. Truck Running On A Highway Mockup.
#26. Delivery On A Truck Design Template.
#27. Truck In A Highway Of Istanbul Mockup.
#28. Truck Passing Through Highway Mockup.
#29. Monster Truck Mockup.
#30. Free 3D Truck Mock up.
#31. American Full-size Pick up Truck PSD Mock up.
#32. Truck Carrying Rockets Mock up.
#33. Truck Running On A Highway Free Mockup.
#34. Black Mercedes Truck Mockup.
#35. Old Russian Army Truck Mockup.
#36. Truck background Vector.
#37. Pine Branches On A Truck Mockup.
In this mockup, a truck is parked in a field which is carrying green leaves in it to showcase the use of this truck. By Photoshop app, you can even replace the leaves and paste the picture of stuffs you need to show your customers. The background texture is very nice looking but it can be changed to different areas like dark forest and snowy area.

#38. Truck Running On A Snowy Area.
#39. Golden colored Truck Mockup.
#40. Modern Garbage Truck Mockup.
#41. Box Truck Mockup
#42. Mercedes Antos Truck Mockup