Plastic Container Mockup | 27+ Free Container Packaging Mockup PSD Template – Plastic containers are widely used in the packaging industry especially in Food packaging. They are cost-effective and great for branding at the same time. We all know how important product packaging is and what it's impact on creating product branding. Graphic designers play quite a crucial role in creating eye-catching product packaging label and if you are a graphic designer looking for a plastic container design concept for packaging or branding projects, we have got your back. In this compilation, we have gathered 27+ Free Plastic Container Mockup PSD templates which you will definitely find useful. To make the most out of these wonderful design templates, use them in large hoarding OR Signs to draw maximum visual exposure.
This list is diversified with a wide range of design concepts that you will find useful for any kind of container branding project. Most of these design concepts are free with several smart layers which will allow you to quickly locate layers and edit for product and company-related branding. Personalized customization can also be performed via smart objects. Feel free to play with the background, shadows, effects, fonts, reflections, lights, etc. Having trouble customizing the PSD template, or are you looking for a personalized new design concept for your project? We can do that for you. Check out our Mockup Design service in FIVERR.
UNLIMITED DOWNLOADS: 500,000+ Product Mockups & Design Assets
You can get your mockup customized by us at Fiverr.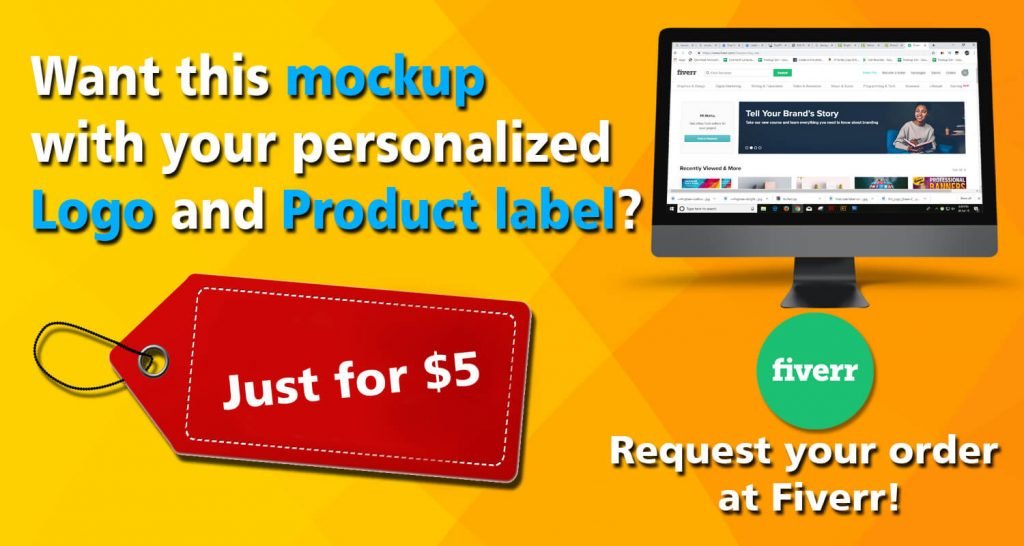 ______________________________________________________________________
Mockupden Exclusive Plastic Container Mockup Free PSD Files for our Visitors:

Updated New Inclusion on 02/06/2021
Free Plastic Oil Container Mockup PSD Template
#1 Premium Food Plastic Container Mockup PSD
This premium quality mockup template is suitable for different products. Great for e-commerce presentation as this mockup pack contains different perspective view. Top portion of this plastic container can be used for product logo or brand whereas designers can paste the product name on the body of this round container. Lead is designed thick and sealed for product safety purpose. Three predefined colors are used but one can try any other color combination matching the product concept. At the bottom of the container, product details can be listed along with expiry date and price.
#2 Milk and Drink Water Plastic Container Mockup Bottle
#3 Plastic Cosmetic Container Design Template PSD

#4 Plastic Yogurt Container PSD Design Template

#5 Creative Plastic Container Mockup PSD Design

#6 Simple Food Container Mockup PSD

#7 Artistic Design Plastic Yogurt Container PSD

#8 Black and White Plastic Container PSD

#9 White Simple Plastic Box Mockup PSD

#10 Plastic Cup Container PSD Packaging

#11 Graxam Plastic Container Mockup
#12 Free PSD Multiple Plastic Container Box

#13 Free Plastic Perfume and Cosmetic Container Mockup PSD

#14 Plastic Chocolate Container Box Mockup PSD
#15 Best Design Plastic Container Mockup PSD Design Template

#16 Realistic Plastic Container Box PSD

#17 Large Coffee Container Plastic Cup Mockup
#18 Transparent Plastic Container PSD
#19 Plastic Dropper Container Box PSD
#20 Free Editable Plastic Container Cup Packaging
#21 Plastic Shampoo and Soap Container Mockup PSD
#22 Plastic Ketchup Container Bottle Mockup
#23 Glossy Plastic Container – Mockup
#24 Plastic Container Mockup
#27 Plastic Pill Container Mock-up
Customization service: We have started a new service for our loyal readers. If you need any product or scene mockup or simply would like to have a mockup customized with your product logo and label, feel free to reach us at fiverr. Where we will take your request and do the needful.