Food Truck Mockup | 41+ Free Fast Food, Icecream, Burger Truck PSD & Vector Templates: Thinking of launching your food truck or looking for a cool food truck design idea from a different background perspective to add in your design portfolio which you can utilize to showcase in front of your client. Whatever your requirement is, explore our 41+ free & premium Food Truck Mockups that can be utilized to brand food truck or can be used to create something unique and extraordinary.
We have listed different kinds of food truck designs in this compilation in PSD Photoshop format, which features organized smart objects and vector templates for alternative needs. A food truck is a kind of Truck vehicle that serves two purposes at the same time. They are mobile, which perfectly fits the job and offers additional benefits that can be utilized by displaying advertisements on it. This advertisement can get a lot of branding exposure if utilized correctly. Modifications can be tricky or time-consuming if you are not familiar with Adobe Photoshop or do not have sufficient time. We can lend a helping hand. Contact us at Fiverr, where we provide customized modification service for customization help.
Also check,
You can also check out work portfolio at Fiverr.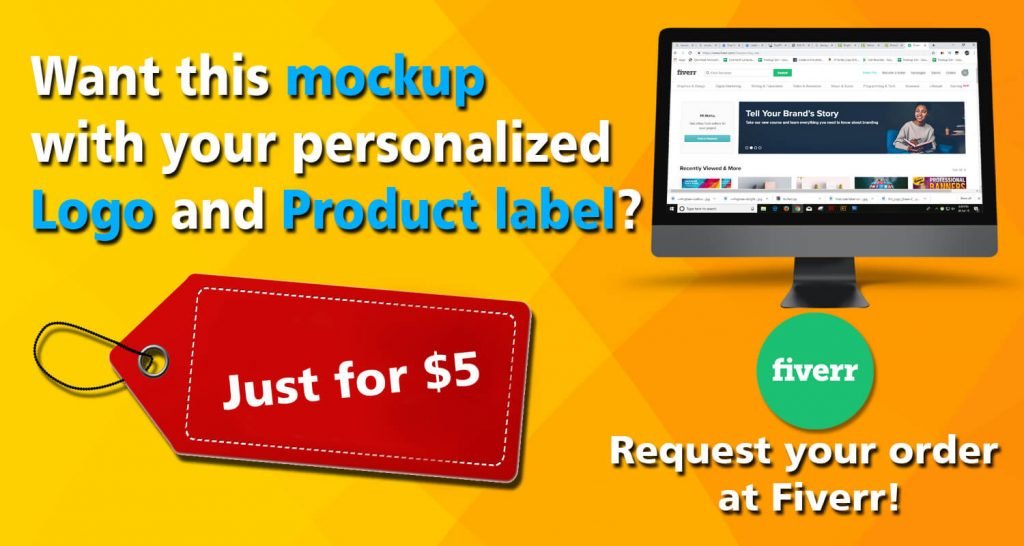 UNLIMITED DOWNLOADS: 500,000+ Product Mockups & Design Assets
_______________________________________________________________________
Mockupden Exclusive Free Food Truck Mockup PSD Files for our Visitors:

Updated New Inclusion on 25/06/2021
Free Food Truck Mockup PSD Template
Free Ice Cream Truck Mockup PSD Template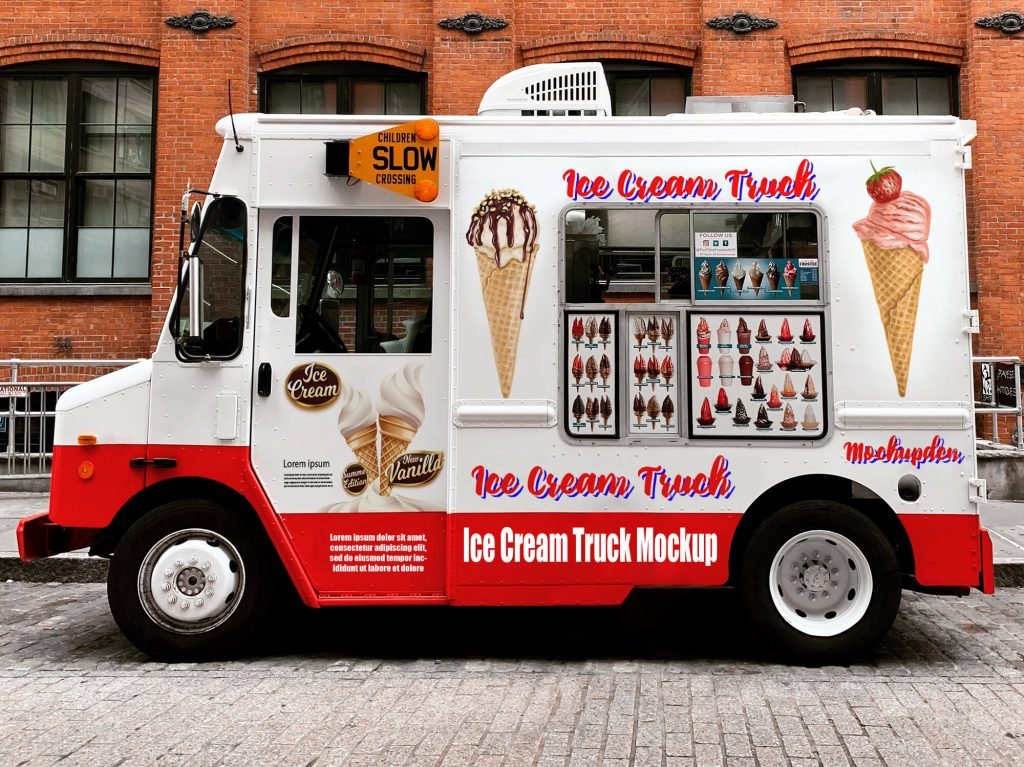 #1. A Vector Presenting Modern Food Truck Mockup.

#2. Different Kinds Of Food Vehicle PSD File.

#3. A Food Truck Mockup On the Road PSD Template.
This food truck mockup is ideal for presenting the mobile coffee shop, mobile burger shop, mobile ice-cream shop, and other mobile street food. As you can see in the preview option, six different background pictures are given with different presentation perspectives that you can have a good idea about how the actual food truck would look like on those background perspectives. It also has a high-resolution of 5000*3500 px with realistic reflection in 6 different backgrounds. Edit content by double-click on the smart layers to paste your design.

#4. Customers Queue At The Food Truck Mockup.
In this mockup, we present a picture that indicates a food truck where a young girl is serving coffee and other food in the street. This picture will be ideal for any project that requires coffee, seller, customer theme.

#5. An Incomplete But Vintage Food Truck PSD File.

#6. Food Truck Mockup Without Engine On The Road PSD

#7. An Old Couple Near A Red Food Truck PSD File.

#8. Vector Presentation of A Black Colored Food truck.
#9. Different Designs Of Food Truck Mockup.
This mockup shows that a Food truck can also be used to stick as a billboard on it as well. Using this mockup, you can place your design and preview them in all angles to check how the advertisement is working. As this file has smart objects, it will be easy to paste your design in no time. Some other features are:-
Changeable background.
Has got a resolution of 4000*2000 px.
Well organized folders.
Isolated images.
The color depth is 300 dpi.
This food truck looks almost real, like a billboard on wheels, which will give you a fantastic opportunity to promote or brand your business. Do not forget to use smart object placeholder for easy personalize customization of this 4000px x 2000px at 72ppi template file.

#10. Food Truck Used In Festival PSD Template.

#11. Food Truck On A White Background PSD File.

#12. Free Illustration Of A Food Truck.

#13. Editable Food Truck Mockup PSD

#14. Food Truck Carrying Cafe Set PSD File.
This massive Food truck beige cafe on wheels template collection has a special feature of objects isolated on white background. 3D Graphic which features a Main image that has high quality and comes in full size JPG file of 9000 x 5590 px and also offers 7680 x 5111 px All other angles high quality full size JPG file.

#15. Blurry Picture Of A Food Truck Template.

#16. 5 Different Angles Of The Food Truck Vector.

#17. White Mini Food Truck Mockup.

#18. Old Designed  Food Truck Vector.

#19. Advertisement Printed Food Truck Template.
This template will help you to create a photorealistic and good-looking result for you food truck as shown in this picture below to impress your clients. Different designs that can be used to decorate you food truck is given in this file. The color of the truck is also changeable by using the Photoshop app of this 8000×4500px / 26.7×15inch 300dpi file template. Individual layers for shadows and reflections with PDF Instruction manual will help you to easily change paint colors and truck background.

#20. Exclusive Ice-cream Truck Mockup.

#21. Vector Of A Food Truck In the Street Illustration.

#22. Fully Editable Food Truck PSD Template.

#23. Food Truck In A Crowded Area In Summer Mockup.

#24. 4 Different Food Truck In Flat Design Vector.

#25. Sketch Of A Food Truck PSD File.

#26. Realistic Set Of 9 Food Truck Mockup.

#27. Free Vector Of A Food Truck In Yellow Background.

#28. Customizable Food Truck PSD Template.

#29. Red Cartoon Food Truck Vector File.

#30. Vector Of 4 Food Truck In 3D Format.

#31. 6 Food Truck Illustration.

#32. Eatery Set Of Food Truck PSD Mockup.

#33. Free Vector Of A Mam With Pizza Truck Illustration.

#34.  Street Food Van On The Street Vector.

#35. Food Truck And Other Elements In Orange Background Vector.

#36. Photorealistic Presentation Of The Food Truck Template.

#37. Collection Of White Food Truck PSD.

#38. Food Truck With An Umbrella Vector.

#39. 3 Presentation Of Realistic Food Truck Mockup.

#40. Food Truck, Taco Truck, Step Van Mock-Up
#41. Food Truck Mock-Up. Minibus Eatery Mockup