75+ High-Quality Free Business Card Mockups PSD: The importance of a business card. A business card or visiting card is one of the primary tools to initiate first-hand marketing strategy. This powerful marketing tool indeed demands a professional design to leave the first positive impression. To create a sophisticated yet radiant business card, you do not need to brainstorm cause here we present some of the best trendy business card mockups which are free to use. We have listed on this page all kinds of business cards starting from the simple ones, to the classy ones, and also the evergreen designs that can be used by you for your purpose. Use this Business Card Mockups to create your Authentic business card which you can produce to fulfil your business goal.
What are the essential treats business card must have?
While designing a Business card, the primary focus should be on making the card looks clutter-free neat & clean yet classy regardless of how well the card is designed.

The business card should be made keeping the standard size, i.e. 

3.5 x 2 inches 

in mind.

 Should focus on the main essential points and a prominent business logo should be there.
As we said before, you do not need to brainstorm for this because here we have added 100+ extremely professional looking Business card mockup PSD for you which are customizable according to your need.
Check,
Also, Check
UNLIMITED DOWNLOADS: 500,000+ Product Mockups & Design Assets
Get your Design customized by us at Fiverr.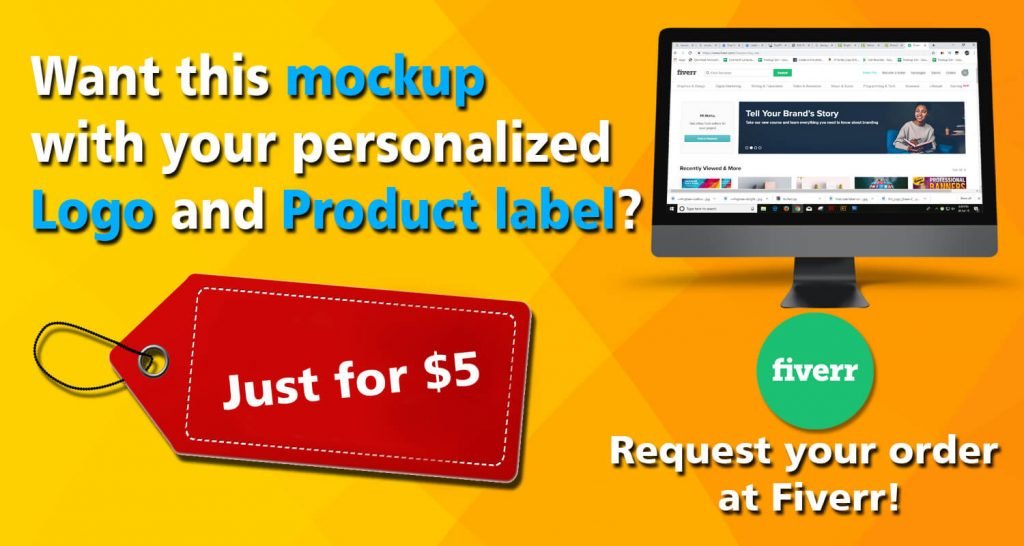 _______________________________________________________________________
Mockupden Exclusive Free Business Card Mockup PSD Files for our Visitors:

Updated New Inclusion on 21/06/2021
Free Classic Embossed Business Card Mockup PSD Template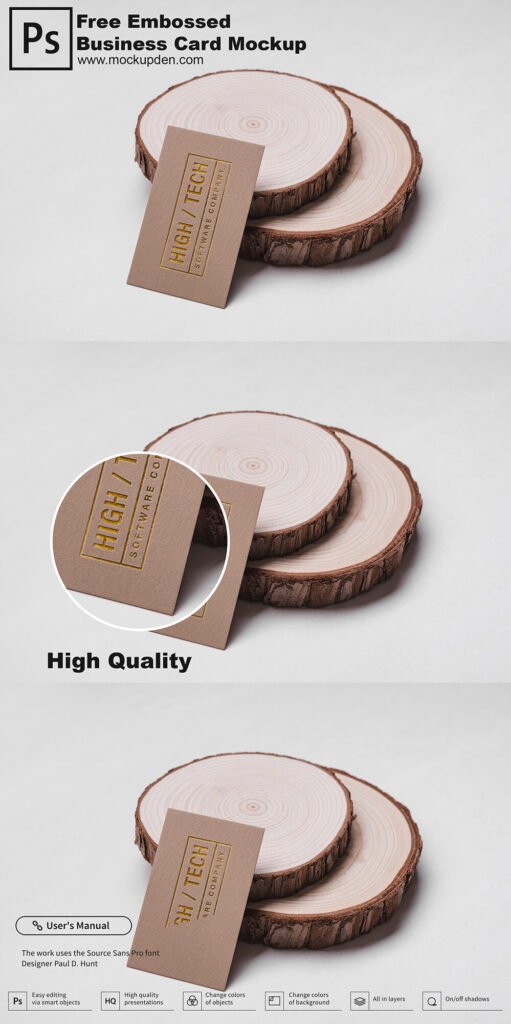 Free Foil Business Card Mockup PSD Template
Free Simple Business Card Mockup on MacBook
Free Business Card Mockup PSD Template
Free Square Business Card Mockup PSD Template
Clean Finished Free Business Card In Hand Mockup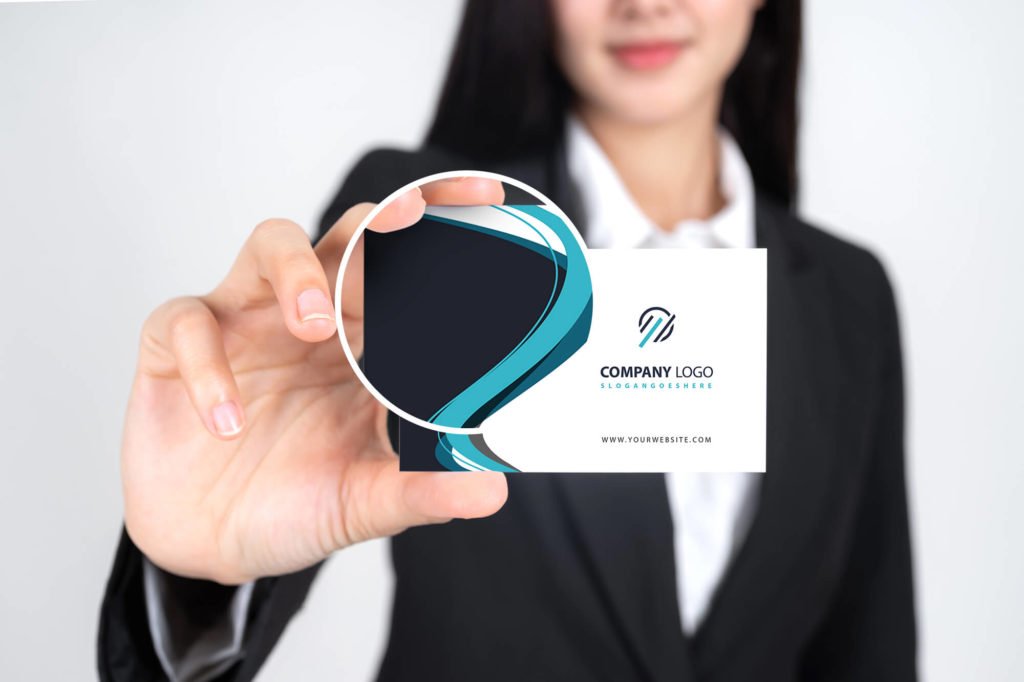 Free Brand Stylish Business Card Mockup PSD Template
Free Stacked Business Card Mockup PSD Template
Free Beautiful Business Card Mockup PSD Template
Free Business Card in Hand Mockup PSD Template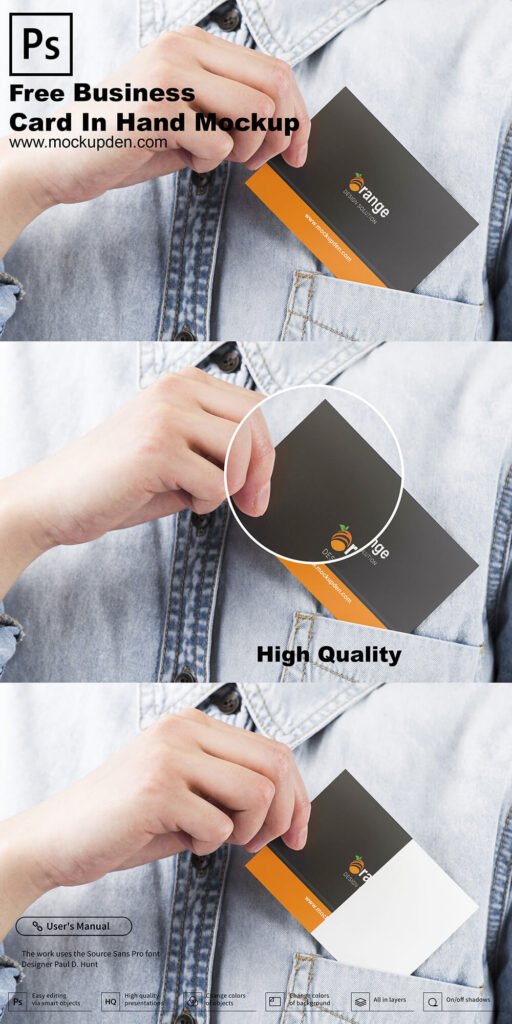 Free Top View Business Card Mockup PSD Template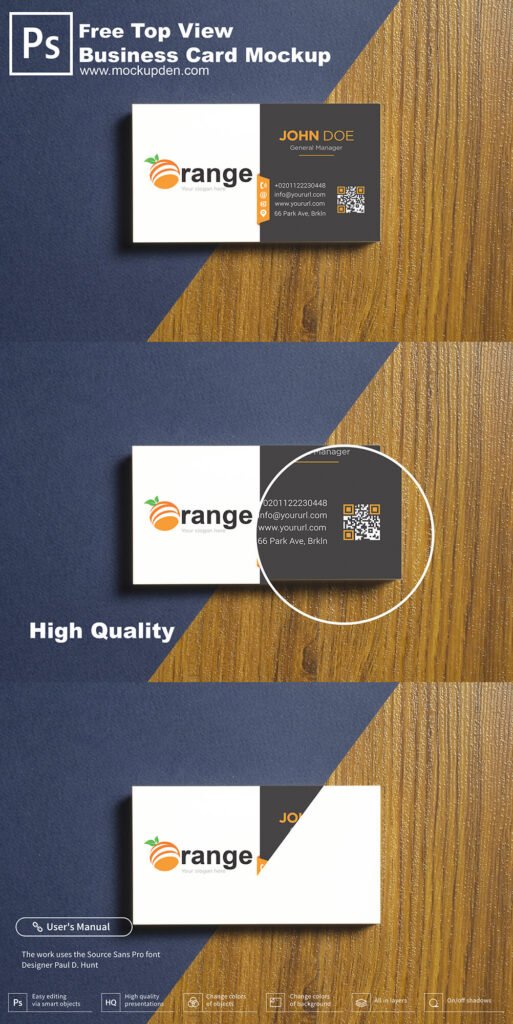 Free Golden Black Business Card Mockup | PSD Template
Free Black Die Business Card Mockup | PSD Template
#1 The front and back faced white color Business Card:
The mockup shown to you portraits that the business card is kept on a smooth black leather finished pocket-sized dairy. You are shown both the faces (sides) of the business card so that you have a complete view of the business card in one single picture.
Traits:
It is multi-layered.
PSD extension.
Customisable.
High resolution.
#2 The Orange and Blue side coloured Free Business Card Mockups:
You are provided with two options for choosing the business card where two of the cool and funky colour is present. As you view the two stack of business cards that are present up there in the picture, you will be finding that both have different designs. Features:
Layered – Yes.
PSD – Yes.
High resolution – Yes.
#3 The Matte Black Business Card Mockup PSD:

Not everyone will want to write information about himself/herself on a black card. But you got to agree to the point that, if you write anything by using some light colour on a dark background, the contrast comes outstanding.
Characteristics:
High resolution.
1400*1400.
Multi-layered.
Can be customised.
#4 The blue webbed designed PSD:
Tips to remember while designing a business card:
The branding and marketing procedure has evolved quite a lot in the last decades, but the importance of business card still relevant. There are many other office branding instruments has been introduced. Yet, without a business card, the outlook of business will never be professional, and you will miss one of the most potent marketing tools which come at the minimal cost.
There are a different kind of business card, and they all have their respective perspective, but the all serve a common purpose which makes them similar in fundamental perspective nature. Here are some of the things you should never overlook while designing a business card:
Understand the business category and follow the basic design principle

A designer's playground is his imagination, so do not forget to be creative, keeping the basic principles in mind.

According to the nature of the business use special finished design style to give it a specialized rendition.

Recheck and scrutinize the content of the card that you can avoid common pitfalls.

A business card has a specific size. So do not forget to use a preset design template for better print out quality.

As a designer, you are free to try new things and design style. If you have any cutting edge design style in your mind, do not forget to imply that and see the feedback.

One thing which set you apart from fellow designers is your style. Blend it with the design to own it.

You are even free to customize and modernize old design card to give them a new look. Trends tend coming back on their own time. Use that in your favour to get the design breakthrough.
#5 Black and White Business Card Mockup:

#6 USB Designed Business Card Mockup PSD:
This is the most uncommon type of business card that you will be finding. Use this mockup and then set the trend for the upcoming days.
Features:
PSD – Yes.
Customizable – Yes.
#7 Wooden Business Card Mockup: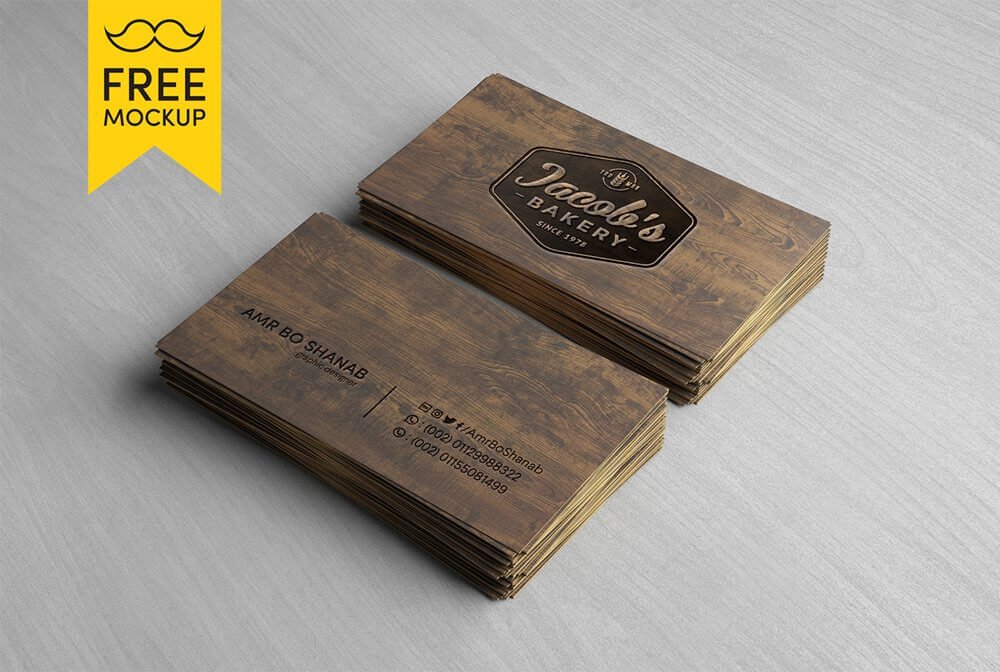 #8 The Black Strap Free Business Card Mockups:

 #9 Blossom Designed business Card Mockup:
#10 Tree Bark Business Card Mockup:

Get this unique style of business card mockup where you are getting the textures of the bark of the tree. This is one such eye-catching business card mockup that you will be setting as an example for the trend for the forthcoming coming days.
#11 3D Pragmatic Business Card Mockup PSD:

#12 Floating Business Card Mockup
#13 Blue White Vertical Free Business Card Mockup:

#14 Textured Black PSD Free Business Card:
#15 Side Colouring Business Card Mockup:

#16 Stack of Free Business Cards PSD Mockup for Branding
#17 Free Modern Business Card Design Mockup PSD
#18 Photorealistic Mockup Of Business Card

#19 Colourful business Card Mockup PSD
#20 Elegant Corporate Business Card PSD
#21 Free Clean PSD Business Card Mockups
#22 Clean Simple Individual Business Card PSD
#23 Creative Nature Inspired Business Card
#24 Free PSD Corporate Business Card Set
#25 Free PSD Stacked Business Card Mockup
#26 Free Professional Business Card Mockup PSD
#27 Standing Sideways Free Business Card Mockups
#28 Neat and Clean Business Card Mockup PSD
#29 Green Color Business Card Mockup PSD
#30 Bicolor Business Card Mockup
#31 Vibrant Restaurant Business Cards PSD
#32 Business Card presented in Box Mockup
#33 Creative Business Card Mockup Template PSD
#34 Customizable Free Vertically Standing Business Card PSD Mockup
#35 Corporate usable Business Card Mockup PSD
#36 Highly photorealistic Business Card PSD mockup
#37 Music Visiting Card Mockup PSD
#38 Psd Business Card Mock-Up
#39 Corporate Stacked Business Card Template PSD
#40 Embossed Black Vertical Business Card Mock-up
#41 Gold and Black Free Business Card Template PSD
#42 Isometric Business Card Mockup
#43 Visiting Card Mockup Template PSD
#44 Free Square Business Card Mockup PSD
#45 HEX Free Business Card Mockups Template
#46 Elegant PSD Business Card Mockup
#47 Cab Taxi Services Free Business Card Mockups
#48 Unique Free Business Card Mockups
#49 Resume Style Free Business Card Mockups PSD
#50 Free PSD CI Business Card Mockup Template
#51 Real Estate Broker Free Business Card Mockups Template PSD
#52 Front and back View Free Business Card Mockups PSD
#52 Modern Corporate Business Card PSD Mockup
#53 Business Card Mockup on Laptop
#54 Cake Shop Business Card Mockup Template PSD
#55 2 Stacks Freebie Free Business Card Mockups
#56 Free PSD – Free Business Card Mockups
#57 UK Free Business Card Mockups 10
#58 Free Business Card Mockups
#59 Realistic Free Business Card Mockups
#60 Free Business Card Mockups