3d mockup psd | 30+ Most Creative 3D Graphic for Design Inspiration: A logo is a trademark, symbol, or graphic mark created with the text and images for the identification, recognition, and promotion of a certain brand. Logos are different for the brand used as a visual mark or identity of a company service or product. It is the most important tool for branding the product and are usually placed on the product or banner to grab attention. In this mockup compilation series, all the Logos are customizable, download it, import into the Adobe Photoshop, change whatever you want, and then save it for any project.
We want to provide our readers with some unique 3D logo mockups for the presentation of the brand. Our readers can try different logo mockup templates for their product until assured with the design they will utilize. The mockup delivered by us are mostly in PSD format, so everyone can easily edit their selected mockup in the ways that comply with the purpose required using the smart object. For more detail about personalized customization, explore the below banner.
Also, Check – 
You can freely contact us at Fiverr.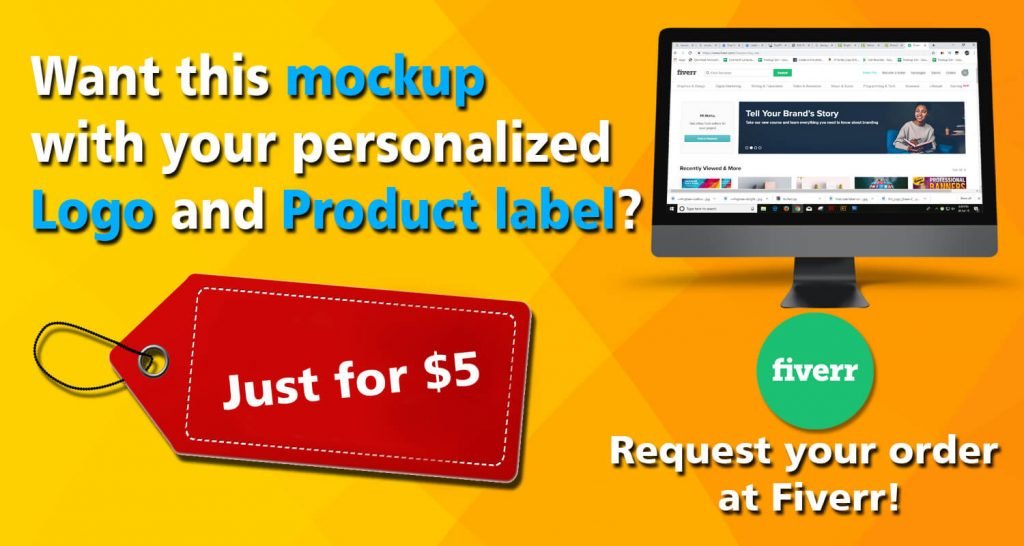 _______________________________________________________________________
Mockupden Exclusive Free 3d mockup PSD Files for our Visitors:

Updated New Inclusion on 21/06/2021
#01 – Photo Realistic Logo Design

3d mockup PSD
Logos play a significant role in the brand awareness program. A logo represents your brand, so making a good logo will attract people to know more about your brand. Featuring a 3D sign wall logo mockup to provide your customers a special feel with your logo or sign mounted on a wall. The high-resolution mockup gives a shiny effect on the logo to make it more fascinating. You can change the logo, color of the logo, and background with the help of Adobe Photoshop. This PSD file is made with the resolution of 3500×2200 pixels in 22.5 MB Size.
#02 – Customizable Wall Logo Design

3d mockup PSD
#03 – Banner Logo Design Mockup PSD
If you don't want to miss this collection of outdoor logo mockups for the promotion fashionably and stylishly, catch this sky background 3D mockup. The logo is mounted on the black signboard in red color. Get the freedom to replace your logo, the color of the logo, background with the help of Adobe Photoshop to get a photorealistic effect for your presentation. Make it your tool for personal and commercial logo projects created in 3000×2000 pixels resolution in 20.5 MB size.
#04 – Flat 3D Logo Design PSD Format
#05 – 3D Frame Artwork Design PSD File
#06 – 3D Logo Design PSD Customizable Template
#07 – Free Editable

3d mockup PSD

Logo Design
This shop facade logo mockup template is specially made for the shop owners to scream out their company name loud and clear. Displaying a Brand name 3D logo arranged on the glass wall to grasp the attention of the passers-by. This mockup will also work for the general store, medical store, shopping mall, etc. to make it an interesting brand awareness campaign. The file will be obtainable in PSD format in 4000×2800 pixels and can be edited with a minimum version of CS4 adobe Photoshop.
#08 –

3d mockup PSD

Logo Realistic Mockup With Heart

#09 – 3D Logo PSD File Illustration
Download
#10 – Side view 3D Wall Logo Mockup

#11 – Wooden Wall 3D Logo Design Illustration

#12 – 3D Wall Logo PSD Design

#13 – Flag 3D Design Customizable Template

#14 – 3D Text Illustration

#15 – Zero Gravity Stage Generator 3D Mockup

#16 – Store and Restaurant 3D Logo

#17 – Roll Up Banner 3D Format

Display three rolls up 3D banner for the advertisement of your brand. The first banner is Red, the second is yellow, and the third is blue, featuring a diamond design. You can insert your brand name in the lower part of the banner and the logo design in the banner's center. This mockup is made in 5 PSD and PDF formats for easy modification using smart objects. This mockup resolution is 2800 x 1800 pixels at 300 dpi, and Banner dimensions is 80×200 cm with the unique function of transparent or changeable background.
#18 – 3D Logo PSD File Illustration

#19 – Hip Sign 3D Mockup

If you are running a coffee shop, cafe, or restaurant business, this shop board would be impactful for your company's advertisement. The signboard can be used to grab the attention of potential customers to try their services. The board is placed outside of the building in square and rectangle shape to catch the spectators' maximum. Here is a vintage hip sign PSD mockup for you to insert your brand logo on it to showcase your design. Change the design, color, etc. of the logo and placed it on the board for modification in adobe Photoshop.
#20 – Metallic Elegant Name Logo 3D Format

#21 – Wood Engraved 3D Logo Mockup

#22 – Vintage Metal Emblem PSD MockUp

A unique way to mark an old-fashioned styled with your brand in a metallic effect. The brand name is placed on a red background in a blot out type. You can utilize this vintage metal emblem for the automobiles and electronics company. You have the liberty to alter the logo name, color, word format, background, etc. using smart objects.
#23 – Cutout 3D Logo Mockup

#24 – Pearl White Pro Laptop 3D Logo PSD Mockup

#25 – 3D Sign Logo hanging from a wall Mockup PSD

#26 – Carved Wood

3d mockup PSD

Logoesign

If you have a wood-based company or seek to extend your wood business to the next level, You can surely use this craved wood mockup for your designs. Displaying a coffee company brand and a slogan in a craved form on a block of rustic wood in this mockup for the brand awareness program. Two types of logo versions are available in this mockup pack, one is rough, and another is plain to showcase your design on the craved wood. The file is obtainable in the form of PSD with the dimension of 1400 x 1000 pixels.
#27 – 30ml Vape Bottle

3d mockup PSD
#28 –

3d mockup PSD

Realistic

#29 – 3D Isometric Mockup
Download Free
#30 – 3D Logo Signage Wall PSD Mockup

#31 – Photorealistic 3D Logo PSD Mockup

#32 – Real 3D Text Mockups