Burger Box Mockup | 30+ Burger Box PSD Templates for Food Packaging design Inspiration: Great packaging adds the true essence in branding campaign which eventually helps a company to increase their brand value, in the long run, resulting in goodwill building. We have already rounded up several packaging mockups from different category such as Packaging 30+ Best Packaging Free & Premium PSD Bag Mockup Templates, 30+ Best Free & Premium Carton PSD Packaging Template, 30+ Best Free & Premium Carton Packaging Template, 30+ Free & Premium Pizza Box PSD Templates, Best Cake Box Mockup, 30+ Free & Premium Cake Box Packaging mockup etc. In this post, we have rounded up an updated list of 30+ Burger box PSD templates for great food packaging branding.
This list has diversified design presentation which may fit your needs satisfactorily. Displays have unique backgrounds with layered complainant easy for personalized customization.
Also check,
UNLIMITED DOWNLOADS: 500,000+ Product Mockups & Design Assets
Get your Mockup customized by us at Fiverr.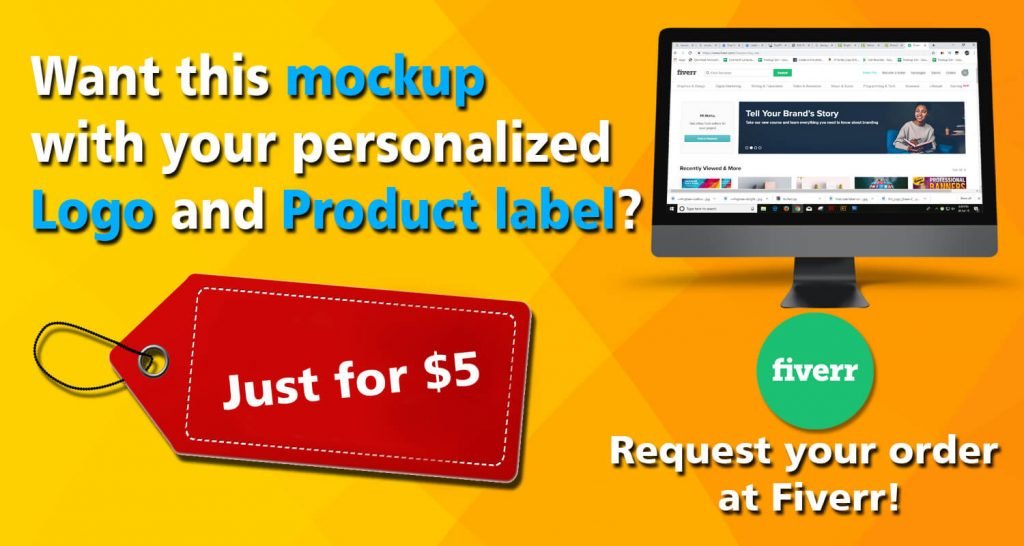 _______________________________________________________________________
Mockupden Exclusive Free Burger Box Mockup PSD Files for our Visitors:

Updated New Inclusion on 10/06/2021
Free Burger Box Mockup PSD Template
#1.

Editable Burger Box Mockup.
This is a blank PSD file and ready to take your designs. Some other designs are given in the preview option that you can use in ready-made format or else you are welcome to blend your design into then. The dimensions of the box are 5.8″ W x 5.8″ D x 2.75″, and the shopkeeper can use it for the packaging of the burger. With the help of layers and smart object, customize the design and colours, including pasting your store name on the box for branding or better presentation to your customer.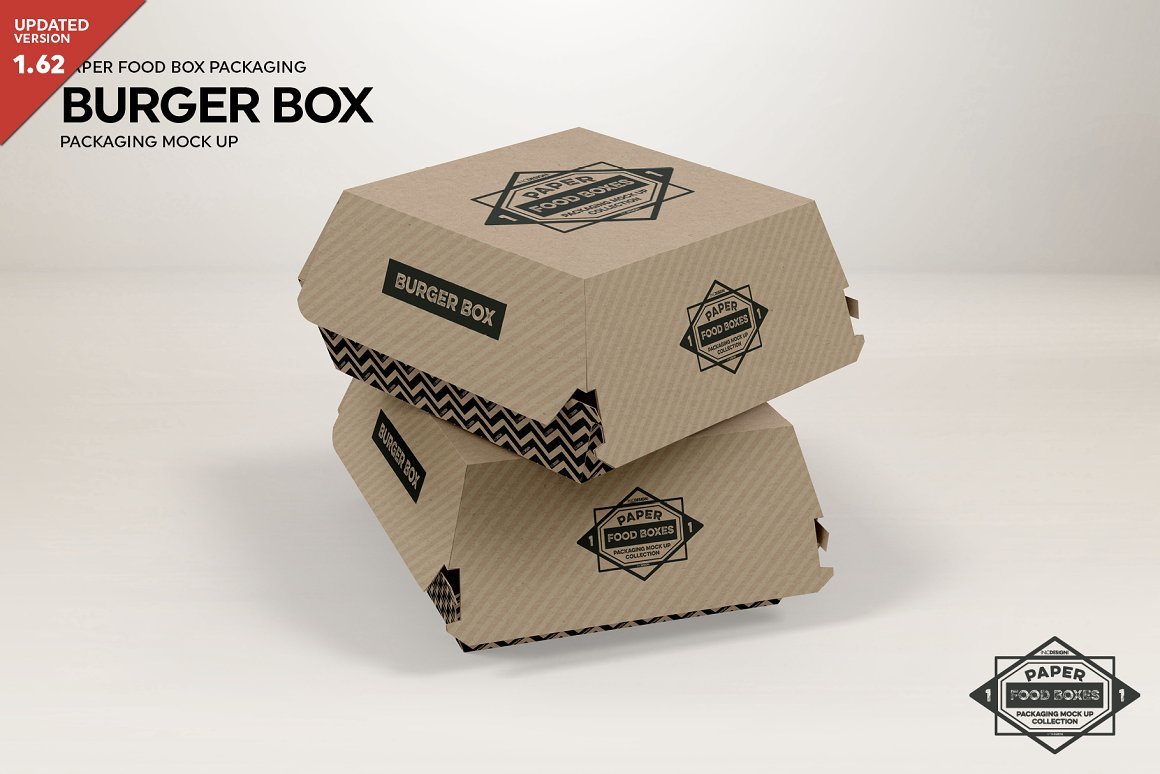 #2.

Colorful Paper Burger Box Mockup.
This is one of the most attractive burgher boxes you'll find in the market. The color of the background and the texture printed on the box is quite lovely. Through the editing tools, the shadows and layers are adjustable easily. This mockup has well-organized layers and folders and has got an extra option of turning off/ on the paper texture. With smart design and adjustment of shading option, it has a high-resolution of 3000*2550 px.
#3.

Yellow Colored Burger Box Mockup.
These types of mockups are ideal for presenting the name of your shop, store or restaurants etc. In this mockup, a yellow-coloured square-shaped box is placed on a wooden surface with a burger in the box. Your ideal package will be an excellent illustration for your clients with the help of this attractive mockup. The structure of the box has well-organised layers and folders as it is easy to edit by using the smart object. In the preview option you"ll get other 6 Psd files. To add some additional texture or colour, use the Photoshop app available in the market.
#4.

Burger and French Fries Mockup.
If you are looking for an excellent presentation for Burger box mockup template, you are at the right place. This mockup contains all the necessary things which are used to create an excellent presentation. With a unique texture of the burger box, a coffee mug and some french fries are placed on a wooden table is what this particular mockup is demonstrating. You can replace the position of this bottle and box with the editing tools and different shadows and layers according to your criteria.
#5.

Burger Box And Other Food Box Mockup.

#6.

Burger With Cafe Mockup.

#7.

Fast Food Burger Box Mockup.

#8.

Burger Box Mockup On A Wooden Table PSD.

#9.

Poly Burger Box Vector.

#10.

Lunch Box In A Hand Mockup.

#11.

Realistic Burger Container.

#12.

Burger In A Red Colored Tiff in Box Mockup.

#13.

Burger With Some Nuts Mockup.

#14.

Fold-able Burger Box Mockup.

#15.

Editable Burger Box And Coffee Cup Mockup.

#16.

Burger In A Box with Some Sauce Mockup.

#17.

Delicious Burger Mockup.

#18.

Rectangle Burger Box Mockup.
There are three different PSD scan of magnetic boxes are given in the preview option. The box is made of hard paper, and its designs is unique to pack your gifts and other stuff. The inner portion is dark purple, and the outer part is black with some texture and fonts printed on it. The other features of this box are:-
It has option on of Foil paper.
You can change the color add image on the background.
Well defined layers.
Die cut pattern in the box included.
Has got a high-resolution of 4500*3600 px.
Smart object applicable.

#19.

Packaging Sets For Burger And Coffee Mockup.
This burger packaging set mockup will help you to anticipate the feel of the design and look on your merchandise. The designed boxes given in the picture are ideal for packaging your stuff and showcasing design presentation idea for a cafe, restaurant, Eco, catering, dinner, nightclub etc. This file uses smart object feature that will help to create your background design or headers for websites, banners, cards, invitation etc. This high-resolution of PSD file of 3000*2000 px has three groups of photorealistic images.
Download Free
#20.

Small Burger In A Box Mockup.

#21.

Burger With Its Menu Mockup.

#22.

Veg Burger Mockup.

#23.

Burger With Some Onion Mockup. 
This photo-realistic mockup can even be used for social media covers. This HD mockup has a burger placed with some veggies and a business card. Replace your company's name on the card for personal branding.

#24.

Burger Placed In A Wooden Box Mockup.

#25.

Store Creator For Burger Mockup.
With your branding, create your presentation of high-quality images which can be used for a food product, bar and restaurants. Amaze and entice your customer with your unique imaginary sets of mockup which will set you apart from the crowd. In this mockup collection, you are allowed to create changes in a few steps. You can move the items placed in this mockup simply as you like through smart objects. The top view will enable you to showcase your packaging at different angles. You can completely change the colour, texture including shadows, reflections and add the logo of your company with editable smart tools for excellent branding presentation.
#26.

Veg And Crispy Burger Mockup.

#27.

Vegetable Burger With Guacamole mockup.

#28.

Paper Burger Box Mockup
#29.

Vector Realistic Cardboard Burger Box Mock Up
#30.

Fast Food Boxes Vol.1:Take Out Packaging Mock Ups