Best Pizza Box Mockup | 30+ Free & Premium Pizza PSD Templates Collection: Pizza is Love! It's next to impossible to find a soul who actually does not like pizza! There is a couple of world-famous Pizza brand (Pizza Hut, Boston Pizza, Domino's Pizza, Little Caesars, Papa John's Pizza etc.) out there in the market along with hundreds of local Pizza brand. So it is very important to promote and establish your own Pizza brand front the word go to stay alive in this highly competitive market segment. So if you are launching a new Pizza Store/Brand, remodeling your promotional strategy, working as a designer on a Pizza design project you can really rely on our 30+ amazing Free & Premium Pizza Box Mockup PSD template collection for inspiration.
Also, check:
We spent quite a time to find the best and most attractive Pizza Box mockup to compile this roundup that they would definitely help you to create your own brand identity by grabbing the immediate attention of your targeted market segment. These listed Pizza Box mockups are different in design pattern, size, shape, color scheme, and texture effect. We also paid close attention that listed mockup are picked from different Pizza Packaging type category such as Square and Non-square Pizza Box mockup, B-flute & E-flute Pizza Box mockup, Bleached Paper & Unbleached Pizza Box Mockup, Folding & Non-folding Pizza Box Mockup etc. that they would suffice your every kind of Pizza Box Mockups needs.
Please be informed, some of the listed mockups are absolutely ready-made. You do not even need to do anything other than just adding your own text, image, logo and Company tagline (If you have any) through well organized smart object layers. For designers, this list is worth having in your portfolio. You can use any of the ready-made templates to showcase your design style in front of your prospected client or you can produce your own Pizza Box design by taking inspiration from this diversified Pizza box Mockup design list.
UNLIMITED DOWNLOADS: 500,000+ Product Mockups & Design Assets
_______________________________________________________________________
Mockupden Exclusive Pizza Box Mockup PSD Files for our Visitors:

Updated New Inclusion on 2/06/2022
Free Pizza Packaging Mockup PSD Template:
Free Pizza Packaging Box Mockup Scene
Free Pizza Packaging Mockup PSD Template
Free Pizza Box Mockup PSD Template
Free Pizza Box Mockup PSD Template
#01

– Red and Yellow Pizza Box Mockup:
#02

– Hands taking pizza from the box Mockup:
#03

– Pizza in a Box and it's ingredients Mockup:
#04

– Collection Of Pizza Boxes Mockup:
#05

– Delivery Guy with a Pizza Boxes in Hand Mockup:
#06

– Delivery of Pizzas in boxes Mockup:
#07

– Teen holding two pizza boxes Picture Mockup:
#08

– Picture of a delivery man holding pizza boxes Mockup:
#09

 – Pizza Delivery Box Mockup:
Are you looking for pizza box designs? Well, here is an option for you. This particular mockup design has got each and every features that you need. Interested people can use this mockup design to present your pizza box ideas.
This box is designed by using two different color combination. One a bit darker than the other shade. Right in the center, a portion is placed where you can insert the logo of your pizza store. By using any editing software, you can change the outlook of this ready-made pizza design box.
#10

 – Red Pizza Box PSD Mockup:
One can possibly use this particular red pizza box psd mockup to showcase his/her idea. This PSD file is customizable by using the Adobe Photoshop software. Re-design the prepared format according to your requirements. Insert the logo, change the color option and you are done.
Why Pizza Packaging is Important for Pizza Marketing and what are the key elements you should keep in mind while creating a Pizza Box Mockup?
For a marketing perspective, if it's a food & beverage product, you should pay extra concentration of product packaging. Packaging is one of the key factors to make or break food product brand along with product quality. Given the product quality is equal for two competing companies, outstanding product quality can set one company apart from the other miles away. Company leaders do consider Pizza Box packaging is one of the strongest marketing weapon and by no means, you should take it lightly if you are going to introduce your new brand in the market. Most start-ups pizza companies make the blunder considering Pizza box as a mere carrying instrument and they are more prone to cost cutting on Pizza packaging rather than treating pizza packaging as a marketing weapon. Statistic has shown when treating Pizza Box packaging as a marketing instrument rather than just treating merely as a supply vessel, company bottom line can grow a couple of times due to successful branding! In long run, a outstading pizza packing will help to crate a great brand resulting company success.
Well, when designing a Pizza Box Mockup there are some certain things you should always consider:
There are two types of design, one if creative another is demand oriented production. When it comes to product packaging design, a designer should always consider company marketing strategy and company demands before starting the designing process.
Once you have the clear idea what company wants they go for instinct and start with the basic idea you have in your mind. You can always consider our Pizza Box mockup collection for inspiration.
Once you have the design, include the company or brand name in the Pizza box.
Do not forget to use company logo and tag life in the design.
Contact information along with Shop/counter address should be given in the right place of the pizza box.
The ingredients details could be given on the backside of the pizza box.
Once you finalize the pizza box packaging mockup, ask the company for their approval before you make the final print out.
#11

– 30 CM Red Pizza Box PSD Template:
This 3000*2008 pixel resolution PSD file is what you need. People viewing the publication can use this particular 30 cm pizza box to portray your box idea. Choose any of the 06 photorealistic designs that you want to work with. Customize the PSD file using the Adobe Photoshop software with some quick clicks.
#12

– Attractive Square Box of Pizza Mockup:
#13

– Square Pizza Box PSD Design:
#14

– Customizable White Pizza Box Illustration:
This customizable White Pizza Box Mockup design has got these features:
A high-resolution of 3800*2800 pixels.
Change the color scheme.
One can change the background texture.
Choose from the 06 PSD files.
3 textured designs to choose from – Black, White, and Brown.
Help file included in PDF format.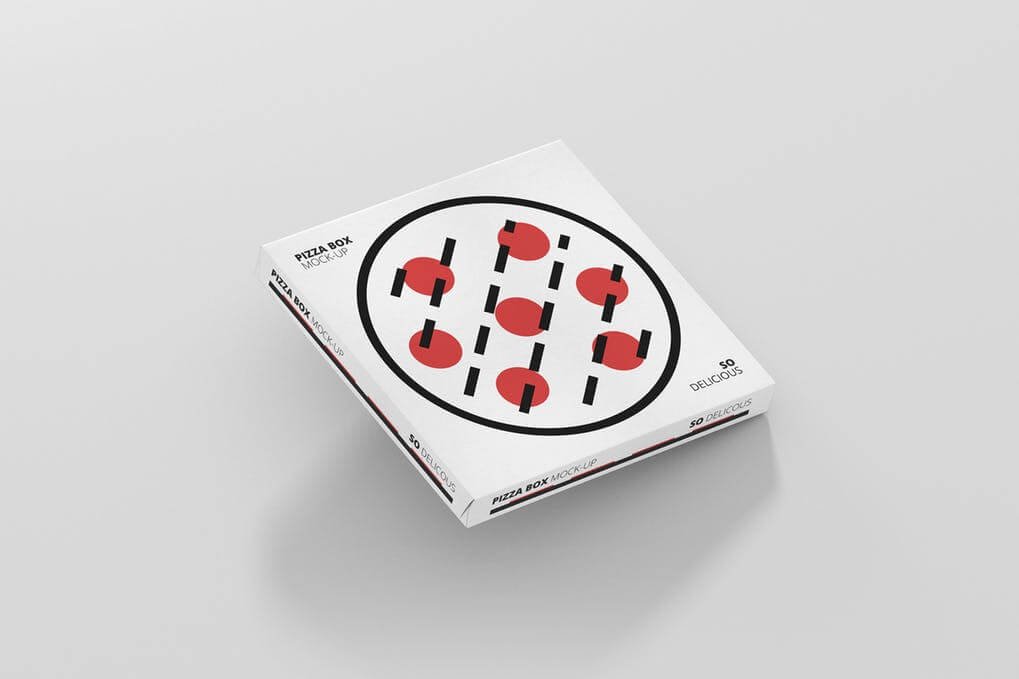 #15

– Octagonal Shaped Pizza Box Design Template:
Generally pizza box come in a square or in a bit rectangular format, but this particular box design comes in an octagonal shape. One may use this pizza box design for branding pizzas and also gain fame as well as attention in the market.
The characteristic of this mockup design are:
Dimension of 5400*3600 px.
Change the background if you want to.
File format present – PSD, PDF.
Use of smart objects.
RGB color mode is used to prepare this mockup design.
Easy to use.
Use the Guide file if you wish to.
#16

– Editable Pizza Box PSD Mockup:
#17

 – Printed Box of Pizza Mockup:
This particular mockup design has got a tropical print over it. One can find prints of banana, and leaves on the box. There's also a section where you can add your store logo. This will let you add a new look to this pizza box design mockup. One can also change the overall print design by using the Editing software.
#18

– Set of Two sized Pizza Box PSD Template:
Here is a mockup presentation where you find two pizza boxes different from each other. Except the print over the box, nothing is same or common. The dimensions and color scheme is different as well.
Want to know the details of this mockup design? Well, here they go:
2 different sized boxes.
9 PSD files to choose from.
72 DPI.
4000*2800 pixel resolution.
Color combination may be changed.
#19

 – Multilayered PSD File Box of Pizza Mockup:
It's high time to create a new pizza box design for your store. Why should you waste time in designing a new one when you get things easily. Extract the multilayered PSD file and start the editing process.
#20

– White Pizza Box Template:
#21

– Collection Of Multi-sized Red Pizza Box:
#22

– Sliced Pizza Box – PSD File Template:
#23

– Check Print Boxed Pizza Box Illustration: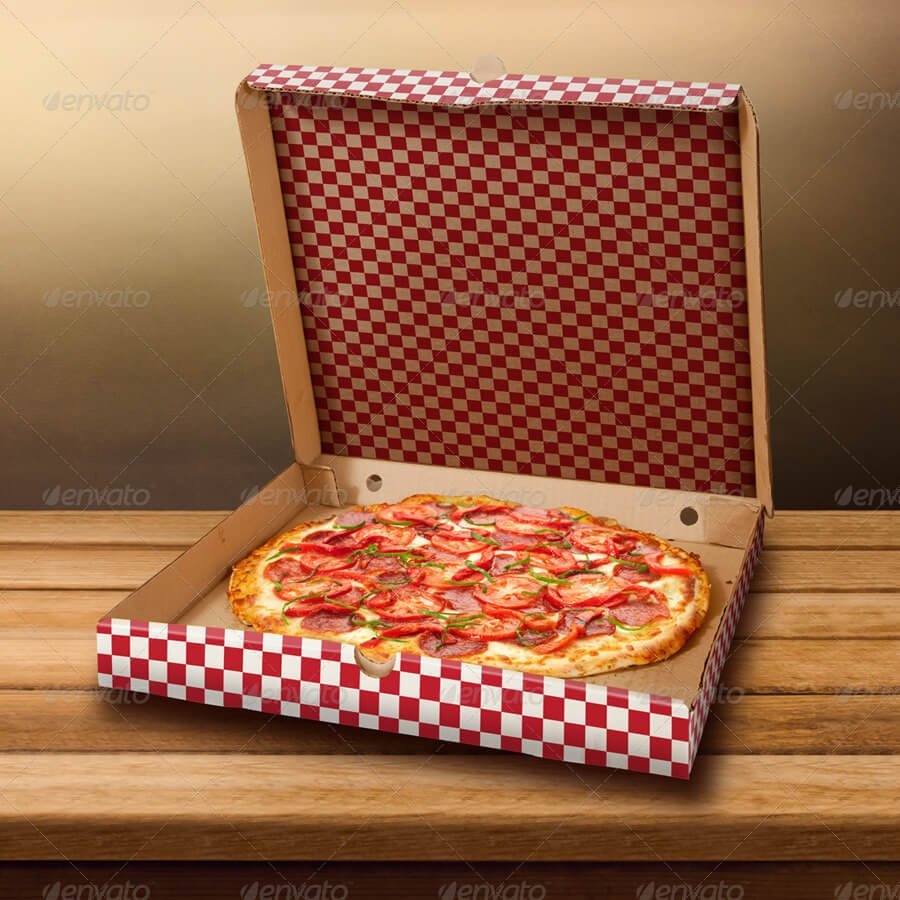 #24

 – Printed Pizza Box Design Mockup: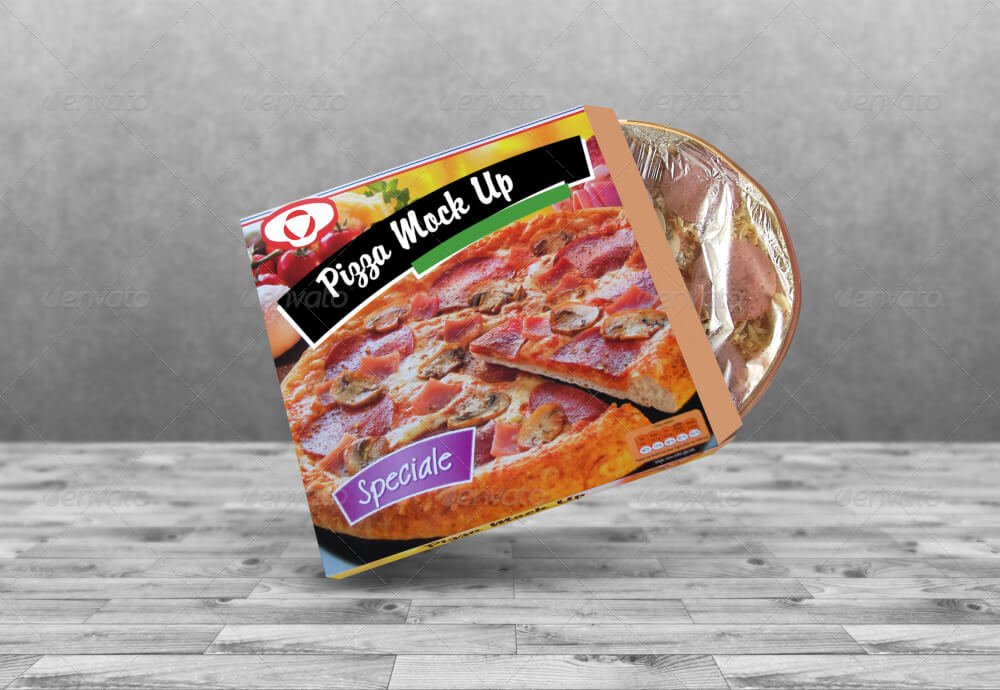 #25

 – 300 DPI Pizza Box Design Mockup:
#26

– White Colour Pizza Box Editable Template Design:
This White colored pizza box mockup design has the following features:
Contain layers – Yes.
High Resolution – Yes.
File Format – PSD format.
Resolution – 4500*3000 pixel.
Attractive pizza and spinach print over the box and also other different designs available.
09 PSD files to choose from.
Editable with Photoshop software.
Minimum Photoshop version required is – CS6.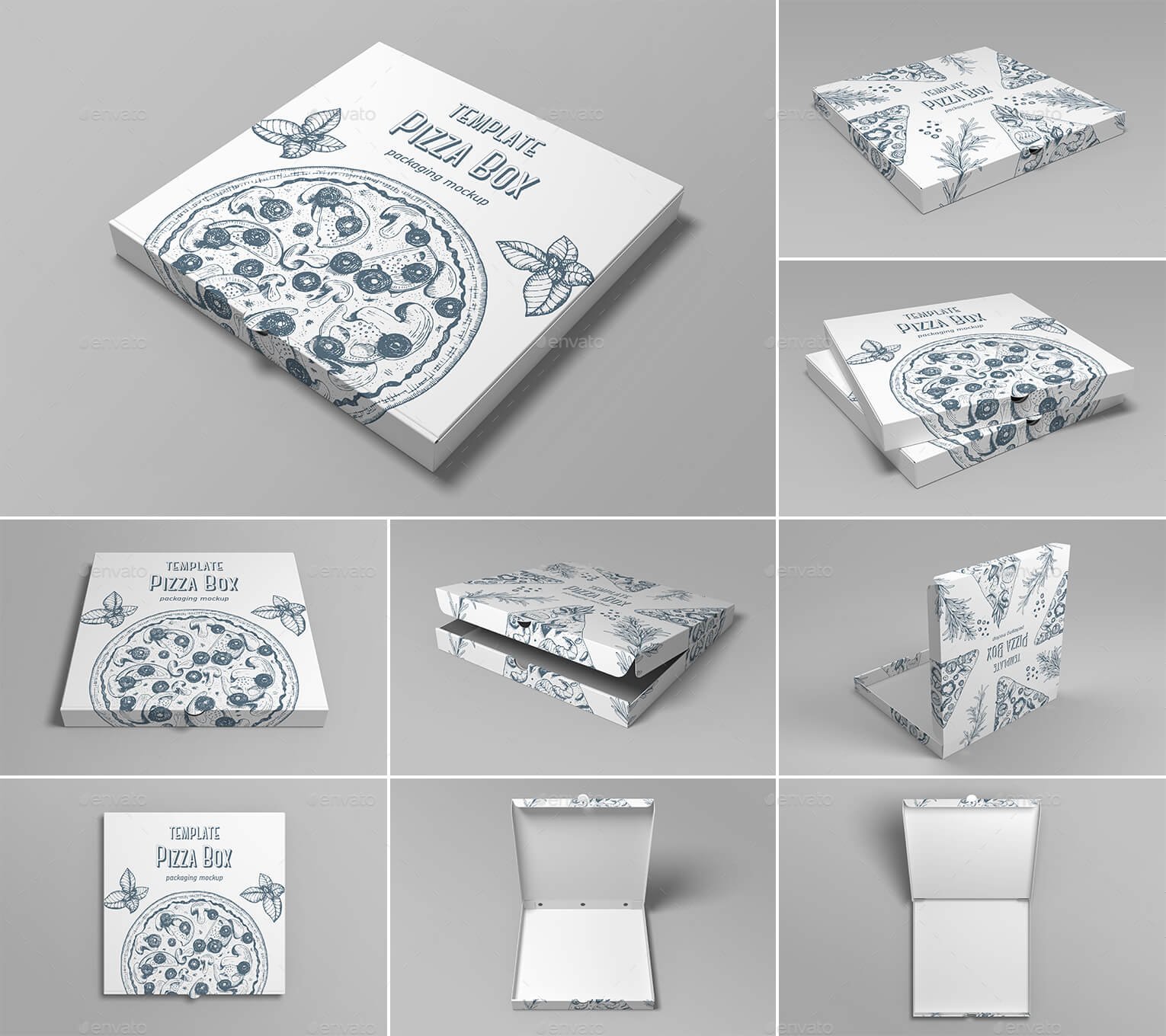 #27

– Opened Pizza Box Design:
Now create a photorealistic box design for your pizza store. Extract the files included here in this mockup design and then edit the file with the help of CS4 and Above. A PDF file is also included here for your support. If you face any problem while editing the box design, you can clarify it by viewing the Help PDF file.
Some of the extra features of this mockup design are:
PSD file format.
Works well with Adobe Photoshop software.
High Resolution 300 DPI.
Easy customization.
Color mode used – RGB.
#28

– Red And Blue Color Pizza Box Template:
This high-resolution pizza box mockup design has these features:
3 photorealistic designs.
Completely editable.
High resolution.
You can change the background color.
Box color may also be changed.
Edit with the Photoshop software.
Minimum software required is CS5.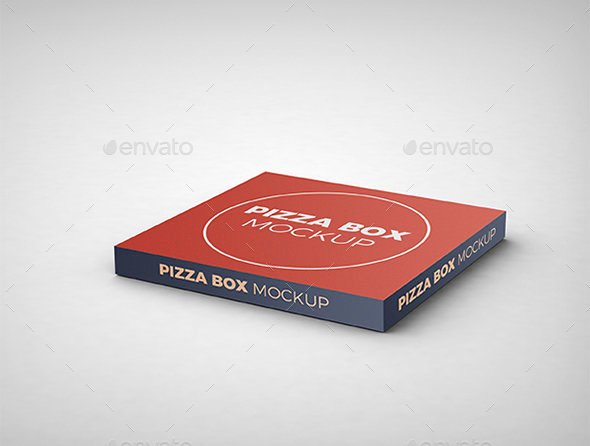 #29

 – Cardboard Pizza Box Vector Illustration:
This particular cardboard pizza box vector file is only editable by using the Adobe Illustrator application. Interested viewers can save the file included here and customize it according to his/her wish and need.
#30

– Hot Pizza Box Template:
This high-resolution pizza box mockup design has got multiple layers and is present in PSD format. Interested people can save the PSD file and then customize with the Photoshop software.
Some of the things that you can change here in this mockup design are:
Change the box color.
You can change the background color.
Layers of this mockup design maybe changed.
#31

–

Hand holding Pizza box mockup

: