Spray Mockup | 40+ Free Spray Bottle PSD Mockup Templates for design Inspiration: Spray Bottle does not necessarily belong to only cosmetics bottles. They have diversified work classes other than being used in the cosmetic packaging industry. Due to the diversified nature, there are different types of spray bottles such as water Spray Bottles, lawn spray bottles, Nasal spray Bottles, graffiti Spray bottles, Perfume Spray Bottles etc. As the uses and category of spray bottles are different so obviously, it demands the design of each type of spray bottle is different. We have rounded up a diversified list of 40+ Free Spray Bottle PSD Mockup Templates which designers can use in their next spray bottle design project or company can use revamp their branding campaign.
Please be advised we have included all types of spray bottle mockups that you can use in any spray bottle design project. Some of the spray mockups are premium which would require you to buy them from the Envato Market or Creative Marketplace in order to use them. Do check t
he product license agreement for permission and usability direction.
UNLIMITED DOWNLOADS: 500,000+ Product Mockups & Design Assets
Get all your mockup designs customized as per your wish by us at Fiverr.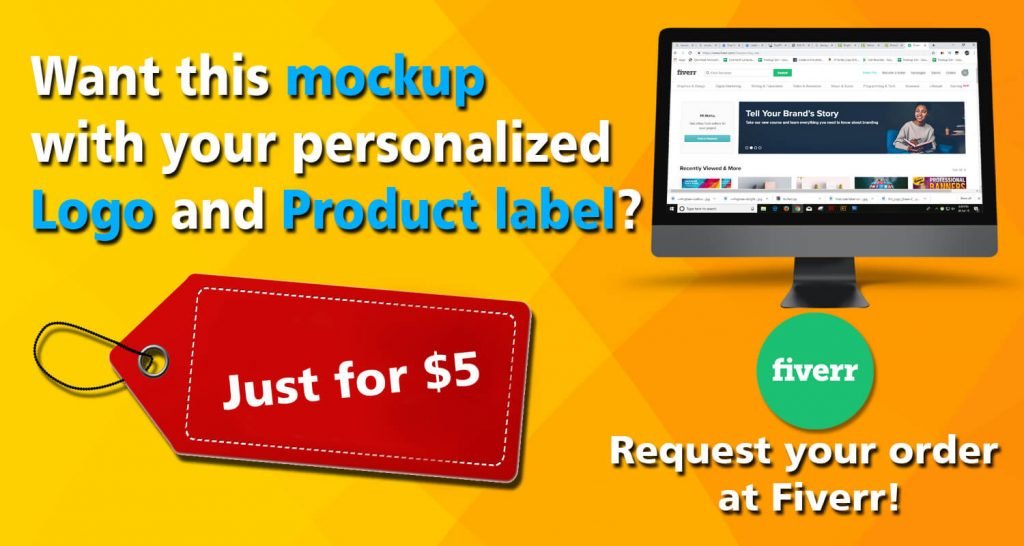 _______________________________________________________________________
Mockupden Exclusive Free Pencil and Pencil case mockup Design templates for Visitiors

Latest Design Inclusion July 2020:
Free Spray Can Mockup PSD Template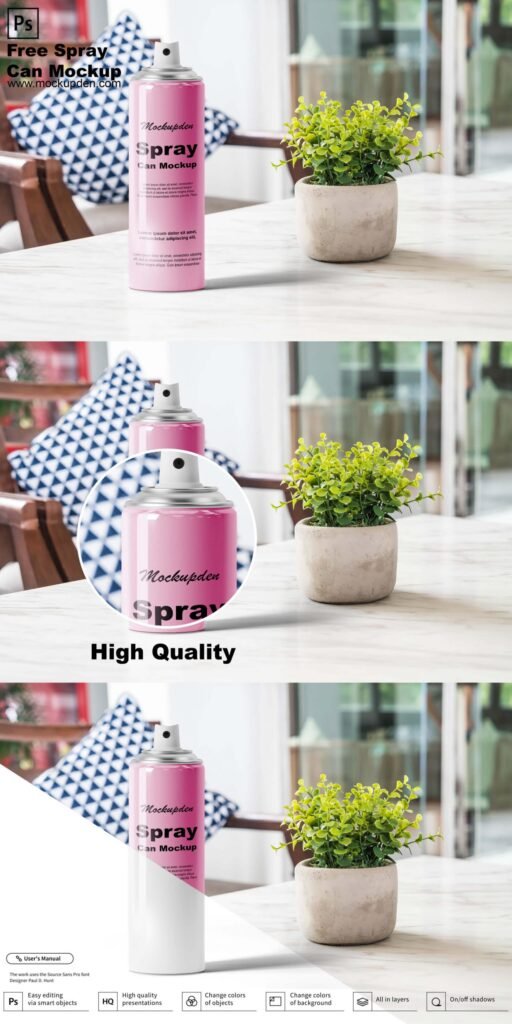 Free Spray Hand Sanitizer Spary Mockup PSD Template
Free Bottle Spray Mockup PSD Template
Free Spray Bottle Mockup PSD Template
Free Slim Hair Spray Bottle Mockup PSD Template
Free Nasal Spray Mockup PSD Template
Free Cosmetic Spray Bottle Mockup PSD Template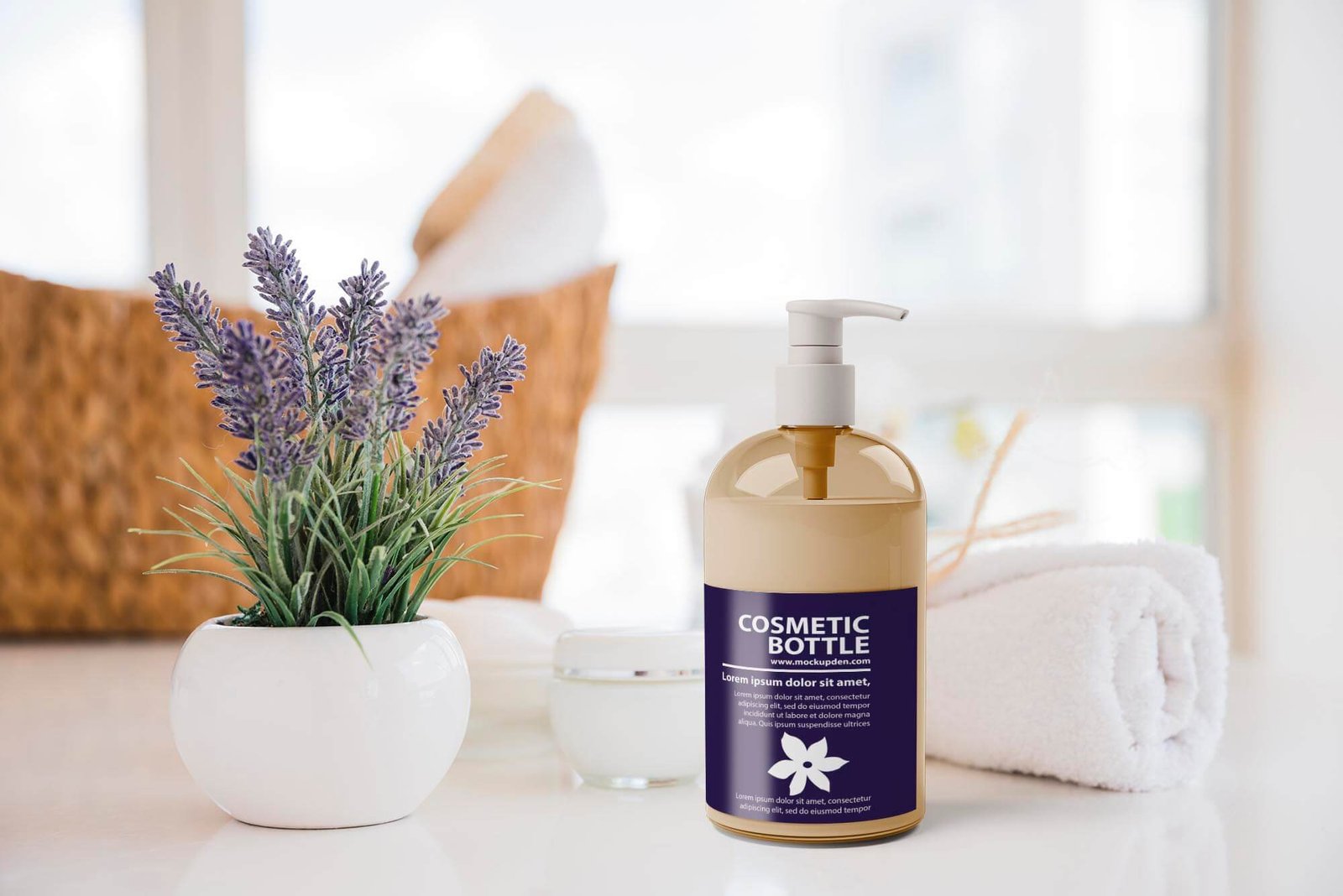 Free Cosmetic Spray Bottle Mockup PSD Template (Vol 2)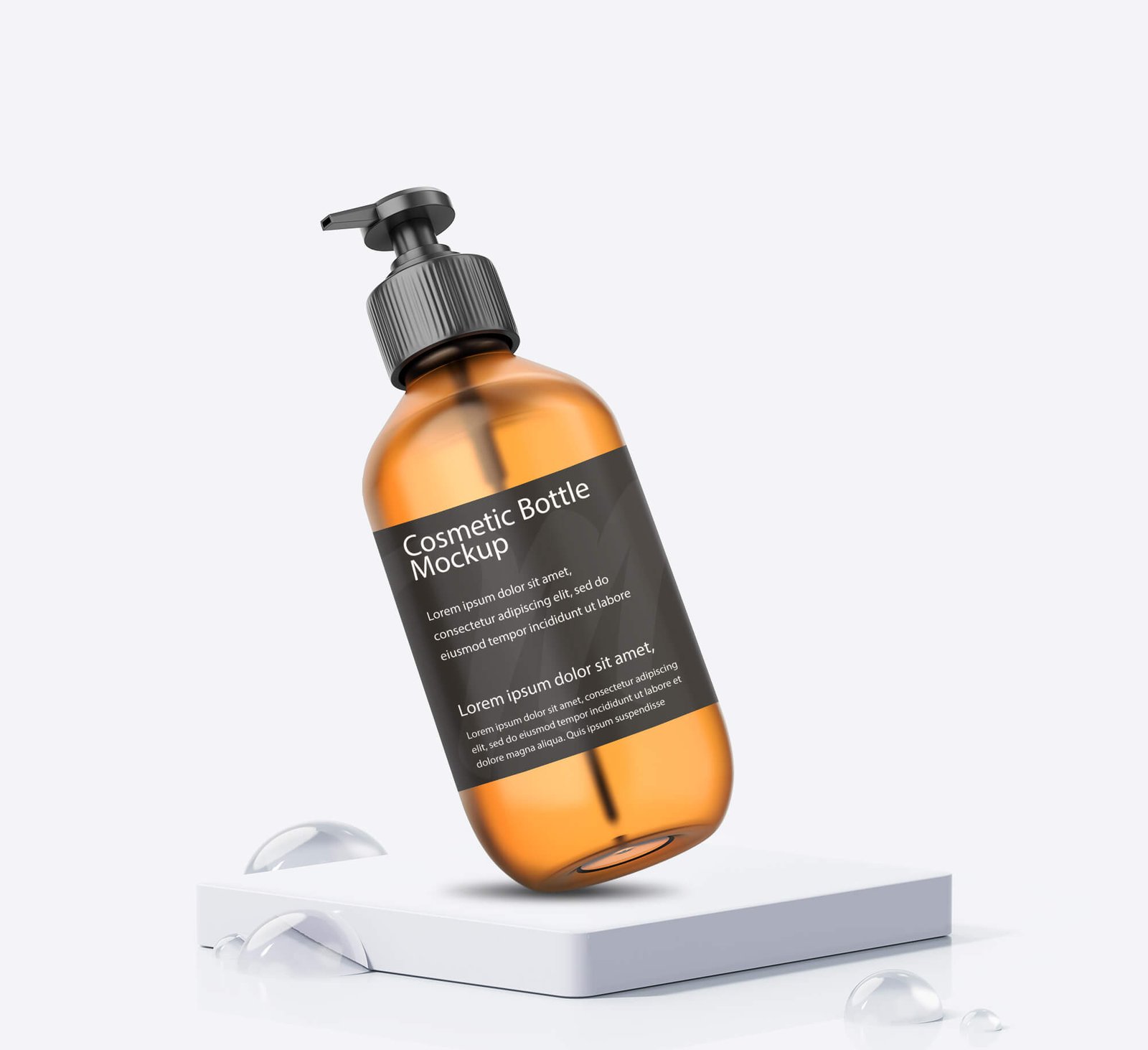 Free Room Freshener Spray Bottle Mockup PSD Template.
Hair Oil Spray Bottle Mockup

#01

 – Transparent Spray Mockup:
Transparent spray bottles with caps are included in this model mockup. Those who are looking for a simple clear spray bottle design to showcase, we have got something special for your clients to show off your classic style by using these spray bottle.
#02

 – Cosmetic Spray Bottles PSD Mockup:
Here are some spray bottle designs in high resolution. Choose your designed spray bottle from this mockup as it contains 5  spray bottle of different shape and color. If you wish to work with any of the spray bottle designs, you may extract the PSD file.
#03

– Brown Spray bottle PSD:
#04

 – Cosmetic Spray bottle Design Template:
Choose from the 3 color options – green, red and black to brand your spray bottles. This particular spray bottle design is generally used in Salons and cosmetic parlors to moist the hairs while cutting.
#05

– Easy to Edit Spray Bottle PSD Design:
This easy to edit spray bottle design may be used to advertise your perfume or deodorants. There's a cap fitted right at the top of the bottle and it gets easily opened. If interested using this spray bottle you can change the body texture and the design present.
#06

– Color Spray Can Template Design:
#07

– Perfume Spray Bottle PSD:
In this particular mockup design, you will find 3 different perfume spray bottles. Each of the bottles is different to each other and they have similar pump section. The cap of this perfume spray bottle has golden touch. Interested people in using this mockup design may have this mockup as a medium of advertisement.

#08

 – Customizable Mouth Spray PSD Mockup:
A yellow small bottle which also has a paper package is what this mockup scene is demonstrating. To make changes in the color of the cap, box, bottle, and other things this file has separated layers.
#09

 – Tin Can Spray Bottle Mockup:
There's a cylinder shaped with attractive colors spray bottle is given in this mockup with 5 different photo realistic presentation. Paste your required changes and then you will be having a complete new look of the product that your company manufactures to introduce in the market.
#10

– Colored Spray Bottles – 3 PSD Files:
#11

– Tall Deodorant Spray Cans PSD Design:
#12

– 100% Editable Spray Bottle Mockup:
#13

– Customizable Slender Spray Can Design template:
#14

– Plastic Spray Bottle PSD Design Illustration:
#15

– Grafitti Spray Can Mockup – 04 PSD Design File:
#16

– Various Form of Spray Bottle Mockup:
#17

 – PSD Design Spray Bottle Mockup:
Some perfume spray bottle cans are included in this particular mockup design pack. The complete view of this mockup design is provided to you by this single image illustration. The PSD file included has the same design as shown in the image down below. You have the option of making changes to the bottle design according to you choice thanks to the layered PSD.
#18

– Free Pocket sized Spray bottle Mockup:
#19

– Black and White Free Plastic Spray Bottle Mockup:
#20

– Free Black Spray Can Mockup:
#21

 – Woman sprinkling water with spray bottle Mockup:
A woman is seen to sprinkle water to the plants with the help of a spray bottle. If you would like to advertise about the essence of watering the plants for any particular subject matter, can use this mockup as the background picture.
#23

– Simple Spray Bottle Vector:
#24

– No Insect – Spray Vector:
#25

 – Beautifully portrayed Spray Bottle Vector Design:
Another vector presentation stating spraying of gas which keeps the mosquitoes/flies away. The representation is very beautifully portrayed with a soothing background color.
#26

 – Photo realistic Free Perfume Spray Vector:
#27

 – Vector Illustration – Insecticide Spray Can:
A vector presentation which denotes spraying of insecticides over a cockroach. One can use this vector file as an advertising medium. With the Adobe Illustrator, you can insert some required texts.
#28

– Hallow Spray Mockup Bottle:
#29

– Realistic and Simple Spray Mockup Bottle  PSD
You have the option of changing the color and the texts that you see in the spray bottle. Those interested in working with this mockup design must extract the PSD file first and then insert the essential changes by using Adobe Photoshop software.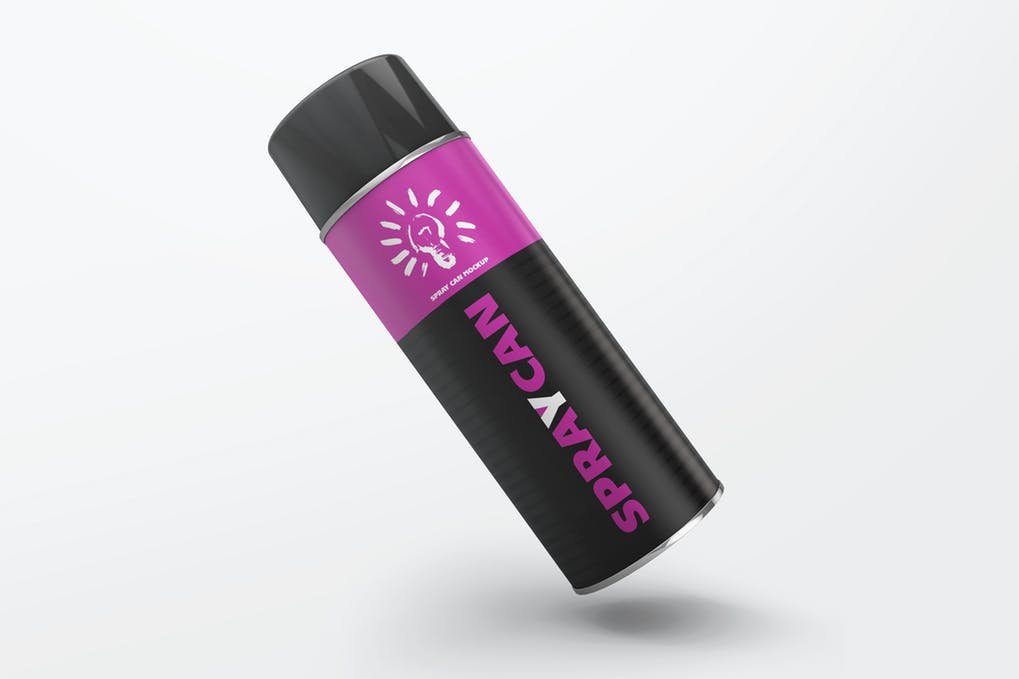 #30

– Spray Mockup Can with transparent cover in PSD:
#31

– Different Views of Spray Can Bottle Mockup:
#32

– Spray in Action Picture:
#33

– Blue and White PSD Spray Bottle Design:
#34

– Cosmetic Spray Bottle PSD Template
#35

 – Colored Aluminium Spray Mockup Cans Template:
Different colored spray aluminium cans is included in this mockup design. These spray cans have a very attractive color combination in the design presentation. The background color of the cans denotes the color which the can holds. But still if you want to make any sort of alterations, you can do it with the support of Adobe Photoshop software.
#36

 – Tattooed Guy Holding a Spray Mockup Can Photo:
#37

– Photo of a guy holding a Spray Mockup can:
#38

– Guy in mood of preparing a masterpiece with Spray Mockup can Picture:
#39

– Photo of a bearded guy holding Spray Mockup cans:
A bearded guy is holding two spray cans with the help of his two hands. This isn't a mockup design instead this is a picture. You can use it as a background image for advertising your Color Spray Cans.
#40

– Set of 3 PSD Spray Mockup in Bottle Design template
This mockup includes 3 different PSD files. These PSD files are extractable as well, If you wish to work with any of these mockup design, just get any of the file saved and with the help of Adobe Photoshop software, make the necessary modifications.