Digital Billboard Mockup | 25+ Outstanding PSD & Vector Design Template: Digital Billboard is the billboard used for advertisement in the form of a digital picture that is changing every second, controlled by a computer. For increasing your brand awareness, you should surely utilize a digital billboard for advertisement. For better marketing exposure, a billboard can be placed in the marketplace or any other crowded place to spread your company awareness and attract new potential clients. There are different forms of the billboard which could also be utilized for marketing and branding exposure such as outdoor billboards, street billboards, bus stand billboards, subway billboards, etc.
We have selected some of the best and amazing digital billboards for you to choose from according to the requirement and then can be easily modified in Adobe Photoshop. Just simply insert your company name and logo in the template and make the necessary adjustments. The files are in the form of PSD for easy modification with different layers and dimensions. You can change color, design, background, texture, etc.
Given below are all amazing collections of Digital Billboard mockup designs and if you have chosen any one of these designs for your product branding and want to customize it, then you can also contact us at Fiverr for personalized customization.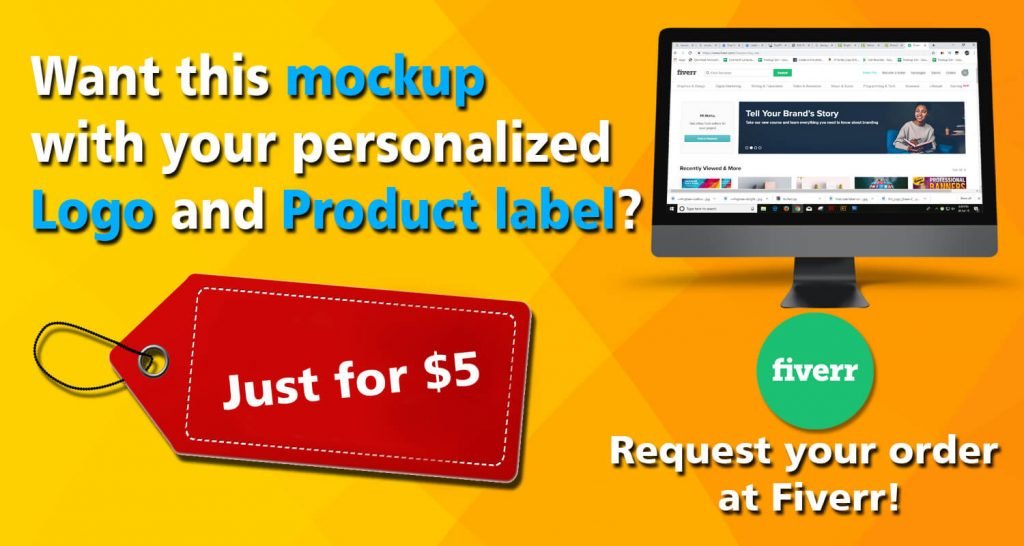 #1.

Digital Billboard at Airport Mockup

Digital billboards are an impressive and genuine method for advertisement. Advertisements through billboards may be expensive but it can play a vital role in the company's success. So if you are trying to work on this type of project, this digital billboards mockup will be a great option for you. When placed outside of the airport they can grab the attention of all the passengers passing by. It is a rectangular billboard where your brand promotion could be placed on the glass wall background. This is a JPG file available in the dimension of 6152 x 4506 pixels. 
#2.

Led Billboard Mockup

Make your billboard design amazing so that it stands for your brand and increases sales numbers. This is a simple mockup displaying text in dot format in a variety of colors on a black background. You can put your company name along with the slogan in this digital billboard for advertisement. This file comes in WOFF, TTF, OTF in 30 KB size.
#3.

Led Bus stand Billboard Mockup

Advertisements on the digital billboard will enhance the revelation of the company. This type of advertisement is very essential for building a great business brand and to spread branding awareness. If you are searching for an outdoor billboard mockup for your upcoming project, then this bus stand billboard template will suit your desire. The mockup is displaying an image of a beautiful lady waiting at the bus stand. Three blank billboards are placed in different sizes and dimensions. All are made in white color covered with a black border to display your brand name, logo, design, etc on it. The bus stand is at a very busy road and a roof is made for the protection of the public waiting and the digital billboards. This JPG file comes in a size of 17.24MB with a dimension of 7952 x 5304 pixels. You can subtly insert your brand detail for promotion with the help of Adobe Photoshop.
#4.

Tunnel Billboard Mockup
The Billboards represent your brand so make your design noticeable and authentic for grabbing the attention of potential customers. You can select this amazing outdoor tunnel billboard for your project. This mockup features a digital billboard on the entrance of a metro tunnel. The billboard is placed near the escalator and above the tunnel for catching the attention of the passengers who are traveling through the metro. The billboard is rectangular and hanging with the help of a rope. Your advertisement will pop up on the screen in a huge text format made with the black border which would distinctly appear isolated and special. This mockup is present in both the JPG and PSD format with a dimension of 3600 x 2700 pixels at 300 dpi.
#5.

Highroad Billboard Mockup
This mockup template showing a huge landscape digital billboard that can be utilized specially for the restaurant's advertisement. It can also be used for road signs, advertisements, etc. The billboard stands on the two-pole on the highway road. It will surely grab the attention of the public crossing through it. This is a high-resolution mockup that can be used for billboards and roll up banner and comes in two variants color. It's a vector file available in PSD and PDF format in 59.86 MB.
#6.

Street Billboard Mockup
This is another massive landscape digital billboard mockup that can be implemented for different advertisement purposes. The billboard mockup shows your real talent to present the project in a friendly environment. The billboard stands on an iron pole beside a commercial building. Your band name will display at the center in a huge text format and other information can be placed anywhere on the billboard. This mockup is fully customizable so you can change the color, text, background as per your requirement. It's a high-resolution fully layered PSD file that can be modified in Adobe Photoshop.
#7.

Subway/Airport Digital Billboard Mockup
#8.

Airport Billboard Mockup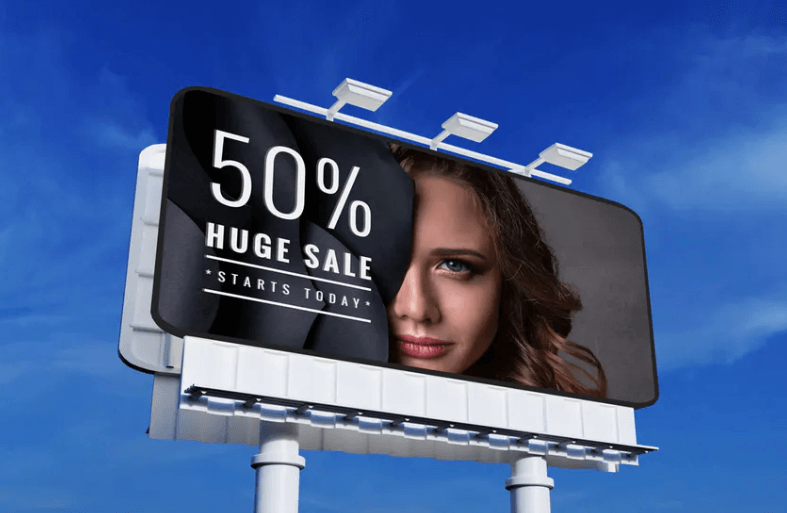 This Mockup is an instant attention-grabbing digital billboard for the brand sales, information, shop places, etc. The billboard stands on two iron pillars and also comes with three street lights. It's a rectangular billboard created to present ads on both sides and can be altered background, color, and image. You can also add the effect of light and shadow for the project presentation. It is a PSD file with a dimension of 6000(w) × 4500(h) pixels and can be editable in Adobe Photoshop.
#9.

Blue Color Subway/Airport Billboard PSD
#10.

Smart Subway Scene Billboard Mockup
This Airport/subway digital billboard requires no introduction because of it's authenticated quality and appearance and indeed could be used for brand promotion. This a very old and reliable method to promote your brand at the subway or airport. The billboard is a rectangle in shape placed vertically on the floor for catching courtesy of the passengers passing through it. Your ads that can be an image or a small video will display on-screen placed at the top of the billboard controlled by computer. This PSD mockup is made with 7 realistic changeable backgrounds and usually can be edited in Adobe Photoshop. The measurement is 3000×2000 pixel size at 300 dpi (dot per image).
#11 –
Green Color Roadside Billboard Mockup PSD Design
This roadside bus stand billboard is a perfect example of how billboard should be designed and where it should be displayed. This mockup template features a giant size billboard design fixed on the bus stand background structure. Passenger who waits for bus to take has to lay their eyes on the billboard advertisement and if the advertisement is creative and attractive it is going to leave a lasting impression on customer's mind for sure.
#12 –

Giant Digital Billboard Mockup PSD
#13 –

Light Blown Metro Station Billboard Mockup
#14 –

Billboard Placed In front Of Stairs Mockup
#15 –

High Resolution Outdoor Billboard MockUp
#16 –

Giant Yellow Color Digital Billboard Scene
#17 –

Billboard Placed On Bridge Mockup Scene
#18 –

Smart Billboard Placed On Shopping Mall Mockup
#19 – City Billboard mockup Free
#20 –

Vertical Digitized Billboard Scene Illustration
#21 –
10 PSD Scene Digitized Billboard Mockup
#22 –
 Realistic Design White Color Billboard Illustration
#23 –

Yellow Shade Highway Billboard Scene
Placing billboard advertisement at the right place is another important factor which should not taken lightly by the business or advertising agencies who work on the behalf of the companies. Roadside or inside malls are preferred places because plenty of people turns out to those locations everyday and visualize the advertisement billboard. If the billboard advertisement is creatively designed and carries a meaningful message that will certainly going to leave a positive impression on the viewers mind and will able to create curiosity about the advertised product of service.
This cutting edge billboard mockup is one such design concept which you can use to advertise any product brand or service. This fantastic mockup displays company logo at the left bottom side of the template with a close of view of a person right beside it. On the top right corner of the advertisement template campaign message has been displayed in radiant fonts and color.
#24 –

Giant Orange Color 360 Digital Billboard
#25 –

Free Girl Watching Billboard

Customizable template

PSD File
#26 –

Horizontal Sap Green Color Billboard
#27 –

4×1 Size Vertical Billboard Illustration
A busy street is always a prefered destination for display advertisement because there are thousands of people uses a busy street making that place worthy for advertisement. What could be a better replacement for a large street billboard? Like, this particular mockup template is showcasing a beautiful advertisement displayed in a highway. All the passerby can not unnoticed this giant advertisement board and the prime purpose of reaching people could be easily meet by using this street billboard design template.