Best Desk Calendar Mockup | 41+Desk Calendar PSD Templates for Designer: Organized schedule is the ultimate weapon to do stuff on time, and it also helps people not to miss any important things they are supposed to do in time. To make or keep track of your schedule, there is no alternative of Calendar. Sometimes if we do not put things on our program, we tend to miss something because of our hectic regular stuff. So having a calendar/desktop calendar in room/office will make things easier for us to remember things and also remind us about our meetings/work etc. We find the desktop calendar in almost every houses/office. There are a vast array of a different kind of calendar design out there, and it may be a little difficult for you to produce any new attractive design. To help you out in this situation we have added 40+ Free & premium most creative Desk Calendar Mockup PSD templates in this collection.
These elegant ready-made templates could be your escape to present your Desk Calendar design portfolio in front of your client in no time. This colossal collection will give you options to pick the right design, which will help you to create a unique design by blending with your imagination of desktop calendar design. These organized layered PSD files will let you insert your client's logo/business identity without any issue and will give a personalized design look enough to convince your client to opt you as a designer.
Also check,
UNLIMITED DOWNLOADS: 500,000+ Product Mockups & Design Assets
Get your favorite designs customized by us at Fiverr.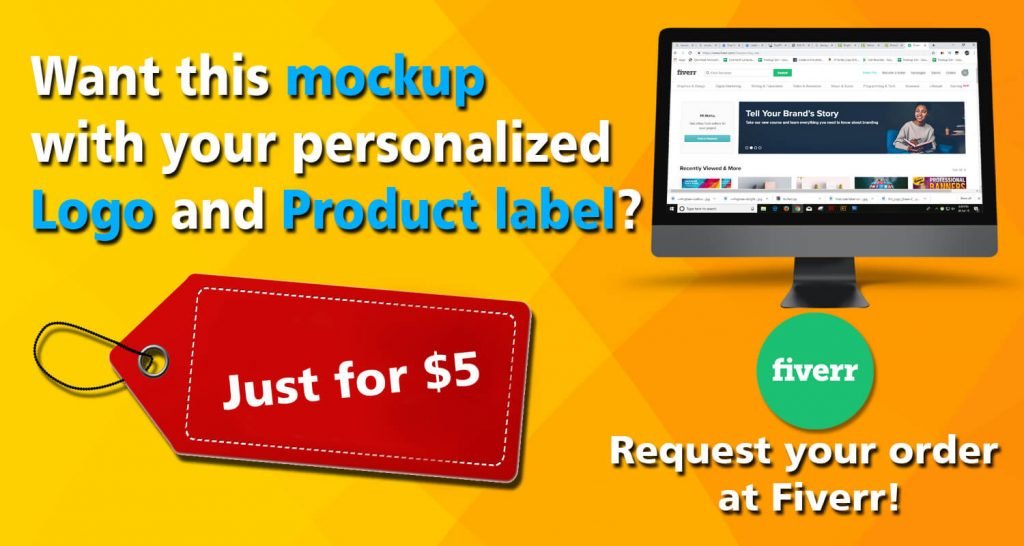 _______________________________________________________________________
Mockupden Exclusive Free Desk Calendar Mockup PSD Files for our Visitors:

Updated New Inclusion on 08/06/2021
Free Elegant Desk Calendar Mockup | PSD Template
Simple & Clean Free Desk Calendar Mockup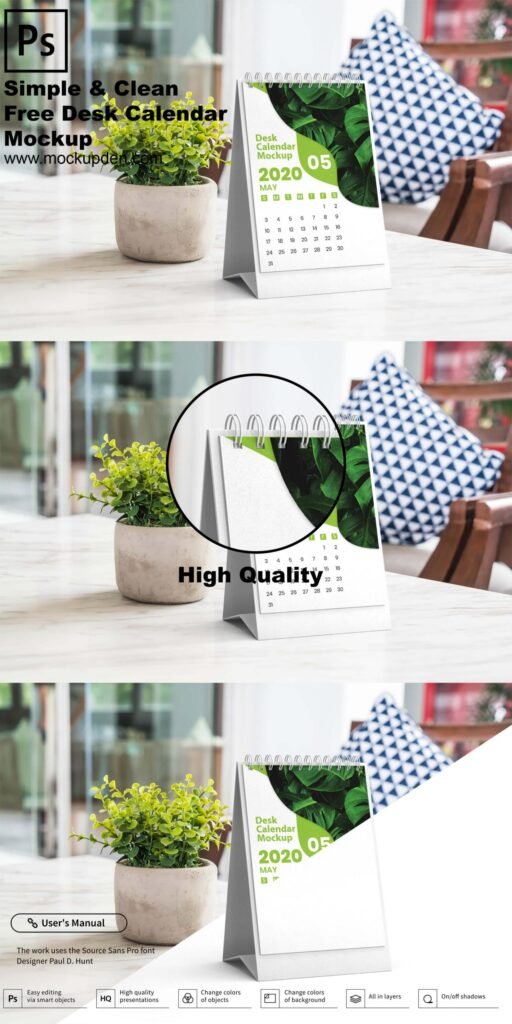 #01 –

Desk calendar Mockup On Wooden Table
Showcase here is a white color blank desk calendar PSD template and template design. This is a note-writing desk calendar with spiral binding kept on a wooden table with green color blurred background and easy editing feature.
#02 –

Simple Plane desk calendar PSD Template
The above image showcases a white color clean and simple desk calendar with spiral binding. This image features a plane light blue color background with a shadow effect in the below.
#03 –

Bundle Calendar Desk Mockup
You are getting here a high-quality premium desk calendar design in vertical format. It's a significant black and brown color formation calendar design with spiral binding along with an abstract print on it with multiple colors and text written upon it. Moreover, this image features a chocolate color background which is changeable easily using Adobe Photoshop.
#04 –

horizontal Format

Spiral Binding Desk Calendar PSD Mockup
This is a horizontal format desk calendar design template. This is a bi-colour mockup design Which is cross-cut from the middle and separated with an orange and white color. Moreover, as seen in the above image, there are two desk calendar with spiral binding kept on a white color desk along with a light shadow reflecting in the bottom of the calendar.
#05 –

Flower Printed Desk Calendar PSD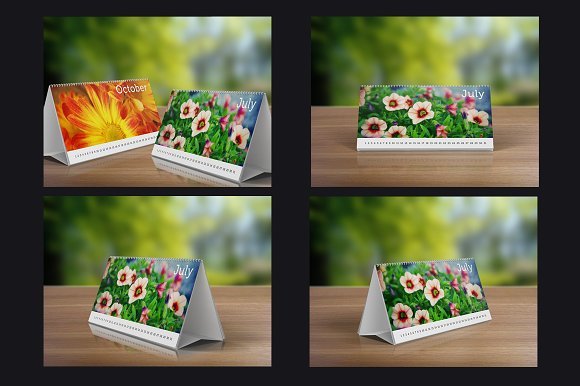 This is a photo-realistic desk calendar design in 4 different views. This scene showcases a beautiful floral design print calendar kept on a wooden floor that represents a blurred green background with a shadow of a calendar falling on the table. In addition to this, you are also getting here more colorful calendar with month name written upon it.
#06 –

Spiral Book Desk Calendar On Wooden Table
This is an illustration of a spiral book desk calendar design template with stationery set kept aside. It's an office workplace picture which features a black color spiral-bound book along with an iPhone, business card, pencil and market kept aside to it on a wooden table/desk.
#07 –

Twelve Month Desk Calendar Mockup Of 2019

This image captures an awesome landscape printed desk calendar design with 12 month 2019 calendar printed on it.
#08 –

Free Editable Desk Calendar PSD
This image displays a vertical style desk calendar design with four different views. It's a green color print calendar with a separate month section and abstract design sap green color print background.
#09 –

Photorealistic Desk Calendar Vector Design
You are getting here a striking Hilly area landscape print calendar design vector file illustration. This calendar displays an attractive hilly area picture with snowfall and dusk view image with black color windows theme month and date printed on it in 3D effect.



#10 –

2018 Free Desk Calendar Design Template
This is a premium design 2018 desk calendar design. It's a clean spiral binded calendar to promote your desk calendar design.
#11 –

Horizental Desk Calendar PSD
This is a natural orange and black color desk calendar design illustration with a clean white background. Desk mockup with separate notes section is helpful for all and the mockup design we listed here is same. In this, you can see an orange color box on the top with the date and month name and with a black note section in the below.
#12 –

White Background Double Desk Calendar Mockup
Here we brought to you a photo realistic galaxy print desk calendar with clean background.
#13 –

Vertical Desk Calendar Mockup With Cactus & showpiece
Showcase here is a vertical desk calendar template with cactus pot and showpiece kept aside to it on a wooden desk.
#14 –

  Desk Calendar in Vertical Position Mockup
#15 –

A Girl Face Desk Calendar PSD Mockup Of 2019
#16 –

Changeable Background Desk Calendar Mockup
#17 –

Realistic Set Of Desk Calendar Mockup
#18 –

Smart Object Photorealistic Desk Calendar Mockup
#19 –

Month Of November Desk Calendar Mockup
#20 –

Interior Design Desk Calendar Mockup
#21 –

Stylish Desk Calendar Mockup
#22 –

Monthwise Desk Calendar Mockup
#23 –

Desk Calendar Mockups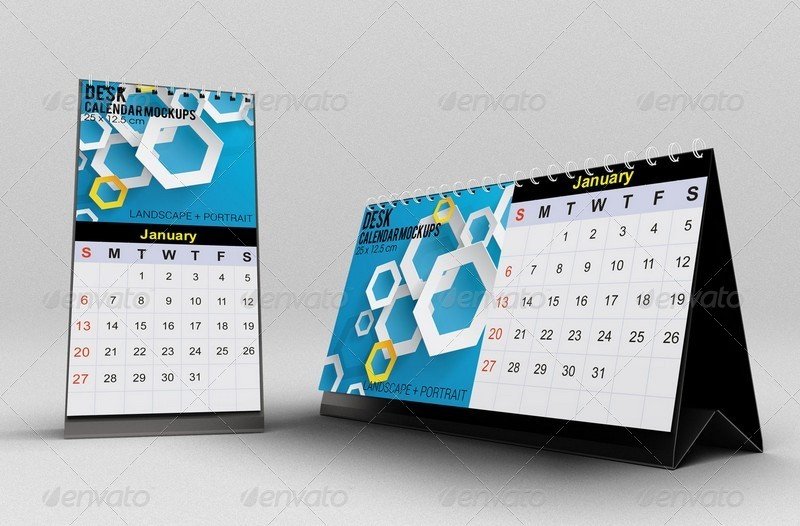 #24 –

Company Logo Branding Desk Calendar Mockup
#25 –

Desk Calendar v01 Mockup Set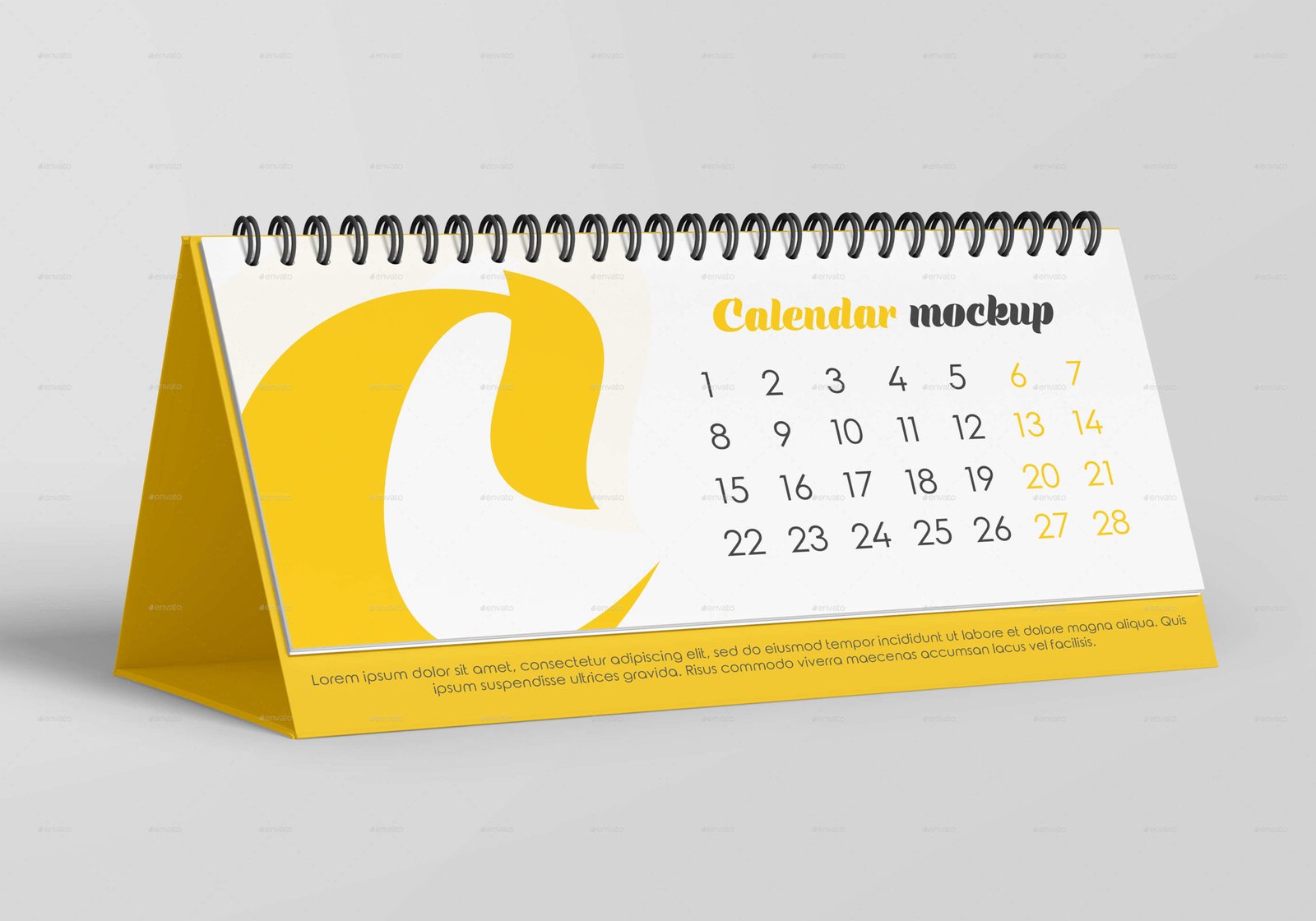 #26 –

Desk Calendar Mockup
#27 –

Mini Desk Calendar Mockup
#28 –

Desk Calendar Mockups
#29 –

Desk Calendar Mockups
#30 –

2016 Desk Calendar Mcokup With Gift
#31 –

High Quality Images Desk Calendar Mockup
#32 –

Horizontal Desk Calendar Mockup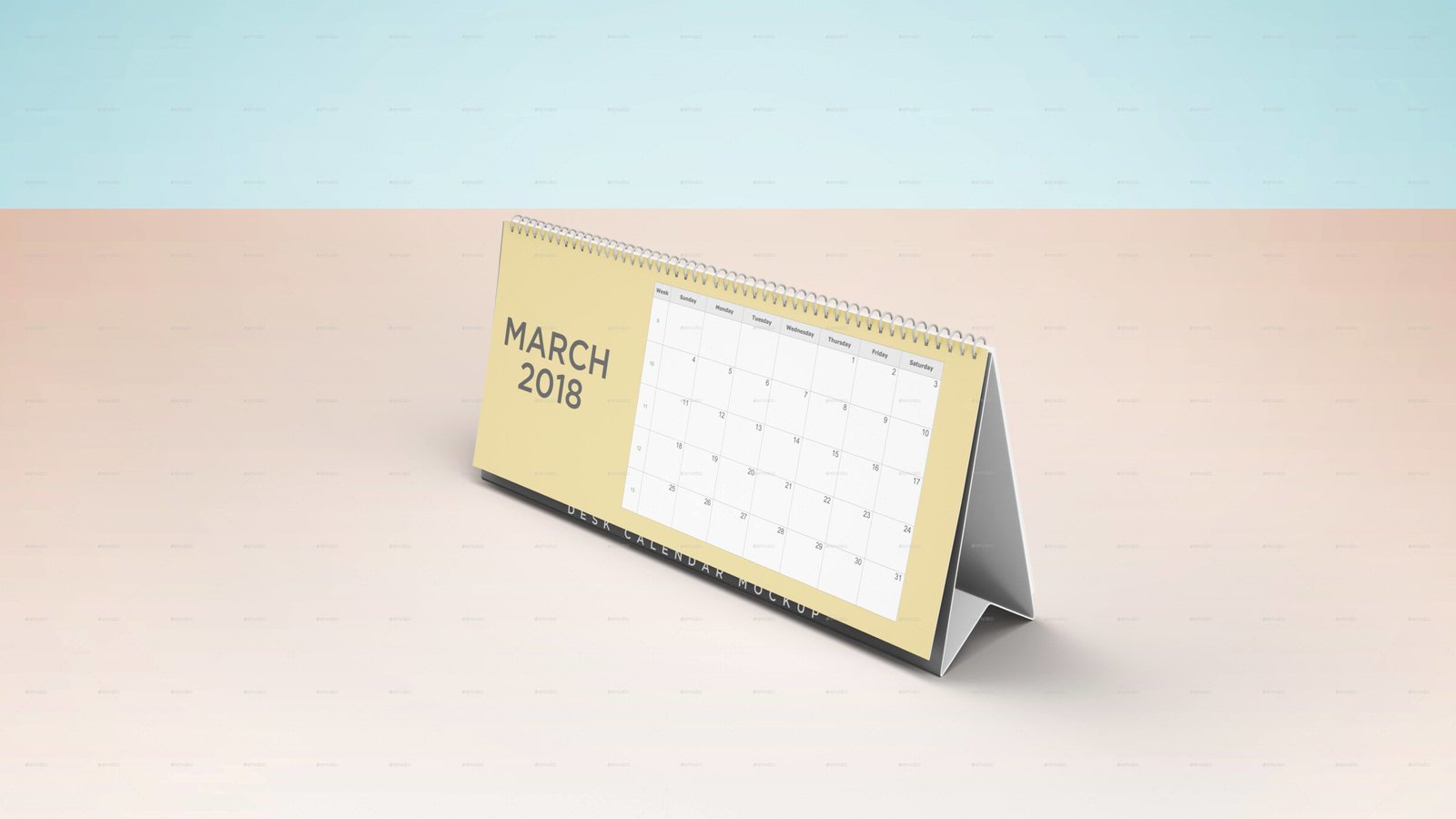 #33 –

Realistic A5 Desk Calendar Mockup
#34 –

Bridge Print Desk Calendar Mockup
#35 –

Landscape Print Desk Calendar Mockup
#36 –

2014 Desk Calendar Mockup
#37 –

Customizable Desk Calendar PSD Mockup
#38 –

Nature View Desk Calendar PSD Mockup
#39 –

Spiral Binded Desk Calendar PSD Mockup
#40 –

Simple Desk Calendar Mockup
#41 –

Simple Desk Calendar Mockup