Best 43+ Free Table Calendar Mockup PSD Vector templates for Designers: Calendar is a critical element to keep track of your schedule and maintain daily routine working stuff. In our daily hectic life, there are constant event flow such as meetings, special events, personal and officials occasions, school assignments, etc. and without proper tracking, there is a high probability we might miss one. So filling up a schedule beforehand in the calendar will help us to avoid those unwanted situations. For a successful education and work-life staying organized by maintaining a calendar, a schedule is very important. This is why Table calendar is used all around the world quite a lot and there are obviously huge demand for the new creative design idea. In order to stimulate your design passion, we have added 43+ best Table Calendar Mockups in PSD and Vector format for you to have enough design inspiration.
Use these free and amazing Premium Table Calendar Mockups to present your unique design sense to be recognized as a creative designer and of course clinch the design project from your customer. You can also give these mockups a personal customization touch by altering the necessary portion where personal branding or design could be added. Changing color, background, presentation scenario, adding new objects are just a click work through organized smart layers in PSD templates. If you need any other customization assistance do consult the help files included in most of the design template pack. Do aware some of the templates are premium and you need to subscribe to Envato Marketplace or Cretivemarket in order to download those files.
Also check,
UNLIMITED DOWNLOADS: 500,000+ Product Mockups & Design Assets
Get your favorite designs customized by us at Fiverr.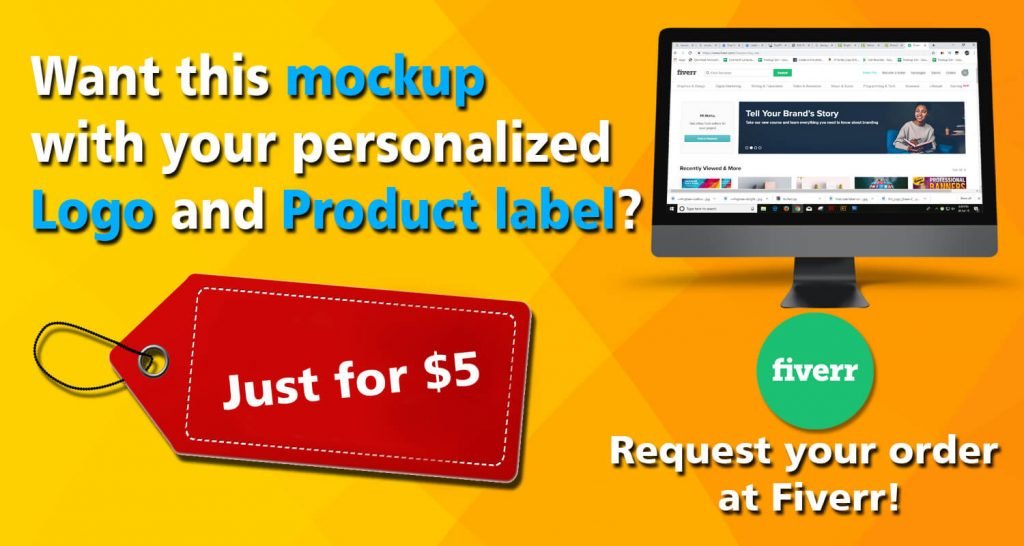 _______________________________________________________________________
Mockupden Exclusive Free Table Calendar Mockup PSD Files for our Visitors:

Updated New Inclusion on 04/06/2021
Latest Design Inclusion 2021:
Free Elegant Desk Calendar Mockup | PSD Template
Simple & Clean Free Desk Calendar Mockup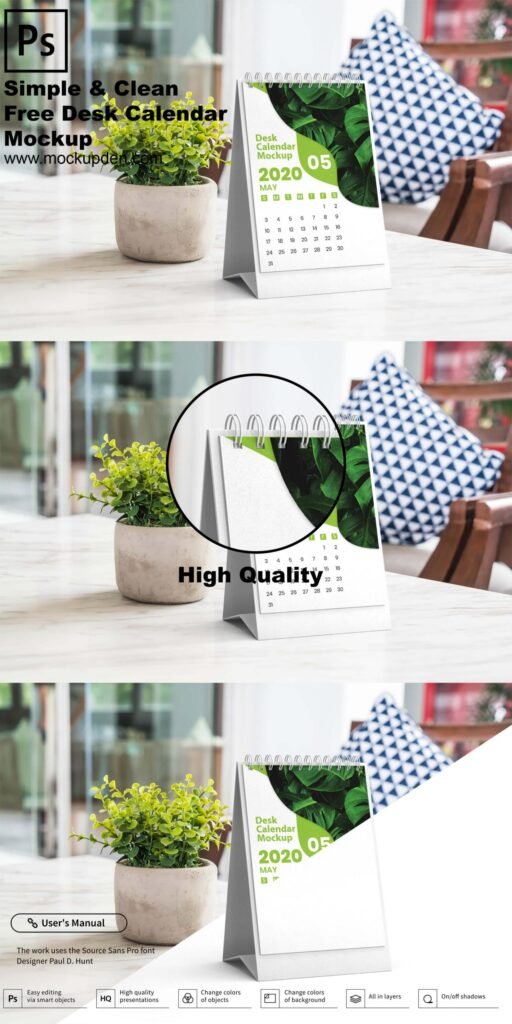 #01 – Vertical Table Calendar Vector
Here we present a vertical table calendar Vector design along with cactus and a statue kept beside on a wooden table. With this vertical desk vector, you can also present your stationery design project. It's a 6.5″ x 9.5″ size portrait format vector with smart object option enabled here.
#02 – 2018 Table calendar Mockup
Listed here is a latest 2018 table calendar vector design illustration in A5 size. This is a 210 x 148 mm mockup with 5 mm bleeds that features to add your own logo, contact information and other images you want in CMYK color mode. Get IDD and PDF preview format mockup from here.
#03 – Pink Stripe Table Calendar Mockup
Listed here is a pink and white color table calendar mockup in A5 size. The showcased design has a pink color stripe printed on the upright section along with the current date written there with the weekday's name and full month date written in the bottom. Key features listed below:
High-quality images.
3000 x 2000 pixel image at 300 Dpi.
7 PSD file imaged which are compatible best with Adobe CS4 and higher version.
Includes PDF instruction.
Features easy editing through smart option and also change background color easily.
#04 – Customizable Calendar Vector For 2019
#05 – Info graphic Table Calendar Vector Design
This is a spiral binded based info graphic timeline calendar vector design ideal to kept on table. It's a blue color stripes printed photo with text and year printed on the calendar.
#06 – Landscape Print Wall Hanging Calendar Vector Design
Illustrated here is a hilly scene printed photo realistic table calendar vector design with option to change picture and add your own graphic to it. It's a 1800 x 1200 pixel image of 165KB size in layered files. You can see here a 3D calendar scene in square black color outlet.
#07 – Orange Binded Table Calendar PSD Design
This is a vertical design orange and black color table calendar kept on a table with white color background scene. It's a spiral binded calendar with slim orange color stripes printed on the top with dates written on it along with the black daily note section on the bottom of the calendar.
#08 – Blank Calendar Illustration
Showcased here in the above is a clean and white color horizontal calendar mockup with spiral binding on it. In this image, there is a clean white calendar kept on a wooden table with green blurred background along with a shadow reflection of a calendar on the table.
#09 – Vertical Table Calendar Mockup
Design showcased in the above is a clean and white color table calendar with light blue background. It's a spiral binded calendar illustration with smart option to add your image and graphic design to it.
#10 – Mountain View Printed Desk Calendar Vector Format
Here we present an illustration of a multiple landscape theme printed table/desk calendar mockup.
#11 – Kimarotta Table Calendar Mockup
#12 – Two Table Calendar Mockup
Image listed in the above features two different bi-color table calendar mockup design in orange and white color theme. It's a spiral binded mockup with text written on it with distinct separation from the middle.
#13 – Vertical Desk Calendar Mockup
#14 – Horizontal Design Two Table Calendar Mockup
This is an illustration of a horizontal floral theme printed table calendar mockup in four different views. It's a photo realistic mockup design which features easy and smart editing option using Adobe Photoshop. In addition to these, it's a high-quality image which also features background changeable feature.
#15 – Spiral Desk Notebook Mockup
#16 – Photo realistic Galaxy Print Table Calendar Mockup
#17 – 2016 Desk Calendar Mockup
#18 – Spiral Binded Vertical Table Calendar Mockup
#19 – Multi color Print Desk Calendar Mockup
#20 – Horizontal Calendar On Table Mockup
#21 – Two Table Calendar Mockup
#22 – Adoptive 4 Angle Desk Calendar Mockup
#23 – Desk Calendar With Blurred Background Mockup
#24 – Landscape And Portrait Design Calendar Mockup
#25 – Simple Table Calendar Mockup
#26 – Hilly Scene Spiral Binded Calendar Mockup
#27 – Changeable Background Desk Calendar Mockup
#28 – Editable Desk Calendar Mockup
#29 – Artistic Print Desk Calendar Mockup
#30 – 8 x 4 Desk Calendar Mockup
#31 – 8 PSD Files Calendar Mockup
#32 – Pink Background Spiral Binded Calendar Mockup
#33 – Creative Print Table Calendar Mockup
#34 – Leaves Printed Calendar Mockup
#35 – 3 Business Calendar On Table Mockup
#36 – Model Photo Print Table Mockup
#37 – Multicolor Print Table Calendar Mockup
#38 – A5 Desk Calendar Mockup
#39 – 2014 Landscape Print Table Calendar Template
#40 – Bi-Color Print Desk Calendar Mockup
#41 – Light Blue Vertical Table Calendar Illustration
#42 – Calendar On Table Mockup
#43 – 6 PSD File Desk Calendar Mockup