Milk Bottle Mockup | 40+ Different Presentation of Milk bottle PSD, Vector Templates: Bottles are very convenient packaging type for packing liquid food materials which either are glass bottle or plastic bottle which works are plastic food container. They keep the product quality intact as well as easy to use. Bottle are significantly used for Milk and expect Tetra pack packaging type, bottle are the only things use to pack and deliver Milk. Bottles are used in other product categories as well other than food such as medicine bottle, cosmetics bottle etc. Bottle generally has bottle caps, but baby milk bottle uses nipples instead. In this roundup, we have listed 40+ different presentation of Milk bottle PSD, vector templates for designers which they can customize through smart layers and use their food theme design project.
Also check, 
These milk bottle mockups are customization friendly as they have several smart layers included. Use them for modification purpose like changing the background image, colour combination, texture etc.
We have listed below an amazing and unique collection of wine bottle mockup designs for your brand. Mostly available in the PSD format. You can edit in the Adobe Photoshop, and if you have chosen any one of these designs for your product branding and want to customize it, then you can also contact us at Fiverr.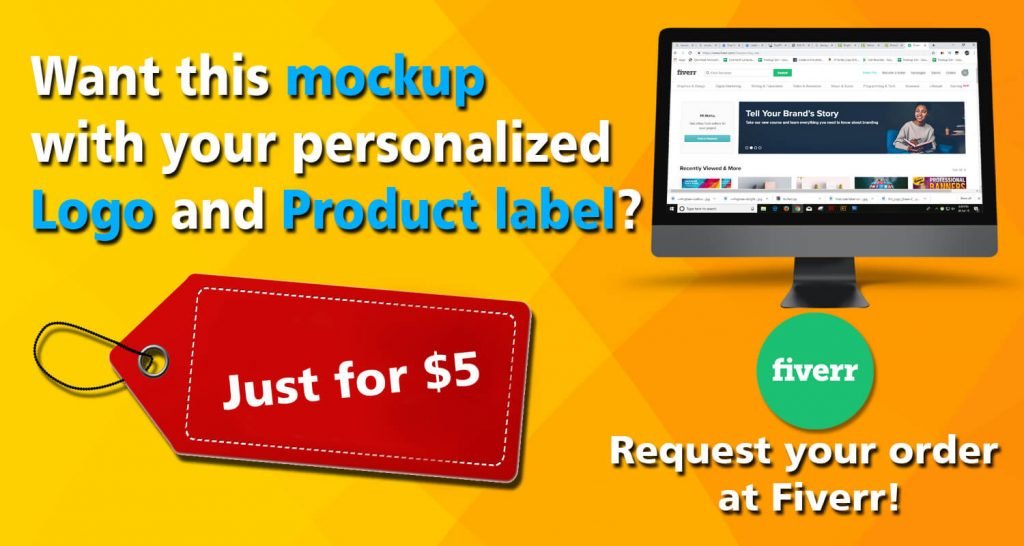 UNLIMITED DOWNLOADS: 500,000+ Product Mockups & Design Assets
_______________________________________________________________________
Mockupden Exclusive Milk Bottle mockup PSD Files for our Visitors:

Updated New Inclusion on 28/06/2021
Milk Bottle Mockup Free PSD Template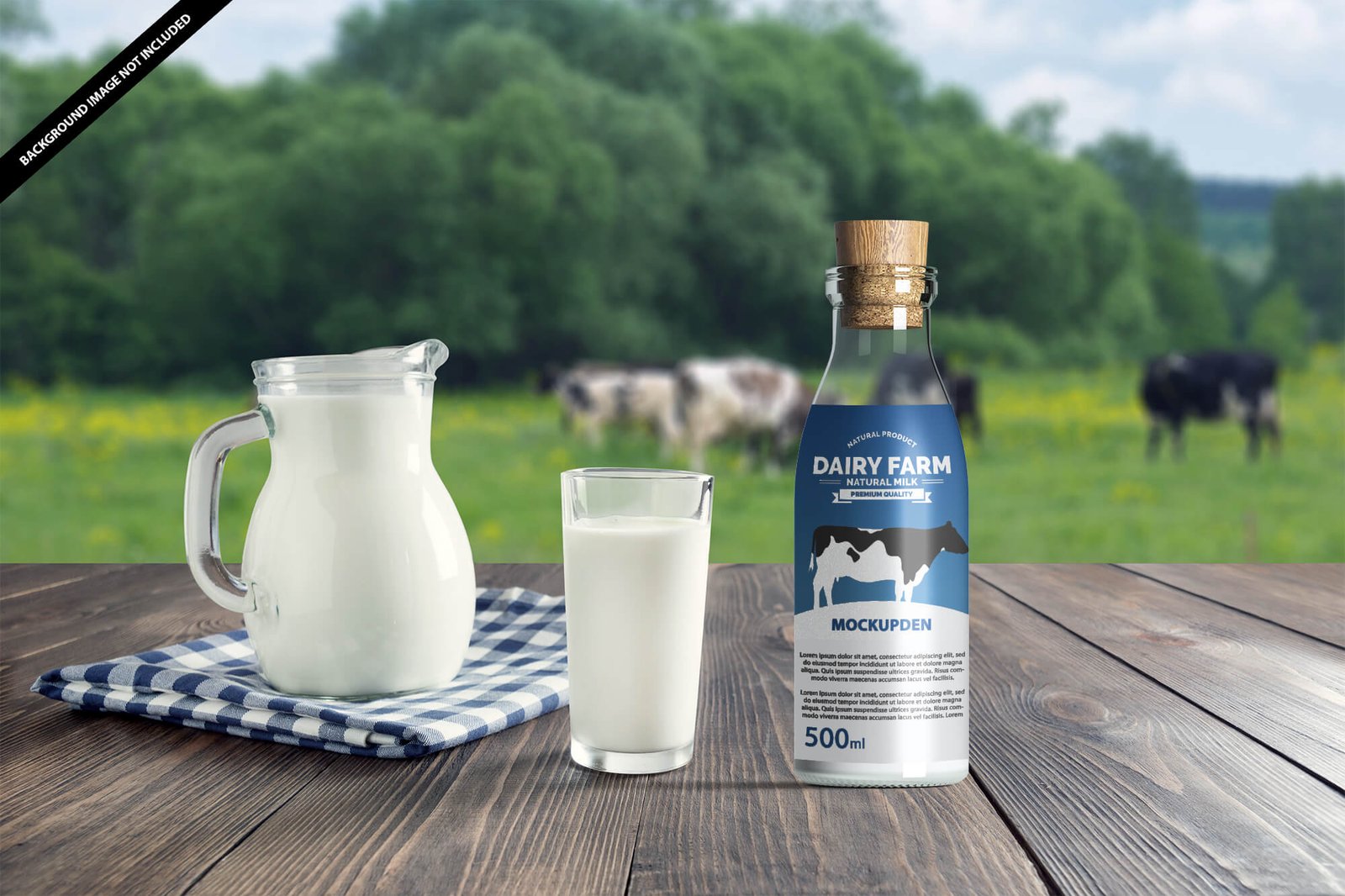 Free Milk Bottle Mockup PSD Template
Free Milk Plastic Bottle Mockup PSD Template
#1. Milk Bottle Mockup And Jug PSD.
This mockup will help you to create a photorealistic presentation for your milk bottle in a few seconds. By using smart objects, you will be able to make changes to the mockup content efficiently and effectively. There are more than 8 PSD files present in this mockup with well-defined layers.

#2. Milk Bottle With A Black Cap PSD File.

#3. Two Milk Bottle Mockup In A Wooden Box PSD
This mockup will be ideal for any projects that require Backdrop, bottles, background and artistic. There are two bottles which are filled with milk are placed in a wooden box. One bottle is sealed with a cap, and the other has a green-coloured straw. You can choose other background picture or create your own and paste it on this mockup by double-clicking on the smart layers as shown in the preview option.

#4. Realistic Milk Bottle And Glass Vector.

#5. Illustration Of A Milk Bottle Mockup PSD Template.

#6. Cow Printed On A Milk Bottle Mockup.

#7. Milk Pouring Out Of A Baby Milk Bottle Mockup PSD.

#8. Realistic Milk Bottle In A Transparent Background Vector.

#9. Milk Bottle With A Nipple PSD Template.

#10. Brown Milk Bottle Mockup.

#11. An Old Farmer With Three Bottles Of Milk PSD.

#12. Milk Bottle With Some Cereals And A Glass PSD File.

#13. Simple Transparent Milk Bottle Mockup.

#14. Milk Bottle Splashing In The Milk Vector.

#15. Cookies Placed Near A Milk Bottle PSD.

#16. Glass And Bottle Filled With Milk Placed With Some Flowers.

#17. Illustrator Milk Bottle With A Golden Cap.

#18. Milk Bottles Holding Star Shaped Cookies Mockup.

#19. Old Ice Tea In Bottle With Milk PSD Template.

#20. A Picture Of Milk Bottles And Nuts PSD Mockup.

#21. 3 Milk Packaging Bottle Mockup.

#22. Three Bottle Filled With Different Shakes With Straw Template.

#23. Chocolate Milk Bottle PSD File.

#24. Vector Of 4 Different Labels On Milk Bottles.

#25. Photo realistic Milk Bottle PSD File.

#26. Yogurt And Milk Bottle Mockup.

#27. Caramel Latte Coffee Cocktail With A Milk Bottle PSD Mockup.

#28. Milk With Organic Almond Photo.

#29. Uniquely Designed Milk Bottle Mockup.

#30. 3 Fully Editable Milk Bottle PSD File.

#31. Chocolate Cookies With A Bottle Of Milk PSD Template.

#32. Different Designs Of Milk Bottle PSD Mockup.

#33. 3 Milk Bottle In A Transparent Background Mockup.

#34. Milk Bottle Placed On A Hand Towel PSD File.

#35. Chocolate Milk In Bottle With Some Chocolate Cake Mockup.

#36. Milk bottle On A Red Napkin In A Yellow Background Template.

#37. Milk Bottle With Blue Label And Cap Mockup.

#38. 5 Milk Bottle In A Portrait Mode File.

#39. Free Photo Of A Girl Drinking Milk From The Bottle Mockup.

#40. Homemade Cookies Wit Milk Bottle PSD Template.