Bottle Cap Mockup | 32+ Best Free and Premium Bottle Cap PSD & Vector Templates – Cap is an integral part of any bottle. Without a suitable and complementary cap, bottle design cannot be said is completed with professionalism. Different kinds of material can be used to make a bottle cap, which depends on the material or product inside the bottle. For example, on a plastic water bottle or Juice Bottle, a plastic bottle cap is used, whereas, in a glass beer bottle, a metallic bottle cap is used. In this roundup, we have listed 30+ best free and premium Bottle cap, picked from different categories such as Metallic bottle Cap, plastic bottle cap, cork bottle cap, Glass bottle cap, etc. for a design for the new creative design idea.
We want to inform our readers that most of these templates are in PSD format with several smart objects for easy design modification are some are in AI, Vector format as well. Customize these bottle cap design templates for personal product branding or change the background, color, texture, or any other design element according to your project needs.
UNLIMITED DOWNLOADS: 500,000+ Product Mockups & Design Assets
We also accept oders for various mockup customization at Fiverr.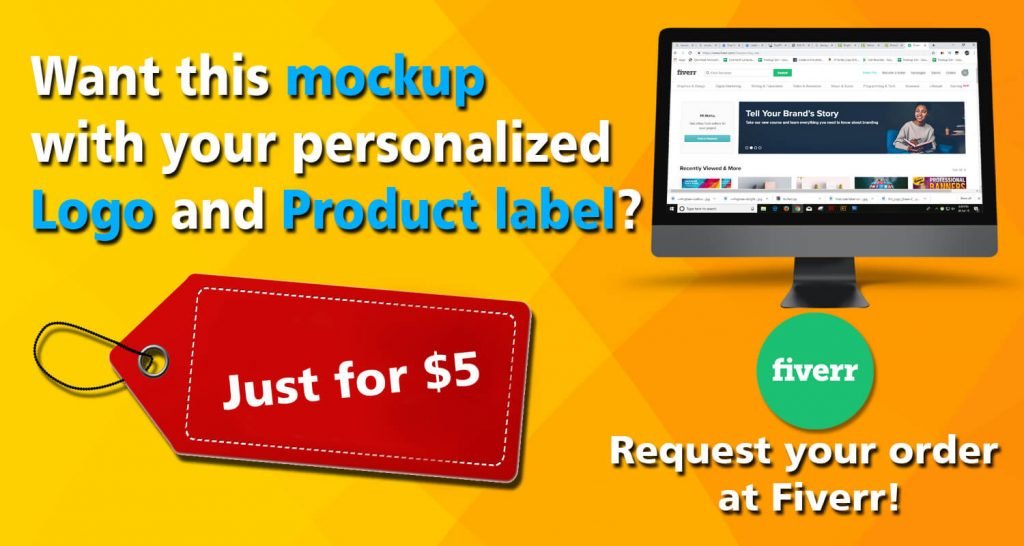 _______________________________________________________________________
Mockupden Exclusive Free Bottle Cap Mockup PSD Files for our Visitors:

Updated New Inclusion on 19/06/2021
Free Plastic Bottle Cap Mockup PSD Template
Free Bottle Cap Mockup PSD Template
A Pair of Bottle Cap Mockups SET

#1. Yellow Dragon Printed Metallic Bottle Cap Mockup
Showcased here is a realistic yellow color dragon photo printed bottle cap mockup design. This is a single bottle cap illustration with a clean white color background and deep shadow falling on the floor—great bottle cap design even for personalized product branding. There are small texts around the corner of the cap conveying the message of the product feature. Background logo and bold text with a suitable matching color look professional for any product branding.
#2. Multiple Bottle Cap Mockup Illustration In Multi-Color Outlet
Next comes the illustration of a multiple round plastic bottle cap in different colors. This image contains many beautiful and colorful plastic caps ideal for any plastic, bottle cap design, or trash project. Additionally, it is a 4000 x 2667 pixel image, allowing you to edit through the smart object in Adobe Photoshop.
#3. Full Orange Color Plastic Bottle With Cap Illustration
Here comes the illustration of an orange multiple juice bottle with a cap. This is a stock photo containing many orange color clean juice bottles and a round orange cap fix on it to showcasing your bottle cap mockup project or for branding purposes. It's a customizable photo in which you can add your brand name or logo and use it as your brand promotion.
#4. Metallic Lacalavera Bottle Cap Mockup Design
#5. Four Metallic Cold drink Bottle Cap In Multiple Color
The picture above displays four different round metallic cap for a cold drink bottle. It is a various color vector design cap with a clean white background and easy editing option through Adobe Illustrator.
#6. Three Bottle With Cork And Cap Mockup
#7. Screw Cap Taper Bottle Mockup
#8. Illustration Of A Bottle With a yellow Lid PSD Template.
This image features light green color lemon juice bottle illustration with green cap fix on it.
#9. Editable Green Bottle Cap Mockup PSD.
#10. Collection Of Bended Bottle Cap Mockup.
#11. Four Bottle With Different Colored Bottle Cap Mockup.
#12. Two Beer Bottle In White Background Mockup with metallic Bottle cap on them.
#13. Customizable Metal Caps PSD Template.
#14. Realistic Metal Bottle Cap PSD Mockup.
#15. Uniquely Designed Bottle Cap On Wine Bottle Mockup.
#16. Indian Flag Printed On Bottle Cap Template.
This theme-based smartly designed Indian Flag color printed metallic cap in Vector file format could be used for special event purposes. It is a customizable Beer bottle cap with a logo and year written on it and kept on a wooden table with a light shadow falling on the table.
#17. Orange Bottle Cap Mockup.
#18. Vector Presentation of Golden Colored Bottle Cap.
#19. Champagne Bottles In Bucket Template with creative bottle cap design template.
#20. A Man Opening The Cap Of The Bottle.
#21. Blue Colored plastic Bottle Caps Mockup.
#22. Bottle Caps Of Heineken Premium Beer PSD.
#23. Wine Bottle with cork cap mockup In A Beach template.
#24. Transparent Bottle With A Black Cap Mockup.
#25. Royal Icon On A Bottle Cap PSD.
#26. Two Different Colored Bottle Caps Mockup.
#27. Two Bottles Attached In A Cycle PSD.
#28. Transparent Bottle Wit Caps Placed For Recycle Mockup.
#29. Beer Caps On A Wooden table In The Pub Template.
#30. Silver Beer Caps PSD Mockup.
#31 Metal Bottle Caps Mock-up
#32 Bottle Cap Mock-up
We are staring a new segment of the request mockup roundup series to publish mockups you want to have. Please send us your suggestion in the comment section or via e-mail.