35+ Best Juice Bottle Mockup PSD Templates | Free & Premium Collection: Product packaging has a significant impact on product branding and promotional strategy. Having a great product packaging will ensure adequate product visibility and product safety at the same time, which adds extra mileage to the product acceptance to the buyer's mind. Product packaging has even more important for food & drinking product. The design of Food & Drinking product packaging demands to be attractive that customer feels the urge to try the product out and also needs to be authentic that it helps to create product branding eventually. If you have any new design project of Juice Bottle, then we recommend you to try our listed 35+ Best Juice Bottle Mockup PSD Templates. These PSD templates are a great medium to test your design on a ready-made format and check how your design is going to look like. You can also demonstrate your Juice Bottle Mockup PSD design in front of your client to get their view on the design and whether they are satisfied with it or not. If not then as these mockup templates come in PSD format so it won't be difficult for you to edit any portion of the design. Using smart layers, place, add or remove any content, and even you can alter the background image or its color without any difficulties. Once you have the desired alteration done, present the final demonstration of your Juice Bottle Mockup design in front of your client for their approval.
We have gathered 34+ Best Juice Bottle Mockup PSD templates keeping in mind the different Juice bottle category and tried to list a couple of varieties from each type that you always have more than one option to choose from according to your project needs. This collection is populated with Free & Premium Juice Bottle PSD Mockup templates. You can instantly download free files from their respective sources, but for premium mockups, you first have to purchase before you can customize those files. Envato Elements Marketplace offers a whole host of unique designs only for $19/month, whereas Creativemarket charges for each premium file.
Also, Check – 
UNLIMITED DOWNLOADS: 500,000+ Product Mockups & Design Assets
We also customize various mockups at Fiverr. If you want to get any of you design personalize as per your wish, then you can freely text.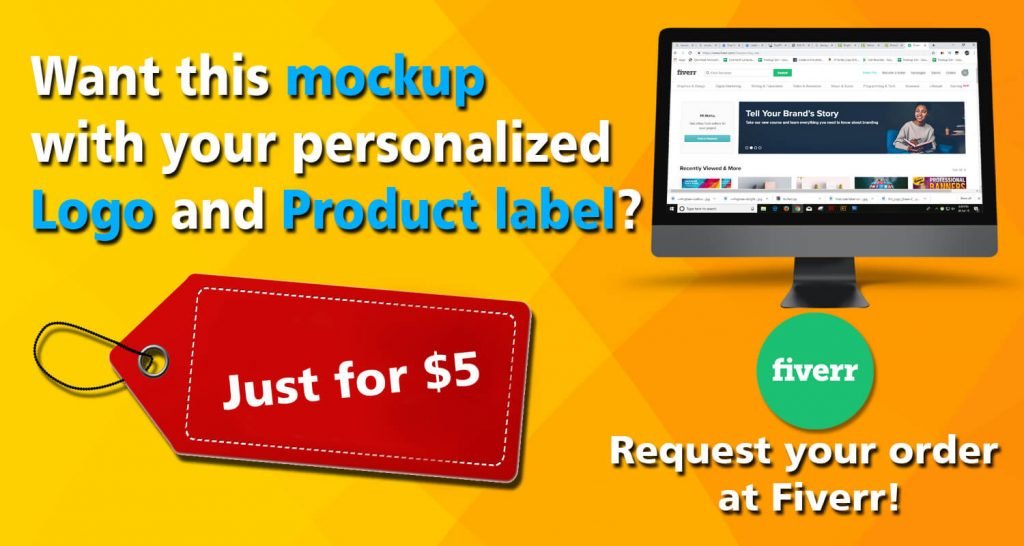 _______________________________________________________________________
Mockupden Exclusive Free Juice Bottle Mockup PSD Files for our Visitors:

Updated New Inclusion on 15/06/2021
Free Juice Bottle Mockup PSD Template
Free Orange Juice Bottle Mockup PSD Template
Free Apple Juice Bottle Mockup PSD Template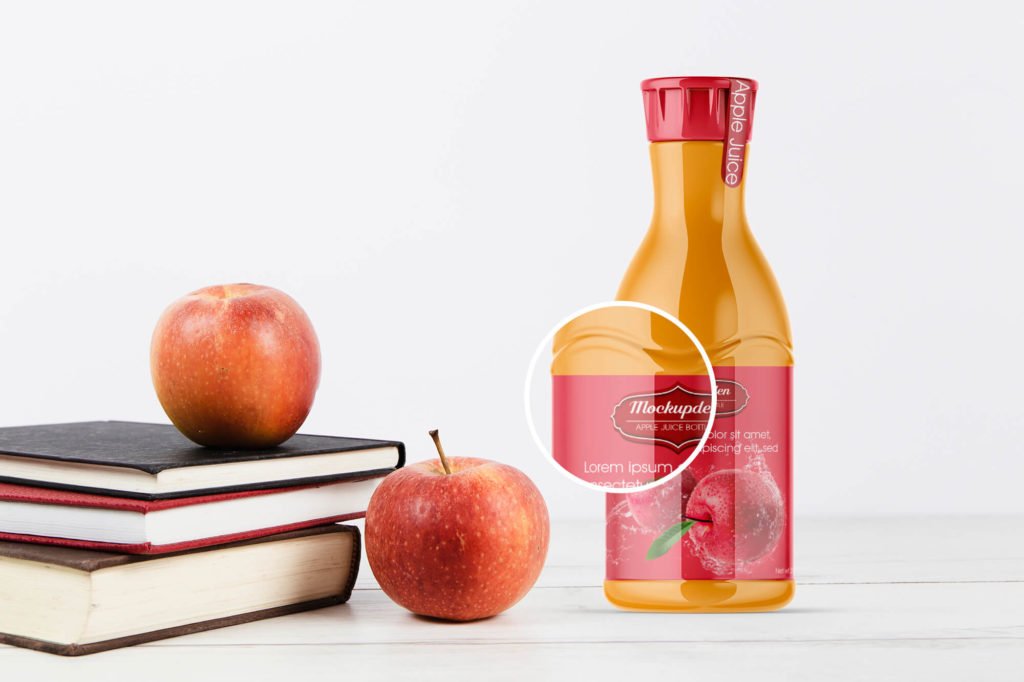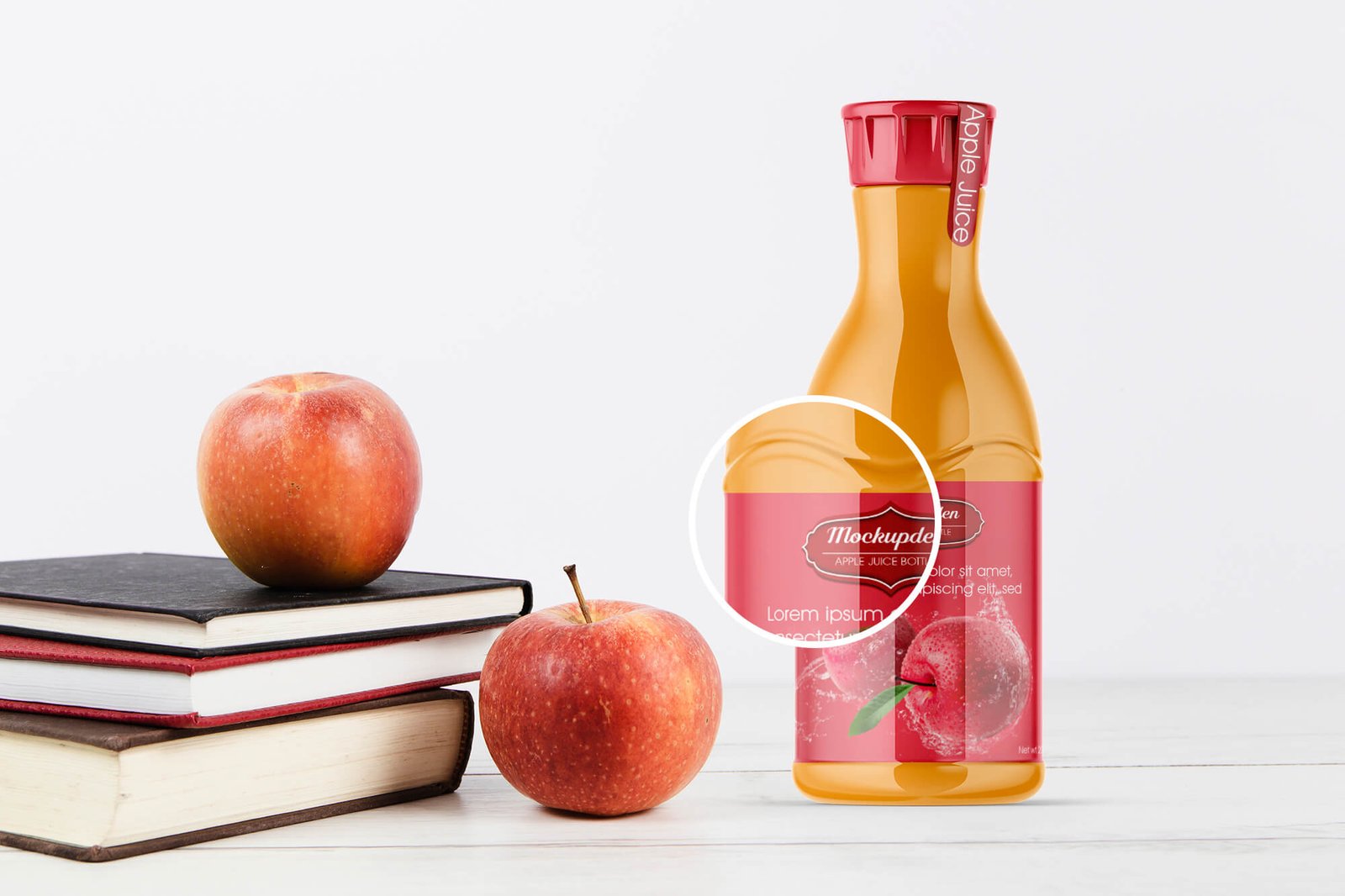 #01 –

5 juice bottles mockup in PSD format
Present to you here is a free set of 5 juice bottle mockup in PSD format. This is an editable mockup with an easily editable feature that means; you can edit the label design on it, background of the colour and image printed on it. Moreover, it's a smart object layered mockup design with 4500 3000-pixel dimensions in PSD format of 11.8 MB file size.
#02 –

Cold Presses Juice Bottle PSD Presentation
If you are looking for a juice bottle design through which you can display your bottle presentation and design, then this will be a perfect mockup design for you. This is a clean and photorealistic design round shape glass bottle mockup which is easy to use. With smart-object feature orientation, it becomes relatively easy to add your design to the mockup easily.
#03 –

Juice Bottle Mock-Up
Log into the best set of multiple juice bottle mockup presentation in 5 HQ PSD format. Moreover, it offers many features –
Shadow On & Off feature.
4500 x 3000 pixel resolution image.
High resolution picture.
High graphic.
Smart layer which helps you to add your own image to the mockup.
#04 –

Juice Bottle Mock-Up
Every juice bottle can be designed in such a way that it looks attractive. We present to you here a beautiful juice bottle mockup which is remastered with an old retro design touch. This mockup file includes the following features –
Smart object to change layout.
High resolution image.
3000 x 2000 pixel dimension image.
3 PSD files available here.
Features separate shadow layers.
Changeable background and much more.
#05 –

Square Juice Bottle PSD Template
This is a square juice bottle mockup for multipurpose use that throws an orange colour effect. If you are running any fruit juice business, then this could be the best option for your juice packaging. With the help of this mockup illustration, you can also advertise your brand with a label attached on the bottle and much more.
What More Key Features Does It Deliver?
As it delivers PSD format mockup, so it is best compatible with Adobe Photoshop CS4 version.
Offers you 5 different PSD files.
Receive help file in PDF format.
Organized Layers.
RBG color mode available.
#06 –

Plastic Juice Bottle Editable Design
This is a green colour juice bottle mockup that delivers you 4 PSD files at high-resolution with 3000 x 2000 pixel picture dimension. It has smart objects which feature changeable design and offered here in different body materials.
#07 –

Smoothie Juice Bottle Customizable Template
Here we brought you the best smoothie juice bottle mockup in multiple colours. This is a fully layered PSD file mockup which features smart object with changeable lid colours. Along with all these features, this design will also provide you with a separate help file.
#08 –

Small Size Juice Bottle PSD File
This juice bottle mockup illustration delivers you 3 PSD files in high-resolution with separate background. Along with these, you will also get 4 different photo filters.
#09 –

Fresh Juice Bottle With Crown Cork Template
Glass bottle with a crown cork is one of the best design concepts for any fruit juice packaging. Here we provide you with a set of 3 glass bottle in the high-quality PSD format, which will be the perfect option for your bottle design presentation. Moreover, with this mockup file, you can also advertise your brand by printing logo on the bottle. Know more key features from below –
High resolution.
18″ x 12″ image.
300 Dpi.
Easily Customizable.
#10 –

Plastic Bottle For Flavored Juice Mockup
This is a soda packaging bottle mockup with a realistic look. Here you can see a flavoured soda bottle to illustrate your presentation. This design features a smart object that will enable you to add your design to it.
#11 –

Free Juice Bottle Design
Illustrated here is a glass juice bottle mockup presentation with a logo, label and brand name written upon it.
#12 –

Juice Glass Bottle PSD Mockups
#13 –

Realistic Plastic Juice Bottles
Here you get a fresh two different colour juice bottle mockup illustration. In the above image, there is a raspberry and grapes juice bottle kept on a wooden table with a two separate glass filled with juice and straw dropped on it and with a photorealistic green landscape printed on the changeable background.
#14 –

Green and Yellow Juice Bottle Customizable Design
You are offered here with two different glass juice bottle mockup in two different colour mode, and the juice bottle mockup contains a plastic cork fix on it. These juice bottles are kept on a wooden platform with an attractive green background with the easily editable feature.
#15 –

Bottles of Delicious Juices Vector File
This above-listed mockup is best for showcasing your juice design presentation. Here you get eight different bottle illustration for another juice packaging in a different colour. It's a free mockup design which is available at 300 Dpi and easily editable feature with a clean background.
#16 –

Isolated Juice Bottle On White Background
It's a glass juice bottle mockup presentation with steel cork fixed on it. In this design, there are 3 different bottle kept filled with different fruit juice with a clean background.
Complete Photorealistic Closeup Milk Matt Bottle Mockup
#17 –

Set of Three Bottles With Fruit juices Vector File
From here, you will get three different juice bottle design with labels and sticker on it. This is a free bottle design illustration for an Orange, Kiwi and Grape juice.
#18 –

Plastic Bottle Lemon Juice Vector File
#19 –

Realistic collection of five bottles with fruit juices Vector File
#20 –

Psd Juice Smoothie Bottle Mockup
#21 –

Orange Juice Bottle PSD Design
Get here
#22 –

Three Juice Bottle Illustration
#23 –

Lemon Juice Bottle Mock-Up
#24 –

Red Juice Bottle Mock-Up
#25 –

Glassware Juice Bottle Template
#26 –

Juice Bottle Packaging Mockup
#27 –

Simple Juice Bottle
#28 –

Four Colorful Juice Bottle Illustration
#29 –

Mango Juice Bottle Free Customizable Template
#30 –

Three Types Of Juice Bottle Template
#31 –

Aluminium Juice Bottle Illustration
#32 –

Real Juice Bottle Design PSD File
#33 –

Small Glass Bottle Juice Mockup
#34 –

2 PSD Juice Bottle Template
#35 –

 Juice Bottle Mockup
This is our latest collection of Juice Bottle Mockup PSD Templates which we made with different category of the juice bottle design. Most of the mockups contain the company logo, or branding image stick to the mainframe or body of the bottle image though smart layer which could easily be replaced using Photoshop while customizing. All the mockups have suitable background picture, or there is at least one presentation scenario matched with the product category, which could be altered to something else if you are not comfortable with the theme. Feel free to play with the product mainframe image, background, colour, shadow or any design element present in the mockups. We will keep trying to add new Juice Bottle Mockups in this post whenever we find something suitable to add into this list. Meanwhile, if you have any question or query regarding juice bottle PSD mockup, do drop a message into the comment section.