Burger Mockup | 35+Outstanding PSD Desing Template For Creative Packaging & Presentation idea – Do you love burgers? I do. Who doesn't actually? It is one of the favorites and fastest-growing fast food around the world. Thinking of making a burger store, and looking for realistic presentation templates? We provide a wide range of variety of burger mockups for the presentation of your artwork in a tasty way. Burgers are made with the loaves of bread in different forms like the chicken burger, veggies burger, paneer burger, etc. It is served with tablespoons of ketchup and pickles to experience better taste. The mockup is utilized for all kinds of food-related products to show your restaurant's design, food packaging design, table decoration design, etc.
In this post, we have compiled 35+ best burger mockup PSD template to show your artwork in a professional way. All the mockups are made in the PSD and vector formats with all the editable and adjustable solution. The objects in the mockup are well-organized and kept in separate layered, so you can subtly change the graphic design, the color of the object and background with the assistance of Adobe Photoshop. We also deliver the modification service of any mockup so if you feel that you need service from us, text us at Fiverr.
Also check,
UNLIMITED DOWNLOADS: 500,000+ Product Mockups & Design Assets
Get your favorite designs customized by us at Fiverr.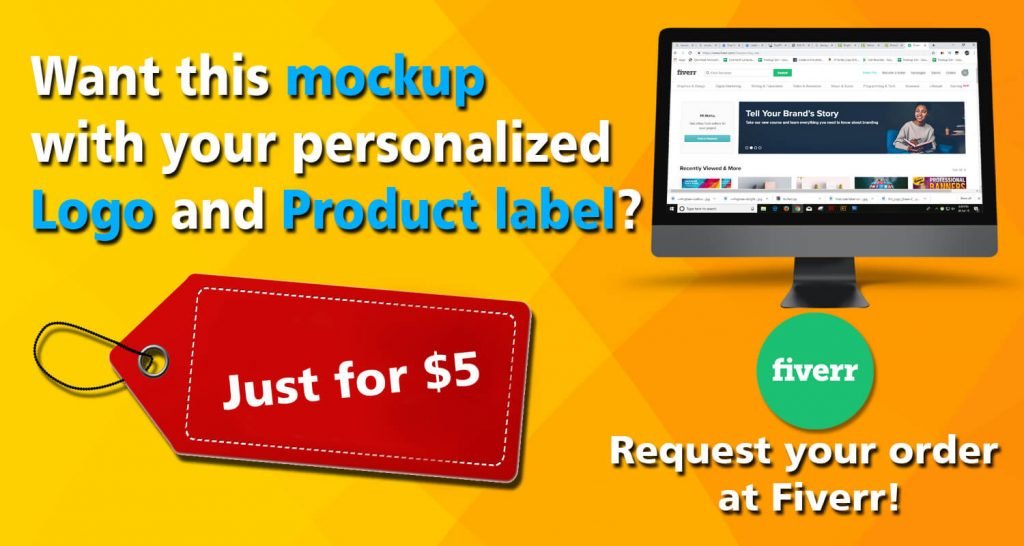 _______________________________________________________________________
Mockupden Exclusive Free Burger Mockup PSD Files for our Visitors:

Updated New Inclusion on 07/06/2021
Free Burger Box Mockup PSD Template
#01

– Complete Set of Burger Stationery Mockup Design
A highly editable burger mockup which consists of a set of burger stationary mockup design. Some burgers with ketchup, french fries, noodles, variety of tiffin box, note pad, note-book, glasses, jar, pen, pencil, mobile, paper bag and many other items are placed on the white table to make it a complete set of stationary mockup. In logo presentations, branding projects, packaging, and website design you can take advantage of this burger mockup. All the object are interchangeable and replaceable with the assistance of Adobe Photoshop. The file comes in the dimension of 4288 x 2848 pixels at the optimization of 300 dpi. You can download the file in the different formats like PSD, JPG and PDF. 
#02

– Burger Store Scene Mockup
#03

 – Burger Box Mockup Design
#04

– Burger on a Serving Plate PSD
#05

– Burger On A Round Shaped Plate Design
#06

– Burger with French Fries PSD
#07

 – Teen Holding a Burger in hand Mockup
#08

– iPhone and a simple burger PSD Mockup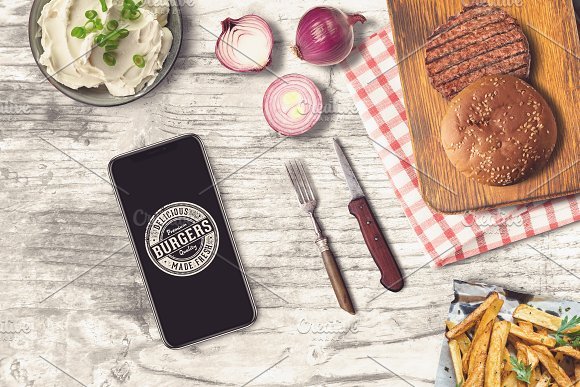 If you are searching for something new, try this iPhone and burger mockup template for your demonstration. This mockup contains burger on the chopping board served with the french fries and mayonnaise to make watery mouth. The other items available on the table is an iPhone 10, a spoon, a knife and two onions. It is a layered and grouped PSD file so that you interchange the positions of the items, change the color of the background, add light effect with the aid of Adobe Photoshop. The high quality mockup is assemble in the working area of 3000 x 2000 pixels at 300 dpi in the landscape orientation.
#09

– Pack of 24 Burger PSD files
#10

– Realistic Burger PSD
#11

– Burger filled with stuffings design template
#12

– Food Offered at a Burger Store with Business Cards Design
#13

 – Burger and Coffee PSD Mockup
#14

 – Store's Burger Flyer PSD Mockup
#15

 – Small Burger with a business card Design PSD
#16

– Burger Logo Design PSD Mockup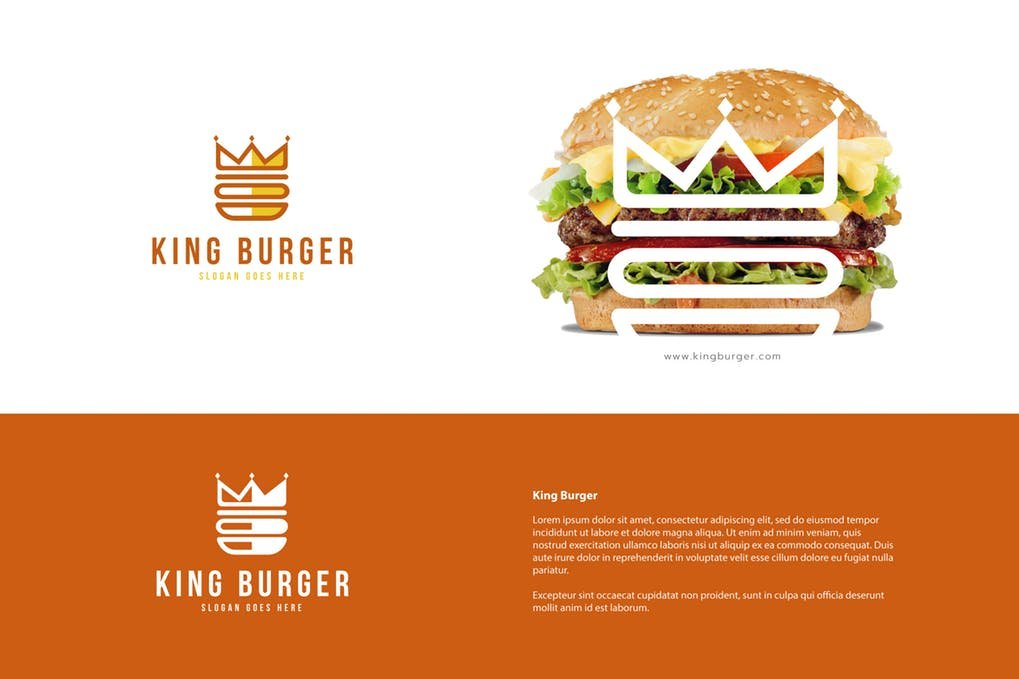 #17

– Special Offer Burger Flyer Advertisement PSD
#18

– Cheese Burger Festival Flyer Design
#19

– Cut out Burger Competition Flyer template
#20

– Two Burger side by side Design
#21

– Jumbo Burger, Sauce and some French Fries
#22

– Huge Burger Mockup Design
#23

– Burger with Stuffings PSD 
#24

– Hand Drawn Picture of a Burger Vector Format
#25

– Mockup Design Containing Two Burgers
#26

– Cafe serving Burger and some other food PSD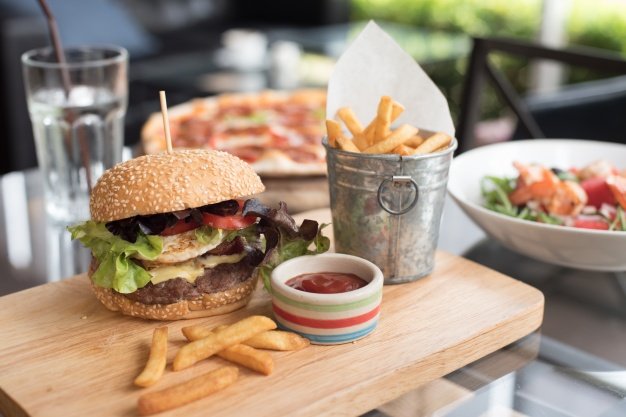 #27

– Close View of a Burger design
#28

– Burger surrounded with French Fries PSD
#29

– Top view of a freshly prepared burger template
#30

– Burger showing different ingredients PSD 
#31

– Burger Mockup Within a Box PSD
#32

– Illustration of a Burger Mockup Box Design
#33

– Pack of 5 Burger Mockup Stationery design
#34

– Bar Scenes with Burger Design
Serving food items on the table is the essential part in managing restaurants and bar. Presenting this bar scene mockup to create your presentation in a professional way. Displaying a beer bottle along with burger and french fries served on the rustic wooden table. This mockup will do great impact on the productivity of the restaurants and bar with this magnificent bar and burger mockup. Resolution of this mockup is 600 x 1202 pixels in 205.66 KB size with the modification functions using smart object.
#35

– Top view of a Burger Mockup box design PSD