Door Hanger Mockup| 41+ Door Hanger PSD Templates Free & Premium Collection: Door Hanger is a key way for print advertising to residences. This is basically made of plastic or cardboard sign that conveys a message and it's totally on the owner's hand how and what they want to convey to the readers. You may have often seen Door Hangers on Shops, Hotels, Motels, Lodges etc. to convey a specific message for customers for shops and housekeeping staff for Hotels or Lodges respectively. Have you been approached by any of the aforesaid businesses to design an attractive Door Hanger for them, or you simply want to have some outstanding Door Hanger creative PSD designs in your portfolio? Whatever the reason is, you may consider using these 41+ professionally designed Door Hanger Mockup PSD templates as inspiration to create your own door hanger design.
Also, Check
Please keep in mind all the listed Door Hanger Mockups are in high-resolution well-organized PSD files with multiple smart layers for the uncomplicated customization process. Glide the entire list to check out the collection before you pick your final selection to work with. Once you find the one which you think would be perfect for your in-hand project, download the file on your device using the link given below and start blending with your design concept. Feel free to try the same concept with other variations available to figure out which one produces a better result. Once you are satisfied with the outcome demonstrate that in front of your client for their approval.
Please be informed this list consists of Free & premium Door Hanger PSD Mockups. You can download free files right away by clicking the respective download links whereas Premium files would require you to pay a small fee to obtain the PSD file. Creative Market charges per download whereas you can download a whole host of amazing design just by subscribing $19/M in Envato Marketplace.
In order to use any of these PSD Mockups, you need Adobe Photoshop 
UNLIMITED DOWNLOADS: 500,000+ Product Mockups & Design Assets
If you want that we customize your mockup designs, then you can contact us at Fiverr.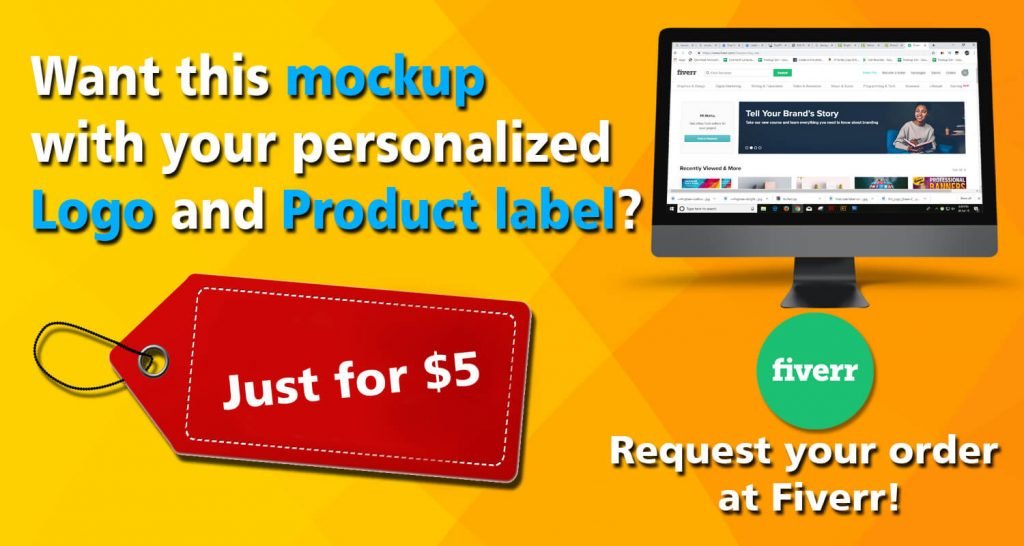 _______________________________________________________________________
Mockupden Exclusive Free Door Hanger Mockup PSD Files for our Visitors:

Updated New Inclusion on 25/06/2021
Door Hanger Mockup Free Mockup PSD Template: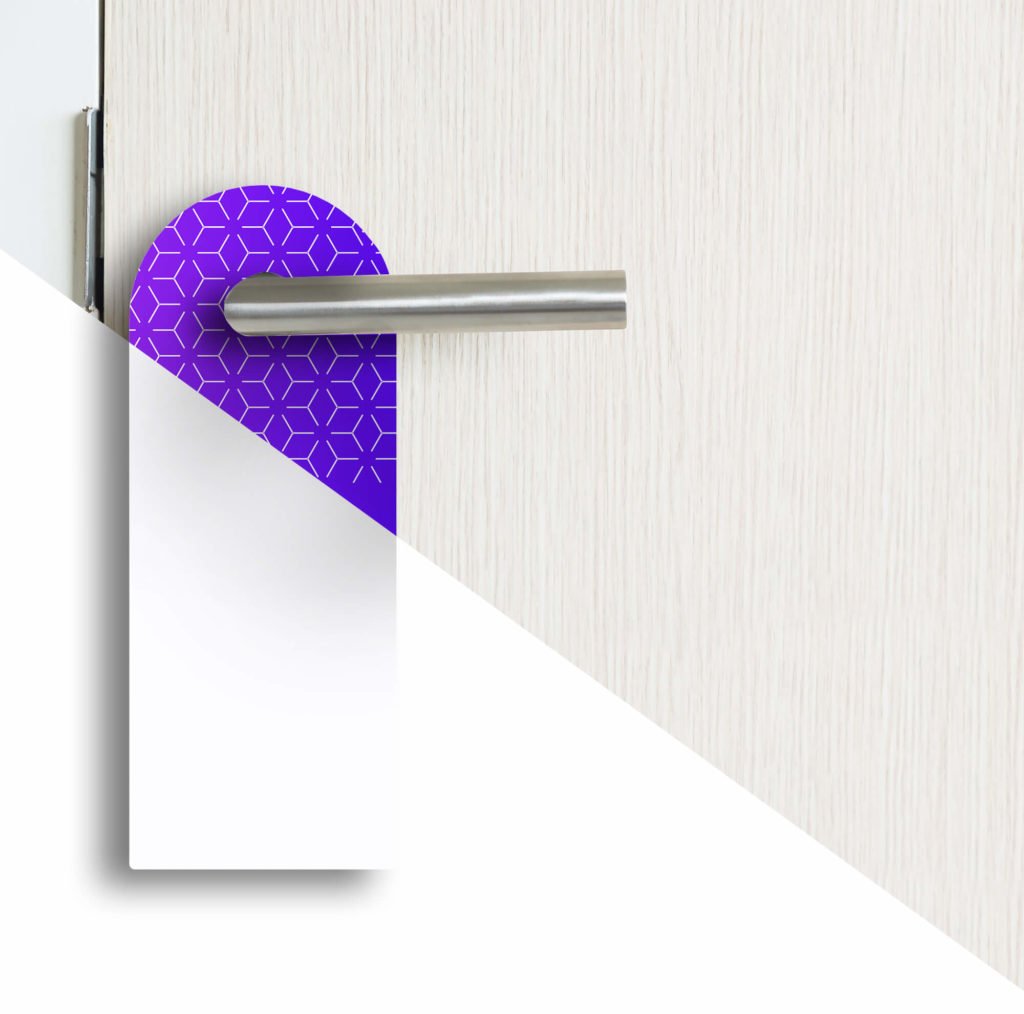 Free Corporate Theme Door Hanger Mockup

#01 – Black and White Door Hanger PSD Template:
This mockup demonstrates a beautiful scene from a different angle which demonstrates how the actually Door Hanger looks like. There is a text "Do not enter now" written on the Door hanger which can be changed to "Do not disturb" or any other text of your choice via smart layer.
Traits of this door hanger mockup are:
One cannot customize the files except the Photoshop software.
You get 2 different sizes of this hangers design.
Extract the file in any of the available formats – JPG, PSD, AII format.
The files contain multiple layers.
The total size of the mockup design is 249.06 MB
#02 – Button Door Hanger Design:
This mockup design features a hanger design which is in the form of a button. In the below illustration, you see the hanger with a red ribbon. You can insert any picture here to match with the project type. As the mockup file is ready for use, interested people can extract the file and use for demonstration.
Features:
Files present here is compatible with the Photoshop software.
The total file size of this mockup design is 30.53 MB.
300 DPI.
Resolution of 2000*1600 pixels.
Insert the required image.
#03 – Business Door Hanger Template:
Easy and customizable business door hanger file designs is what you get from this mockup presentation. The file is prepared with the support of CMYK color mode and is ready for print.
Talking about the contents of the files present here, the details are:
There is 1 PSD file.
1 readme or guide file.
And also 1 information file.
#04 – Corporate Door Hanger Mockup PSD:
One needs the support of Adobe Photoshop software CS5 version to apply changes according to the needs. This corporate usable file comes in4.25×11 inches size with 0.25 Inches Bleed CMYK.
Features of this mockup design are mentioned below:
Files present in PSD format.
Help file included.
The files may be customized with the Photoshop software.
The minimum Photoshop level required is CS5+.
#05 – Laundry Door Hanger Mockup PSD:
This PSD mockup file has the following features:
File size 6.54 MB.
Available formats – EPS, AI, AAI.
Files are compatible with the Photoshop software.
File dimension is 4.25*11 inch.
Customize the file according to your need.
#06 – Outdoor Hanger Mockup PSD:
From this mockup design pack, you get 04 different designs to choose from. To know what are the other hanger designs available, click on the small box. On tapping the box, you will see a redirected page from here you can download this beautiful customizable mockup.
#07 – Photorealistic Door Hanger Mockup PSD:
#08 – Customizable Door Hanger Mockup PSD:
#09 – Simple Door Hanger Mockup PSD:
#10 – Pink Hanger Mockup:
#11 – Door Prom Night Party Hanger Vector File:
This door hanger mockup has 4 available designs. The hangers mockup contains a "Prom Night Party" text written in bold letters right on the middle of the design which you can alter to any other party or festive night like " Halloween night", "October Fest night", " New Year Party Night" Etc.
#12 – Clear Door Hanger Vector Image:
#13 – Clear Door Hanger Mockup – PSD:
Choose from these 15 photorealistic hangar designs that you can get in this file pack. The hanger size of all the designs is 70*205 and 91*202 mm. There are 5 different forms and each of them are in PSD format.
The other features about this mockup design are:
Pixel resolution of 3500*2500 pixels.
300 DPI.
Easy and Faster customization.
#14 – Clear Door Hanger Mockup PSD:
#15 – Door Hanger with other Stationery items Mockup PSD:
#16 – Clear Door Hanger Mockup PSD:
#17 – Photorealistic Door Hanger Mockup PSD:
#18 – Hang Free PSD Door Mockup PSD:
#19 – Free Red Elegant Door Hanger Mockup PSD:
#21 – Door Hanger on Woods and Floor Mockup:
#22 – Danger Warning Door Hanger Mockup:
#23 – Tote Bags & Hangers Mockup PSD:
#24 – Gym Door Hanger PSD Mockup:
#25 – Amazing Design Door Hanger Mockup:
#26 – Spa Door Hanger Mockup PSD:
#27 – Do Not Disturb Door Mockup PSD:
#28 – 3 different Background Door Hanger Mockup PSD:
#29 – Printable Door Mockup PSD:
#30 – On the Moon Theme Hanger Mockup PSD:
#31 – "Danger Ahead" Quotes Written Door Hanger Mockup PSD:
#32 – Editable Red and White Mockup PSD:
#33 – Monster Design Hanger Mockup PSD:
Here's another mockup design for the topic Door Hangers Mockup Collection. This bright green hanger mockup allows you to change the color combination and also the theme design. Use the Photoshop software to insert changes that you want to see though I personally like the color combination quite a lot.
#34 – Open Door Hanging Mockup :
#35 – Keep Calm Hanger Mockup PSD:
#36 – Minimalist Design Door Hanger Mockup PSD:
Change the color combination along with the background texture that you want to see and also add some texts which would think will work best with this Hanger Mockup design style. In this mockup set there are few ready-made designs prepared for you.
Some features:
Size of 1920*1080 Pixels.
Mockup files are fully customizable.
Resolution of 300 DPI.
Files are present in PSD format.
PSD file may be edited with Photoshop software.
Both RGB and CMYK color mode is used.
Minimum Photoshop version required is – CS2.

#37 – Rectangle Business Door Hanger Mockup PSD:
#38 – Real Estate Door Hanger PSD:
#39 – Elegant Wedding Door Hanger:
Editing this wedding door hanger mockup design is possible in three different formats – Word, Photoshop, and Illustrator. Customization is allowed across the field like changing the color format, the name of Bride and Groom, inserting background color or texture etc.
#40 – Business Design Hub Door Hanging PSD Mockup:
#41 – Ultra Realistic Door Hanger PSD:
Door hangers are generally used to portray different information. Like for example you might have noticed at different restaurants doors have this hangers which say whether the restaurant hours is open or not, if the happy hours is going on or not etc. You too can have this door hangers hanging at your restaurant doors if you are searching something to hang on the doors. This template has a very nice design and a great typography.
Before extracting the file, you can check out the features of this mockup file from here:
File format – PSD.
CMYK color mode is used.
300 DPI.
Mockup file is compatible with CSS/HTML/Photoshop.
If you are using the Photoshop software, use higher than CS3+ version.
All the listed mockups represent a realistic presentation featuring different backgrounds and situations. They have all the required features which can convincingly give any viewer a realistic idea of how the actual design is going to look like. All these ready to use mockups will save any designer's precious time and with some easy alteration, you can customize the whole design file to present a brand new design idea to the clients. Organized smart layers, multiple object orientation, easy to edit customizable design structure, changeable color/background/texture are some of the key features of these listed templates. Looking for any custom design? We are soon going to offer customized design orders in this platform. Feel free to send your query in our inbox.
Till then,
Happy designing!