28+ Creative Computer Screen Mockup for Stunning Presentation– A computer is electronic devices that take data, process it, and give a piece of output information. A computer is meant to complete with the keyboards, mouse, CPU, and screen. We have bought a huge stock of computer screen mockup templates to showcase your graphics design in a mind-blowing way.
This mockup can be used to display apps, website designing, and UI design to receive amazing feedback from your clients. The mockups which are listed by us can be used for both commercial and personal uses.
Also, Check –
Check out this list of computer screen mockups for your design and presentation from this collection. You just need a little drag and drop knowledge to work in Adobe Photoshop to modify these smart object-oriented PSD or vector files. If you want, then we can also modify any of these designs for you at Fiverr.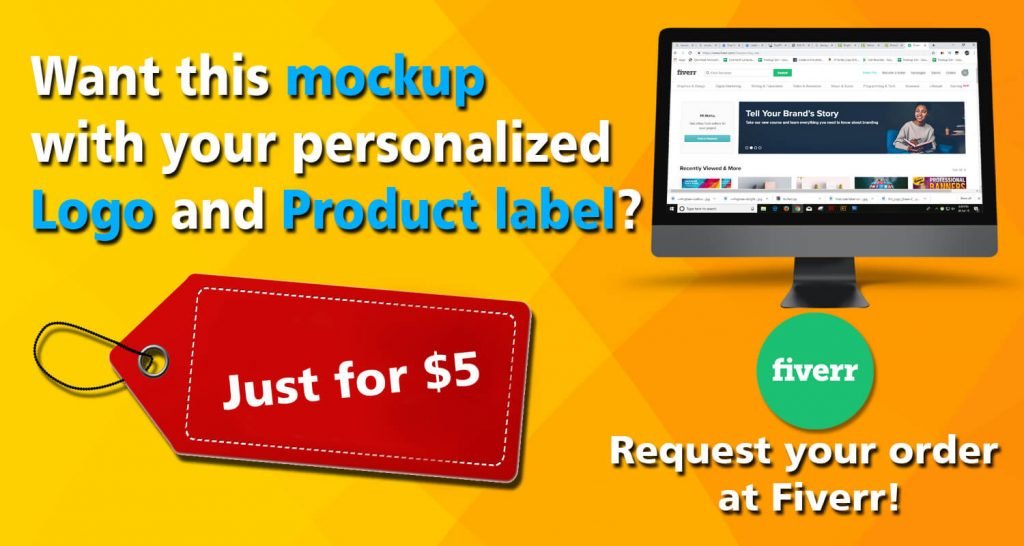 UNLIMITED DOWNLOADS: 500,000+ Product Mockups & Design Assets
_______________________________________________________________________
Mockupden Exclusive Free Computer Screen Mockup PSD Files for our Visitors:

Updated New Inclusion on 09/02/2021
Free Computer Screen Mockup PSD Template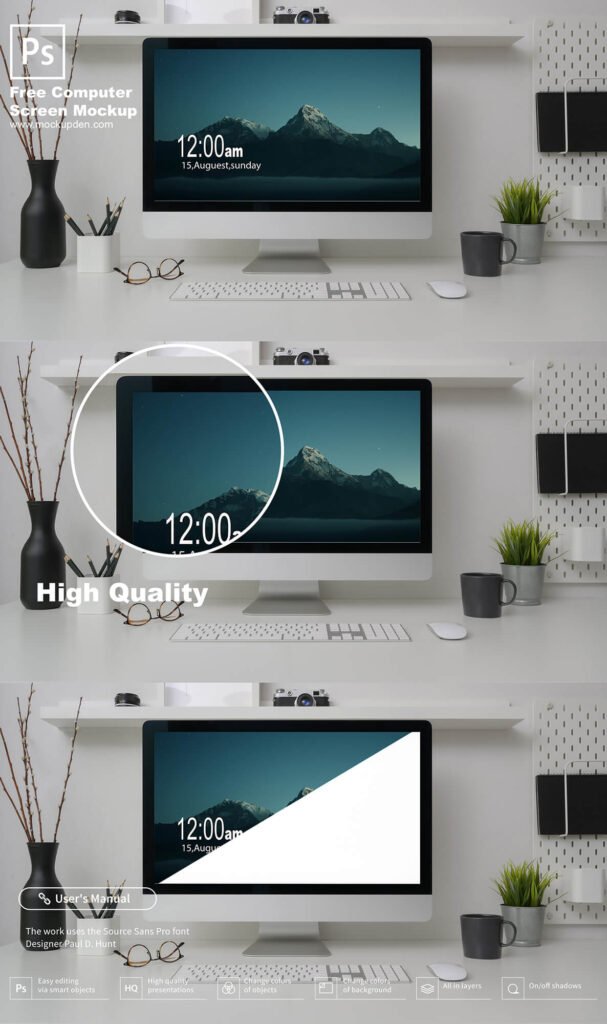 Free Responsive Screen Mockup PSD Template: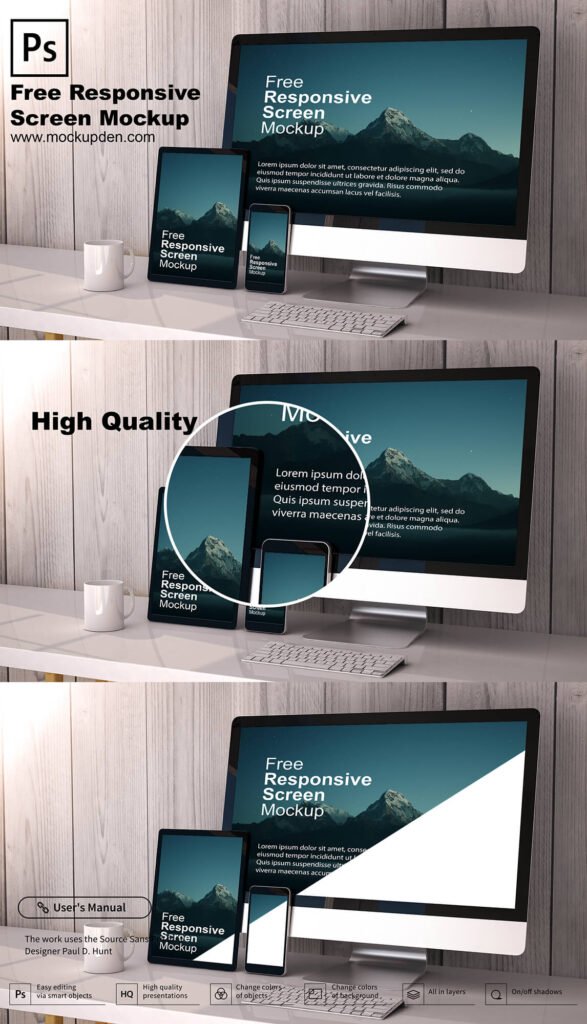 Free Responsive Screen iMac Mockup PSD Template
Free Responsive Devices Mockup with Digital Screen PSD Template
Free Sleek Screen Mockup PSD Template: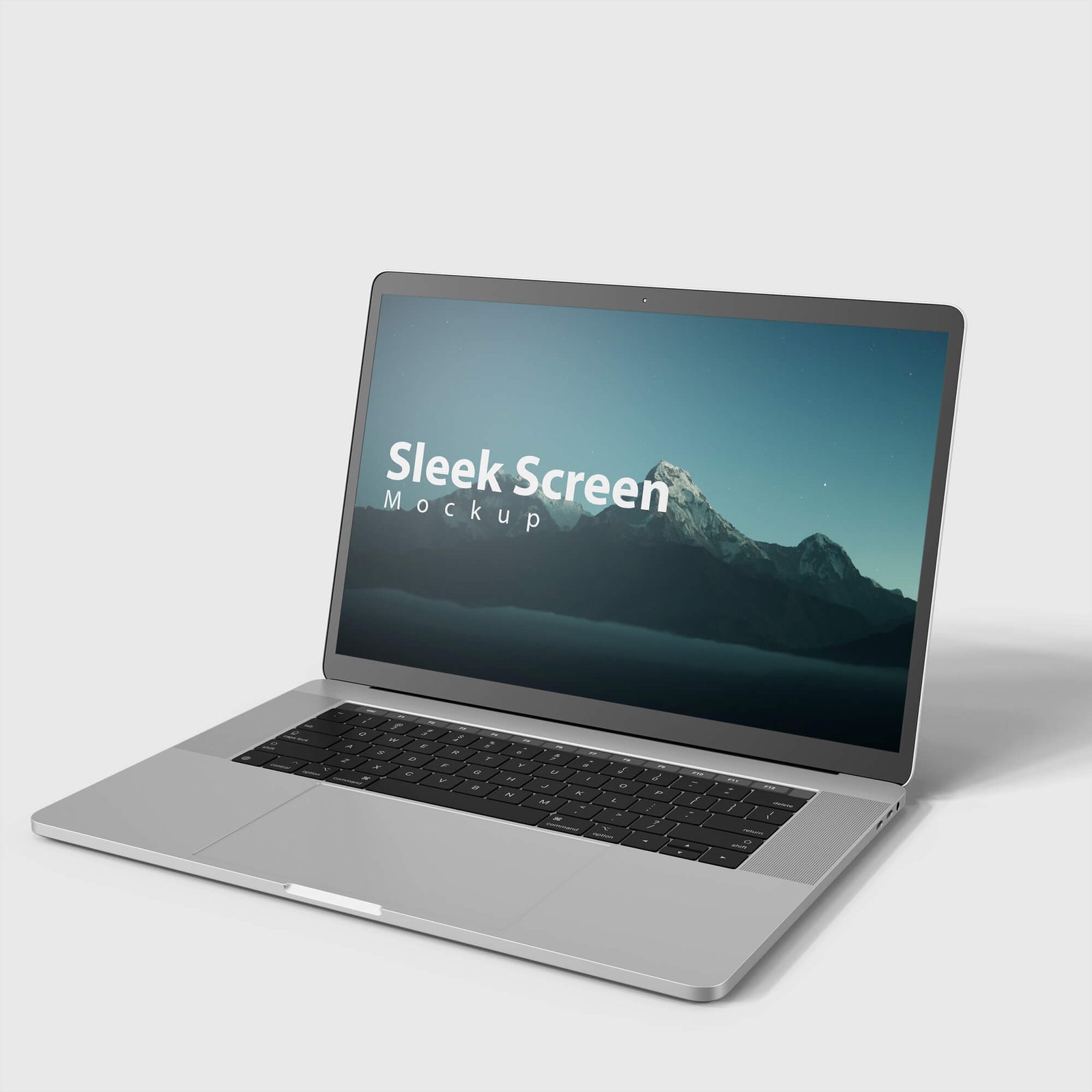 #1.

9 Realistic Laptop Screen Scene Mockup
For designers who want to show up their experiences in the graphic designing world, here is a Macbook screen collection featuring a woman working on the laptop, and a man sitting in front of her is working on the mobile. A cell phone, pot plant, and some food are also placed on the wooden table. A beautiful image of a couple is depicting on the screen of the Macbook. You can set your design on the laptop screen to show your work like blog designing, website designing, wordpress theme, etc. It is available in a nine photo mockup made with 5511 x 3674 pixels at 300 dpi. You can download this file in the PSD format and edit in Adobe Photoshop.
#2.

Gold Color Computer Screen Mockup Template Design
To take your graphic design presentation to the next level, use this responsive screen mockup. Showing a Macbook, iPad, and iPhone with the premium gold-colored keyboard, mouse, pen tablet in a white background. Some website is depicting on the screens of the gadgets present in this mockup. This high-resolution mockup can surely utilize for the web, desktop app, artwork, website template, a project in the beautiful environment. You can replace your logo, design, color, background with the assistance of the minimum version CS4 Adobe Photoshop. The file is present in the 6 HQ PSD Presentations with the dimension of 4500(w) × 3000(h) pixels in landscape orientation.
#3.

Selective City light Poster Mockup
This is a clean and ancient workspace mockup to showcase your design attractively. This design template displays a Macbook with white keyboards and a mouse for the technical works on the wooden table placed beside a window. Some other things placed on the mockup are a cup of coffee, a notebook, and a steel pen stand with some pen in it, two brown jars to make the mockup more realistic. An ax, small hanging banner, and a bulb are placed on the wall, also made up of wood. It consists of 8 PSD files with the two vertical, horizontal, perspective, and top view to give your clients satisfaction for the presentation of this mockup. The file is made in the 5000 x 3333 pixels dimension and with the freedom to change whatever you want.
#4.

Puppy And Computer Screen Mockup PSD Template
This dog with a computer mockup is made especially for the animal lover. Displaying a puppy put his legs on the screen of an iMac and an iPad for the cute look. You can use it for the website designing, desktop designing, artwork, etc. to get rocking responses from your clients. Place your design on the monitor or on the gadget showing in the mockup for promoting the brand. This PSD file is in landscape orientation mode made.
with the resolution of the 4154(w) × 5000(h) pixels with 3 designing options.
#5.

iMac And Macbook Screen Scene Template Design
If you want to differentiate your design out of the crowd, use this marvelous mockup available in almost every file format like JPG, EPS, PSD, etc. to make it super easy to edit and use. The devices which are displaying in this mockup are as following:
Apple Watch 42mm/ iWatch Sport in green and black.
iMac 27" and cinema display 27"
Macbook Pro 15.4" 2017 in space gray and silver.
iPad Pro 12.9" (space gray, gold, silver)+ pencil.
iPad Air 2 9.7" and iPad mini 4 in space gray, gold, silver.
iPhone 6s Plus and iPhone 5S in black, gold, and silver with front and back sides
White Magic mouse
You can place your brand name along with the other information on the screen for branding. Customize this mockup using smart object.
#6.

Macbook Computer Screen Mockup Set Illustration
Every business has utilized the advantage of improving brand awareness and events with a Macbook mockup set. We are here presenting an amazing mockup featuring a woman using an iMac. The iMac is placed on a white table along with a coffee cup. One can have views from different angles, specially created for website developers and app UI designers, to professionally preview their apps. The mockup is made set with 07 high-resolution PSD Files in RGB color format.
#7.

Realistic Mac Book Screen Scene Illustration
#8.

Girl Using Macbook Mockup
The mockup is featuring a girl working on a laptop on some website project. The spectacle and a cup is placed on the table. The mockup can be used for the website, application, and app UI design. It is available in the PSD format made with the resolution of 4460(w) × 2973(h) pixels.
#9.

Macbook Kept On Wooden Table Mockup
#10.

Editable Macbook Computer Screen Mockup Template Design
#11.

White Computer And Laptop Screen PSD Design
#12.

Smart Electronic Set Scene Illustration
#13.

Facebook Open On Desktop Computer Screen Mockup Template
#14.

6 iMac mockup Scene Illustration
#15.

14 iMac Screen Scene Illustration
#16.

Two Desktop Screen Mockup
#17.

Girl Working On Laptop With Computer Screen Mockup
#18.

Multiple Digital Device Screen Template
#19.

Amazing Computer Screen Scene Illustration
#20.

Photoshop Open On Computer Screen Mockup
#21.

Simple Desktop Screen Template Design
#22.

Computer Screen Scene With Responsive Page Open On It
#23.

3D Desktop Screen Scene Template
#24.

iMac And Macbook Pro Realistic Template Design
#25.

White Attractive Desktop Computer Screen Mockup
#26.

Professional Computer Screen Mockup
#27.

Computer Screen Mockup Display Design
#28.

 Multi Device Screen Mockup Bundle