Soccer Shirt Mockup | 41+ Soccer Jersey PSD and Vector Template for Design Inspiration: American soccer or football is undoubtedly one of the best sports in the world. There are so many famous national and club teams out there and we always root for them whenever they are in the field. The colorful soccer shirt or jersey makes them stand out from the opponent team. You would find attractive and diversified design shirts are being worn by different teams and if you wish to have some of the coolest and newest Soccer Shirt design trend ideas for design inspiration, look no further because we have added 41+ creative Soccer Shirt PSD and vector design templates in this post.
These soccer shirts feature different shirt types such as Black Shirt, soccer T-Shirt Mockup On Model, full sleeve shirt, etc. Some of the design templates illustrate a complete soccer presentation theme including socks, jersey and football.
UNLIMITED DOWNLOADS: 500,000+ Product Mockups & Design Assets
We also accept orders for various mockup customization at Fiverr.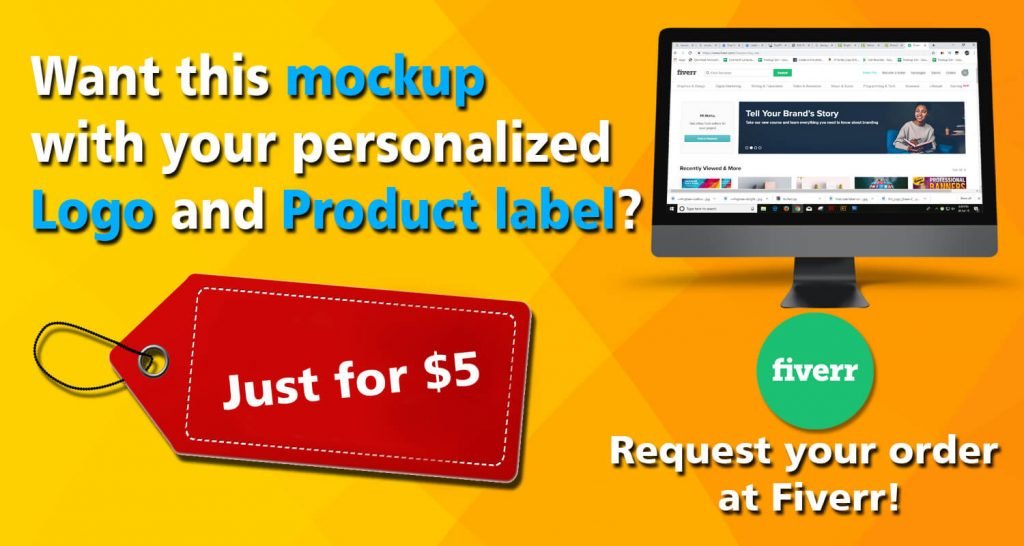 _______________________________________________________________________
Mockupden Exclusive Free Soccer Shirt Mockup PSD Files for our Visitors:

Updated New Inclusion on 04/06/2021
Free Football Uniform Mockup PSD Template
#1.

Photorealistic Soccer Outfit Mock-up
Here we brought a cartoon design illustration of a soccer player dummy wearing soccer match jersey and kept on a floor with a team flag printed on it and a soccer ball kept beside. In this illustration, you are getting four different players with different jersey colors. Additionally, you are also allowed here to delete or add text.
#2.

Red Color soccer T-Shirt With Ball Kept Beside Mockup

In this mockup design, a soccer or football theme is being demonstrated with a Red color soccer t-shirt kept on a grassy land with a black line printed on it and a logo drawn on the middle of the t-shirt beside which, a trophy, sports shoes, football and a game plan chart are being presented. This is a perfect Soccer And football theme mockup design illustration that has Size: 3000x2000px at 300dpi featuring Layered and Grouped PSD. Use beautiful photo filters to separate any smart object for convenient customization.
#3.

Player In Soccer Shirt Mockup

Present to you here is an illustration of a professionally designed football and soccer dress. In the above image, you can see a player wearing a red color jersey and posing on a white background. You can use to create your isolated soccer t-shirt design mockup or presentation with the help of this design template.
#4.

Vector Illustration Of Soccer Team Costume

Coming to the next, here is an example of a realistic yellow and blue color soccer costume in Vector file format. It is a copy of a Brazil team costume with full set.
#5.

Men's Full Soccer Team Kit mockup V10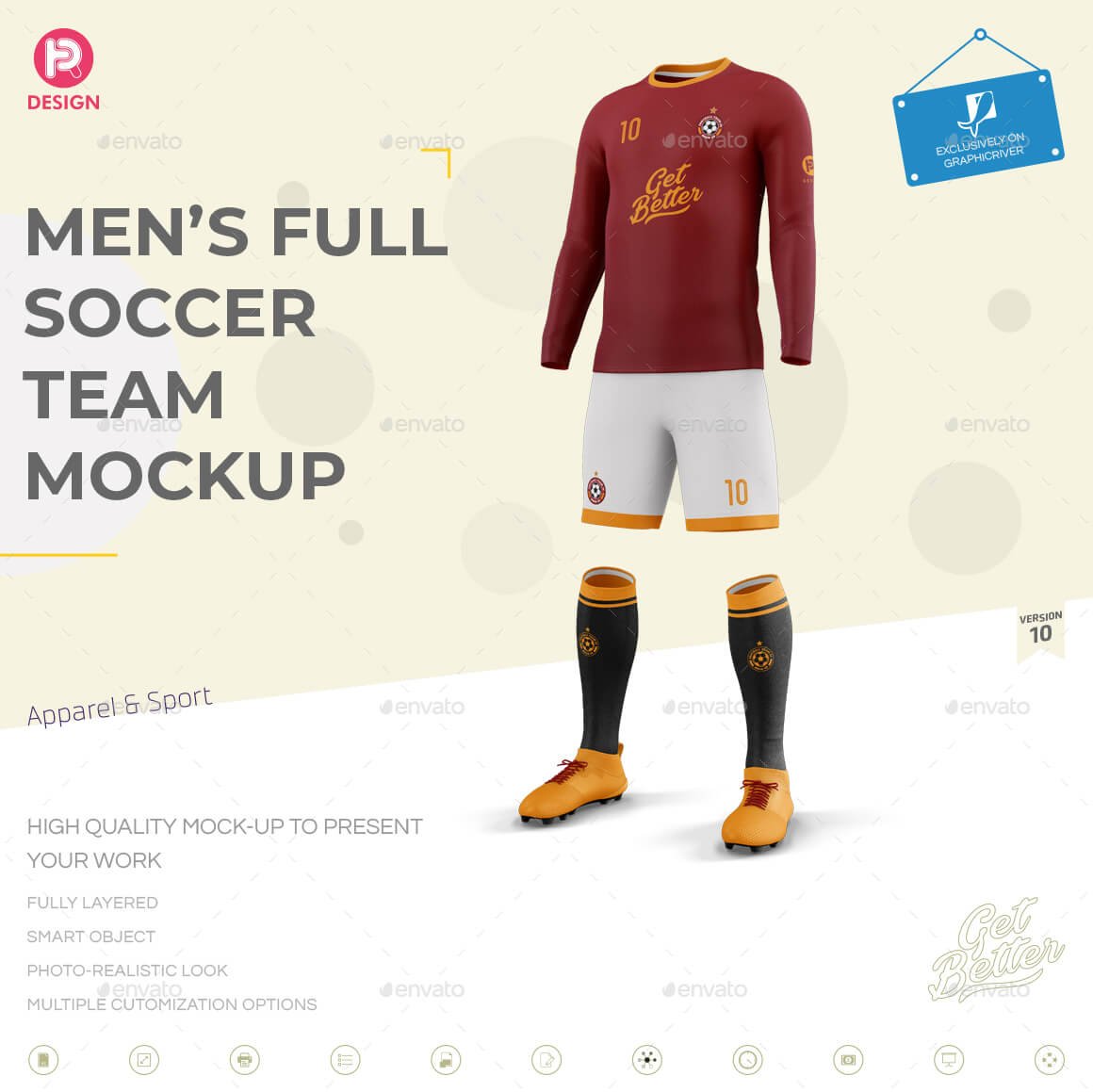 #6.

Plain White Color Sports Soccer Shirt Mockup

#7.

Red Color Front And Back View Of Soccer T-Shirt Mockup

#8.

Men's Soccer Shirt Mockup V10

#9.

Boy With Blue Color soccer Team Costume

#10.

Deep Blue Soccer Jersey With Yellow Outline On it

#11.

Soccer Football Team Uniform Mock-Up
#12.

Boy Wearing Soccer Shirt Mockup And Soccer Ball On Hand PSD

#13.

Orange Color Soccer Team Jersey With Black Outline

#14.

Soccer Uniform Animated Mockup

#15.

Multiple Color T-Shirt Illustration With Number Printed On It

#16.

Red Color T-Shirt Mockup Illustration With White Line On It

#17.

Men's Soccer Shirt Mockup V2

#18.

9 Different Design Soccer Uniform Illustration

In this design pack template there are 9 different design soccer uniform have been offered. 1 common Illustrator EPS file (EPS8) and 9 PNG and 9 JPG files shirt with isolated background which are at 300 dpi.
#19.

Blue Ray Printed Soccer Player T-Shirt Vector Illustration

#20. Soccer Shirt Mockup

 Mockup
#21.

Attractive White Color Sports T-Shirt Hanged Mockup

#22.

Premium Vector File Soccer T-Shirt Illustration

#23.

Soccer Team Kit Mockup

#24.

Front And Back View Of Bi-Color Sports T-Shirt Mockup

#25.

Sporty Attractive Bi-Color T-Shirt Illustration

#26.

Men's Soccer Jersey Mockup V3

#27.

4 Photorealistic Theme Football T-Shirt Illustration

#28.

Vector Design Soccer Jersey illustration

#29. Soccer Shirt Mockup

Realistic PSD
#30.

Four World Cup Group Team T-Shirt Design Illustration

This exclusive mock is perfectly designed for a whole football or soccer team. This massive pack features soccer world cup a group of players with team shirts, their respective flags, ball with every different theme and of course referee vector illustration is also included. 100% vectorial image (EPS10, layered) is also offered in 100% re-sizable manner. Extract any element of this high quality print resolution JPG file of 3328×5000 pixels – 300 Dpi image.
#31.

Red Theme Front And Back View Of Sports T-Shirt

#32.

Men's Soccer Jersey Mockup V4

#33.

Soccer Player Wearing Soccer Shirt Mockup And Posing

#34.

2 Blue Soccer Shirt Mockup Hanged On Hanger Illustration

#35.

Men's Full Soccer Team Kit Mockup V2

#36.

Boy With Full Sleeves Yellow Sports Costume

#37.

Black Color Stripes Printed T-Shirt illustration

#38.

Boy With Blue Shinny Soccer Shirt Mockup Illustration In PSD Format

#39.

White T-Shirt With Light Blue Stripes

#40.

Men's Full Soccer Team Kit mockup V9

#41.

Men's Full Soccer Team Kit mockup V4