Soap Mockup | 25+ Best Free Soap Packaging Box PSD Templates 2019 Collection – We are quite excited to inform our readers that in our mockup collection series now there is a new addition in the form of 25+ Best Free Soap Mockup or Soap Box PSD Mockup templates for all creative people and designers who are looking for some inspiration to work on their cosmetic packaging design. All these mockups are carefully collected from different categories, shape and forms that you will be truly delighted to experiment with these free mockups sample template to blend with your design ideas.
As there are different kinds of soap-like Kitchen Soap, Laundry Soap, Novelty Soap, Medicated Soap, Beauty Soap so obviously the product packaging for soap would be different for every category resulting different Soap packaging mockup Mockup. We are even made a separate list port for Soap Box mockups templates where you will get a diversified list of amazing Soap Box design.
Beauty is a kind of product category whose sales largely depend on product advertisement and product packaging. Without having an attractive product packaging it would be apparently difficult to make a good score on the sales side. So before even starting the sales campaign of Soap Bar having a great design for both soap and soapbox if absolutely critical. This is where this post can be quite useful for you because all listed Soap Mockups are customizable and professionally made with multiple smart layers and using Photoshop you can free to make changes or input your own design into the ready-made template.
Most of the listed mockups are free, check the entire collection and download the is best for your current project which you are working on. You can even download other files to see how the designs blend with your design concept. For thousands of amazing premium design, subscribe to Envato Marketplace for $19/M for Explore Creative Market.
All the designs listed here are editable. Moreover, if you want then we can customize it for you at Fiverr.
Also, Check
UNLIMITED DOWNLOADS: 500,000+ Product Mockups & Design Assets
You can get your mockup customized by us at Fiverr.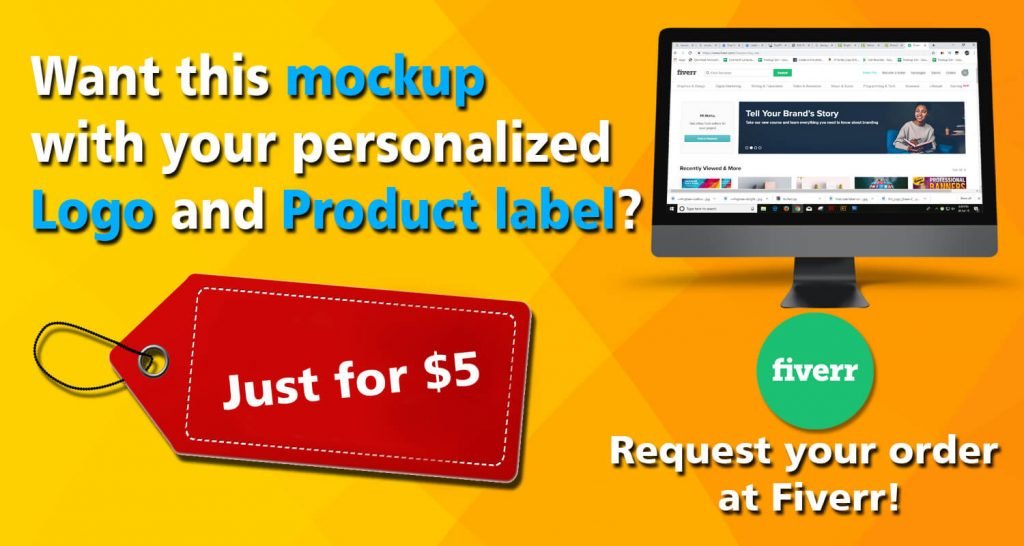 _______________________________________________________________________
Latest Design Inclusion on June 7

, 2021

:
Free Liquid Soap Bottle Mockup PSD Template
Free Liquid Soap Mockup PSD Template
Free Bar Soap Mockup PSD Template
Free Hotel Soap Mockup PSD Template
Free Sandal Soap Mockup PSD Template

#01 – 2 PSD Soap Bar Package Mockup
In this article, we have covered all new realistic and eye-catching soap box mockup design in both paid and premium version. We kick-start the list with 2 PSD soap bar mockup design which is in Photorealistic PSD file format. It's a smart object image which will allow you to add your own design to it and also change the shadow as well as the texture effects. In the above illustration, there is an orange color sealed pack soapbox kept along with a soap bar side-by-side. This image features a clean white color background which can be changed as per your wish and in addition to all these, this mockup delivers you 14 PSD files in a photorealistic format along with help file in PDF format which will guide you to edit it.
What Features Will You Get From This?
It's a fully customizable image via smart object.
Will deliver you all high-resolution image.
All image will be in 3500 x 2500 pixel dimension.
Gives you 14 PSD files in photorealistic format.
Control light, shadow and texture designs easily.
Also, get a PDF format guide file.
#02 – Soap Bar With Gift Wrapper Template
Soap box design we have offered here in the above is eye-catching and attractive. This mockup contains three different soap box in different colors i.e light green, yellow ochre and light blue color tied with a colorful thread beside which, you can see a tree stem and a gift wrapper. This is a smart object feature image which enables you to add your own design to it and also change the color of this mockup design easily. You can easily remove any design object from this mockup scene and what do you think about the background? If that does not live up to your expectation, change the color or texture to make it blend well with your design style. Free to download file for personal use.
#03 – Packaged Soap Mockup Box PSD Design
This is a free soap box mockup illustration wrapped with a brown paper and tied with a string with tag attach to it. It's a PSD format mockup file in 300 Dpi high-resolution at a picture dimension of 3500 x 2300 pixel that is compatible best with CS4+ version file size stands at 59.09 MB.
#04 – Alovera Soap Bar And Box Mockup
You will get here an Alovera soapbox mockup illustration in customization format. This is a well-organized layer mockup with a picture dimension of 3500 x 2300 pixel. In this mockup, you are also allowed to change the background color and shadow effects.
#05 – Photorealistic Soap Mockup Packaging Box
This is a smart design soap box mockup with glass bottle and flowers placed beside. It's a photorealistic mockup that features you to add your own design to it and customize it easily using Adobe Photoshop CS4+ version. A soap packaging box, a bottle of alovera, few flowers and a container is populated this beautiful mockup scene.
#06 – Green Soap Mockup Template Illustration
Next comes the 2 PSD soap bar mockup design. This design is for all those who love retro designs or retro style. You will get here a PSD file mockup with well-organized layers. Moreover, you can also follow the help file which is attached with the design file to guide you regarding how to edit this mockup. Soap mockup is showcasing 2 different color soap with company brand written on them. Use smart layer facility to change the product name, company name and logo.
#07 – Soap Bar Paper Package Editable Template Design
Instantly showcase your soap bar mockup design with this photorealistic soap bar paper package mockup. This is a smart object mockup with high-graphic that features you to edit layer, place your own image design, light and shadow to it easily.
What Key Features Does It Provides?
Get 12 PSD format mockup with a photorealistic result.
With the help of the smart object, easily replace your own design with it.
Get high-resolution images at 3500 x 2500 pixel.
Also, gives you PDF format help file.
#08 – Soap Dispenser

Here we brought to you a soap dispenser bottle mockup design to showcase your cosmetic brand and design in an elegant way. It's a PSD file mockup design with smart objects that feature easy edit and replace image so that you can display your own company brand. You can read the key features offered by this image from the below –
Easily customizable through the smart object.
300 Dpi image and in high-resolution.
2500 x 2500 pixel file size.
RGB color mode available.
Image with organized layers.
Get separate shadow and lights.
#09 – Soap Template Illustration For Hotel
If you are looking for a soap box and bar mockup illustration for hotel, then here we brought you an eye-catching and attractive soap mockup set. This is an advanced and easily customizable mockup which suits best for your hotel soap box mockup project. In this, you can easily add your own design and can manage textures and layers. Moreover, also get help file included on this mockup.
Key Features – 
Organize layers and folders.
More than 15 mockup in photorealistic format.
4000 x 2670 pixel image at 300 Dpi and in High-resolution.
Compatible best with CS5 and above version.
#10 – Packed Soap Box Mockup PSD File
This is an example of a 8 soapbox mockup Set design in Photoshop format. In the above image, you will be getting a light magenta and light green color box with an oval shape frame printed in the middle and decorated/framed with a floral design along with a barcode and a description section on it.
It's a high-resolution image with a professional look and the box size is 75 x 75 x 32. Moreover, you are also allowed here to add your own image and change background color easily through smart object.
#11 – Soap And Sachet Mockup Illustration
You are offered here with 2 soap and sachet mockup set in realistic format. In this mockup set, there are 6 PSD files in smart color and 6 different views which also gives you user guide file.
#12 – Green Soap Customizable Template
#13 – Soap With Label PSD Design
#14 – Creasty Soap Mockup PSD Set
This soap mockup set collection has 3 different perspective view showcasing a soap placed on a soap container. Soap has a classic design structure showcasing a half white and half turquoise dark blue, change the color combination which you think would be perfect for this design style. Willing to make an alteration to this design? use Photoshop (min. PS CS4). This soap mockup set contains 2 .psd files with 3 different views, file dimensions: 3000x2000px comes in 300dpi. Feel free to grainy texture on the soap to give it an authentic look. There are 3 different ready-made backgrounds attached to the file: concrete, gray, neutral and white.
#15 – 2 PSD Detergent Soap Mockup Bottle Vector File
#16 – Realistic Black Sachet Foil Bag Vector Format
#17 – Soap And Shampoo Bottle Mockup Illustration
#18 – liquid Soap Bottle Mockup Illustration
#19 – Soap Dispenser Bottle Mockup Design
#20 – Craft 2 PSD Soap Bar Mockup
#21 – Scrub And Soap Mockup Template
#22 – Attractive liquid Soap Mockup Bottle in PSD
#23 – Bathroom Soap Mockup Box And Bar Set
This is one of my favorite soap mockups presentation scene. This mockup demonstrates an attractive and clean design featuring two stacked soaps, a soap dispenser bottle, a brush and stuff container, a small oval-shaped stone and there is a farm placed on the background. Use this free mockup in your project to give your project a classy look.
#24 – Free liquid Soap Bottle Mockup
#25 – Green Color Crafted Soap Mockup Bottle