Jewelry box mockup | 25+ Free & Premium Jewelry Box PSD Templates for Designers– Jewelry is one of the precious ornamental accessories which does require great packaging in order to market them. A great jewelry packaging can enhance the jewelry brand to a great extent. Jewelry is a valuable product so the packaging has to be gorgeous and ravishing that customers have a great impact as soon as they lay their eyes on the Jewelry box packaging. We have listed 25+ Free attractive jewelry PSD templates in this roundup for which you can use in any of your jewelry box packaging designs such as rings, bracelets, necklaces and even for gems.
All the listed mockups have multiple organized layered which are easy to use through smart objects. Though these mockups are made professionally you are free to edit all the elements starting from color, shadow, background, shading, images etc. according to your project need.
Also, Check
UNLIMITED DOWNLOADS: 500,000+ Product Mockups & Design Assets
You can also check our Fiverr account from the banner below and if you want to get any mockup design to customize, then you can order us there.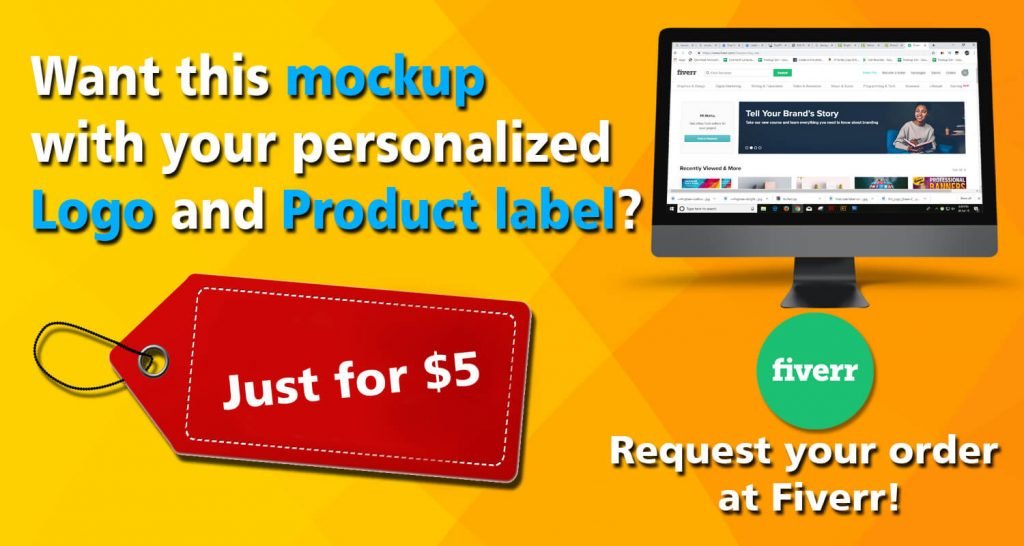 _______________________________________________________________________
Mockupden Exclusive Free Jewelry box mockup PSD Files for our Visitors:

Updated New Inclusion on 25/05/2021
Free Ring Box Mockup PSD Template
Free Open Jewelry Box Mockup PSD Template
Free Jewelry Box Packaging Mockup PSD Template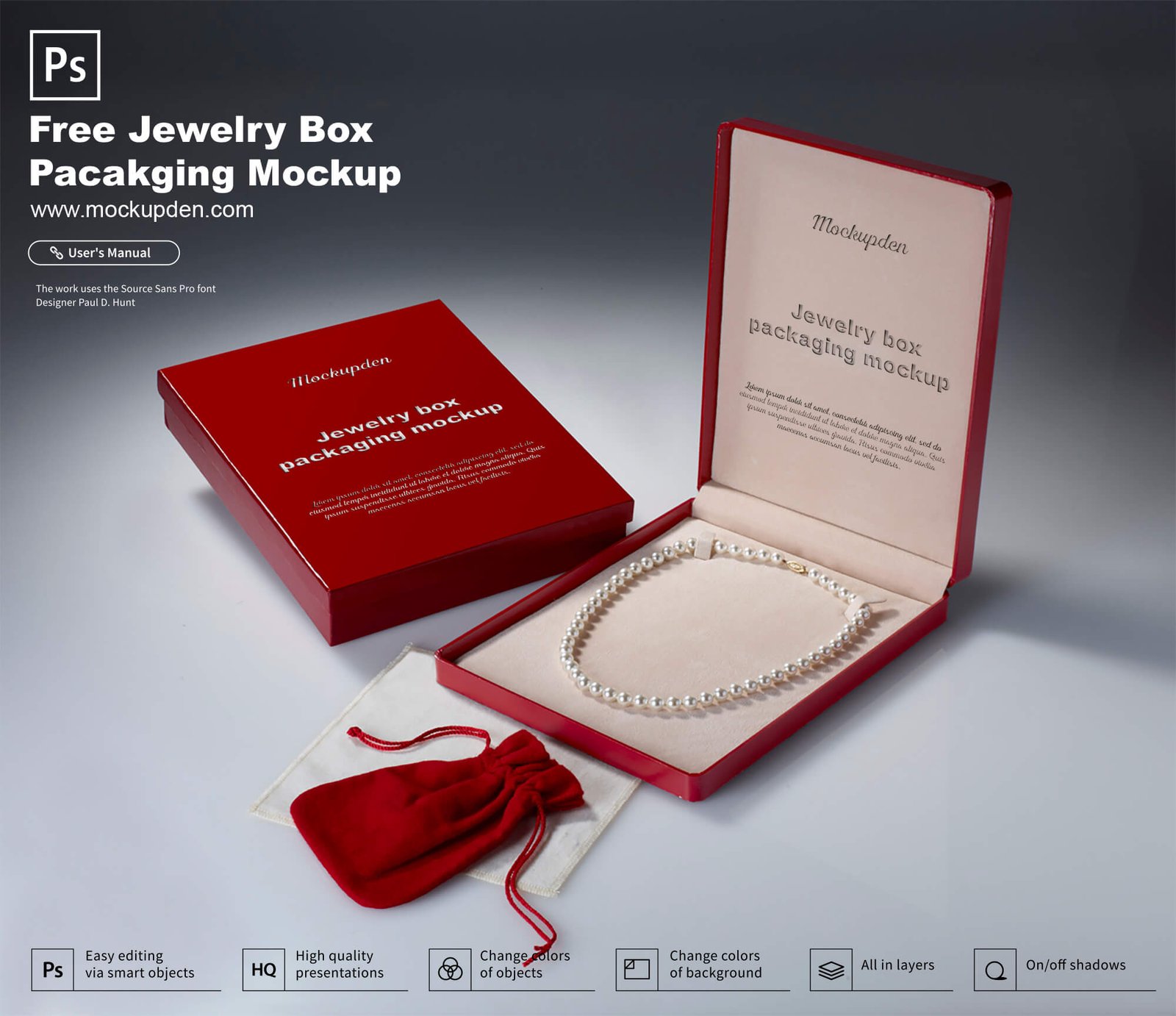 Free Jewelry Packaging Mockup PSD Template:
Free Jewelry Packaging Mockup PSD Template:
#1.

Editable Jewelry Box Mockup.
#2.

Square Shaped Jewelry Box PSD Template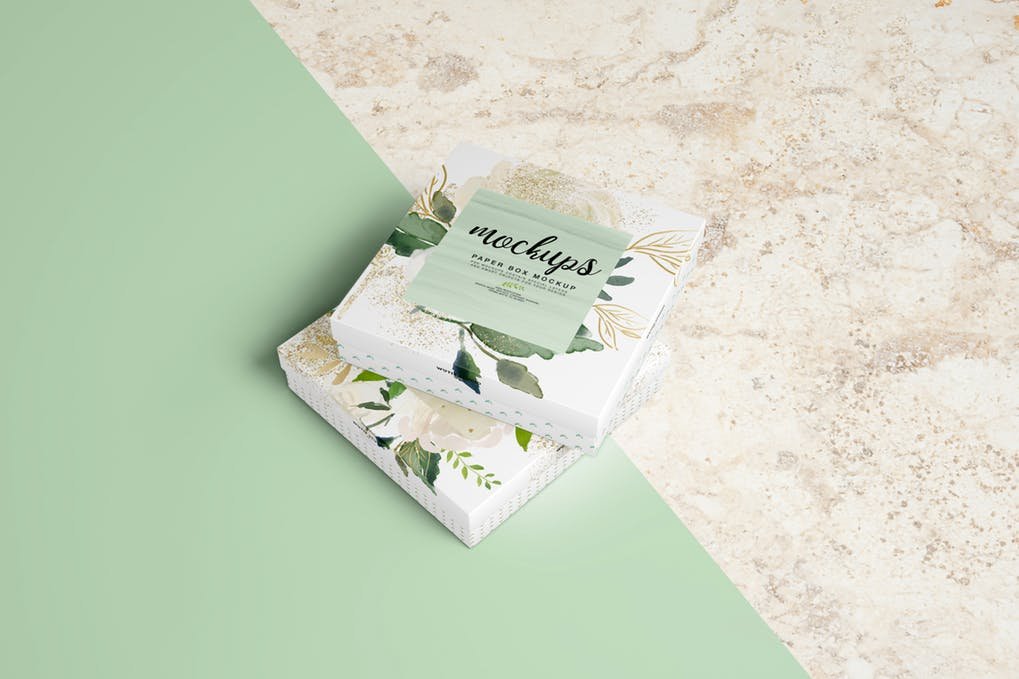 #3.

Different Designs Of Jewelry Box PSD Design
In this mockup set, you will find some amazing ring boxes which are placed on a duet color background. The boxes are in a square shape which are perfectly suitable for the ring. This boxes can be used by big jewelry companies to present their rings to the customer in these boxes in a most fascinating manner. The boxes have a nice texture printed on it and there's a place is given to add your company' s name on the surface. You are also able to change the background color and the designs of the box by photo editing apps.
#4.

Jewelry Box With Leaf And Pearls Mockup.
In the given picture below, you will find one of the most beautiful mockupx ever. The jewelry boxes are place in a pink and blue background and a bundle of pearls is placed beside the boxes. For an extra beautification, some rings and gold chains are included in the presentation scene on a big leaf. There are two types of boxes with the same texture but different colors are given. You may able to change the design of the boxes and paste your text on it easily and change the background color with smart editing tools and Photoshop app.
#5.

Full Set Of Jewelry Box Mockup.
This mockup will provide you a full set of jewelry box. In the preview option, the different types of jewelry boxes are shown in different angles. These editable boxes have black with a golden pattern printed on it. By using color layers and easy editing tools the whole design of the box and the background color can be changed. Apply the design of your company on the box before showcasing the design idea to your clients.

Download Now
#6.

Square Jewelry Box Mockup.
#7.

Royal Jewelry Box Mockup.
#8.

Ring Box Vector File
#9.

Pink Colored Jewelry Box Mockup.
#10.

Five Different Jewelry box Mockup.
#11.

Jewelry Box With A Business Card Mockup.
#12.

Customizable Jewelry Box Mockup.
#13.

Black Colored Jewelry Box Mockup.
#14. Photo realistic Jewelry Box Mockup.
#15.

Luxury Jewelry Box Mockup.



#16.

Shiny Ring Box Mockup.
In the preview option, you will get the total idea of these mockup boxes which are in high-resolution of 3000*2000 px. In this mockup, you will find a glossy box to showcase your precious ring. The design of the ring box is breathtaking with a golden locker in the middle of the box opening. Paste your company's name and logo on the top of the box by editing tools and add some colors to the background to give it a ravishing classy look which no one can deny but admire.
#17.

Wooden Jewelry box Mockup.
This jewelry box is made with wood and covered with pure leather and a hook to close or open the box.
Add or remove jewelry from the box.
Separate layers and shadows.
Has got 2 styles.
High resolution of 3000*2000 px.
Editable background.
Photo-realistic.
#18. 

Ceramic Tiled Wood Jewelry Box Mockup.
This cosmetic box is editable in many sizes and colors. By using a smart object, change the color and design of the box and add some texture on the top of the box to get a better presentation for your clients. You'll get the full idea of this mockup by clicking the preview option. From there you may able to get the color options which will be suitable for the box. In this design, a great Japanese theme has been showcased. The size of this wood box is 4000*3000 px.
#19.

Open Jewelry Box Mockup.
#20.

Branded Watch And Ring Box Mockup.
In the preview option, the full information of the box is shown step by step. This Ring box mockup has got every thing to create a realistic and good-looking project. There are 4 photo realistic presentation of ring box is given in this mockup with a compatible resolution of 3000*2500 px. As the layers and folders are well organised that means the changing of color and other thing are easy by using smart editing tools.
#21.

Jewelry In a Wooden Box Mockup.
#22.

New Ring Boxes Mockup.
There are two mat finished ring box in a duo colored background with some green leaves at the edge of the picture is what this mockup is consists. By using the Photoshop app, the leaves can be turned off and on and also can be replaced with other plants or flowers. This PSD file has got a high-resolution of 5210*4026 px with the color depth of 300 dpi.
#23.

Diamond Ring In Box Mockup.
This types of ring boxes are used for special occasions and will get the necessary protection of your precious ring. The box is covered with smooth leather and the inner portion has a soft cotton fabric to hold the position of the ring. This mockup has some other features like:-
Open and closed box.
layers and shadows are separated.
Paste your logo via smart object layers.
The dimension is 2500*2500 px, 72 dpi.
Changeable background color.
#24.

Closeup Pearl Mockup.
#25.

Girl Wearing Jewelry Mockup.