Sauce Bottle Mockup | 40+ Most Creative PSD, Vector Design Template 2019 Collection: There is no denial of the fact that packaging is one of the most important factors which gives us the initial impression about the product and that indirectly persuades us or subconsciously we get inclined to buy that particular product. This kind of importance an outer packaging carries, so being a product owner you should make sure that the product packaging is attractive and appealing to the customer's eyes. From a marketing and branding perspective, food product packaging can create the highest impact in converting a potential customer to a buyer. So if you are a sauce manufacturer, your primary focus should be on creating an appealing Sauce Bottle packaging under the marketing and branding category.
Well, if you are a designer and looking for some alternative idea of sauce bottle design or you are a manufacturer having a bit difficult time to produce your own Sauce Bottle packaging design, then you can consult our 40+ most creative Sauce Bottle PSD & Vector design template. These ready-to-use templates will save your precious time and you can conveniently use these high-quality mockups in your own product packaging just by making some simple alternations like the brand name change, inserting logo etc through organized named layers.
In order to use any of these PSD Mockups, you need Adobe Photoshop 
UNLIMITED DOWNLOADS: 500,000+ Product Mockups & Design Assets
Get your product customized by us at Fiverr.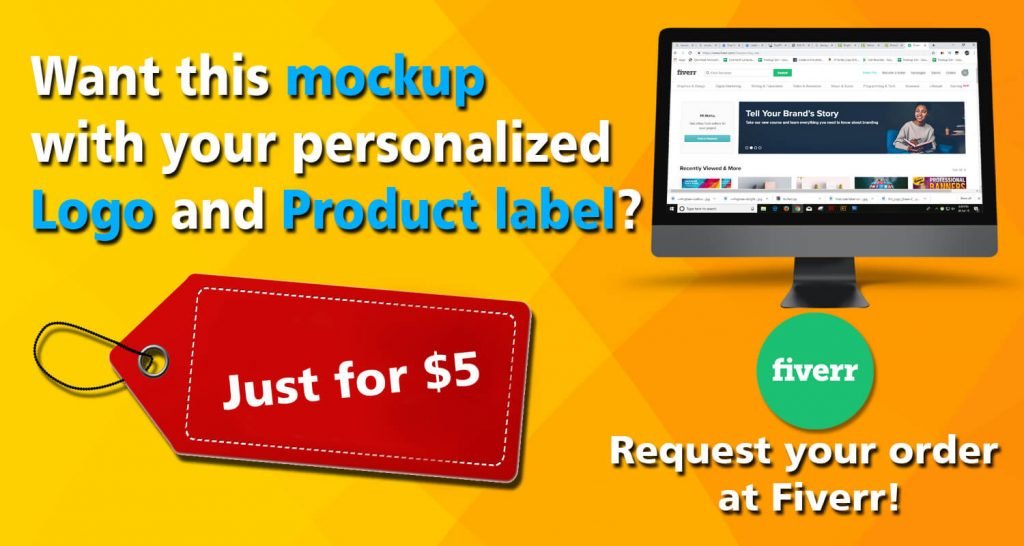 _______________________________________________________________________
Latest Design Inclusion July 2020

:
Free BBQ Sauce Bottle Mockup PSD Template
Free Sauce Bottle Mockup PSD Template
Free Red Chili Sauce Bottle Mockup PSD Template
#01 – Two Tomato Sauce Bottle Vector Design Free.

We are presenting here a set of two tomato ketchup bottles in plastic and glass bottle jar with close cap and labels attached to it. This is a vector file illustration with clean white color background and two shadow layer with a smart option to add your own image through Adobe Illustrator.
#02 – Sauce Bottle Mock-Up

Get to best sauce bottle mockup design from the below button. This is the fully realistic and customizable Krauter sauce bottle mockup PSD file. It's a clean design mockup with color change feature along with 3D effects and in the high-resolution file. In addition to this mockup design, it comes with 4 different scenes with three different color bottle which gives you an additional feature to change color and add your own design to it through smart option.
#03 -Soy Sauce Glass Bottle Mockup

Presented here is the illustration of a soy sauce bottle mockup. This is a professional designed black color sauce bottle with red lid fix on it which features you –
4000 x 3000 pixel image.
High quality and High-resolution.
Transparent background.
Option to add image or change cap color through the smart objects.
Well-organized layers.
Easy editing.
Contains Layered Photoshop files.
#04 – Mayochup White Sauce Banner Vector Design

Showcased here is the 100% natural 3D design mayochup sauce bottle vector design. The above image illustrates a transparent bottle with bowl and french fry kept beside it. It is in a 3D format image that suits best for any sauce ad banner.
#05 – Single Ketchup Bottle Vector Design Illustration

In this mockup, a red color 3D tomato ketchup vector design illustration is presented. This is the 300 ML single ketchup bottle with clean and white background along with shadow layer and smart option enabled. If you want to demonstrate your own tomato ketchup bottle design illustration, then this will be a perfect for you to showcase your design to the clients. The only thing you need to do is to get this from the button provided below and using Adobe Illustrator, add your own image to it and do the needful for a great presentation.
#06 – 4 Sauce And Oil Bottle Vector Design Illustration With White And Black Lid

#07 – Multi color Sauce Bottle Mockup

#08 – BBQ Sauce Bottle Mockup Presentation

We are presenting here a  BBQ sauce bottle mockup design presentation with black color label attach to it. The above image displays three different BBQ sauce bottle in brown and black color outlet with a realistic and attractive design label attach on it and a black lid fix on all. This is a 3 PSD file mockup in 1500 x 1500 pixel at 300 Dpi that works with minimum Adobe Photoshop CS4 version and available here with well-organized layers. The best part is that, you can also change the sauce bottle label design and its image as per your wish easily through smart option.
#09 – Sauce Bottle Print Greeting Card Mockup

#10 – Delicious Sauce Bottle Vector Design Illustration
This is a set of a realistic cartoon design sauce icons that features different sauce bottle colors and flavors. It's a 100% vector design illustration with 1 EPS file along with 18 large PNG format files that features transparent background at 1000 x 1000 pixel. You are getting here an illustration of Ketchup, cocktail, barbecue, pepper, garlic, french fries, forestiere, algerienne, curry, andalouse, andalouse, samourai, mustard, harissa, maison and americaine.
#11 – 2 Ketchup Packet Vector Design Illustration

This is an example of two i.e red and yellow color ketchup sachet vector design. It's an easily customizable sachet that allows you to add your brand name, logo and graphic to it with color change feature.
#12 – 2 Glass Ketchup Bottle Illustration Vector Design Free

You are getting here a clean and simple ketchup bottle vector design. In the above image, there are two different color ketchup bottle with a label attach to them along with a grey color lid fix on top of them. It's a best sauce bottle vector illustration that could feature your company name, logo and any image of your wish to the bottle through Adobe Illustration.
#13 – Chili Sauce Mockup PSD

#14 – Roasted Wings With White Sauce Mockup Design

#15 – Chili Sauce In Jar Mockup Illustration

#16 – Realistic Chili Sauce Bottle Design Mockup Free PSD

#17 – High-Resolution Organic Sauce Bottle Mockup

#18 – 3 Ketchup Packet Mockup Design

#19 – Sauce Bottle Mockup

#20 – Red Sauce Bottle Mockup

#21 – Sauce Bottle Mockup

#22 – Sauce Bottle Mockup Template

#23. Sauce Bottle Mock-Up

#24. Tomato Sauce Packaging PSD Template.

#25. Transparent Bottle Filled with Tomato Sauce PSD.

#26. Tomato Sauce Placed With Some Chicken Nuggets Mockup.

#27. Sauce Jar Bottle Mock Ups

#28. A Set Of Soya Sauce With Two Different Bottle PSD.

#29. Some organic Tomato Sauce In Wooden Bowl PSD format.

#30. Two Simple Tomato Sauce Bottle With White Cap Mockup.

#31. Tabasco Sauce Bottle Package Vector Realistic

#32. Transparent Bottle In A Transparent Background Mockup.

#33. Red Chili With A Sauce Bottle PSD Template.

#34. Sauce Bottle With Yellow Cap Mockup.

#35. Vector Realistic Tomato Ketchup Bottles Mockup Set

#36. Homemade Meat Burger With A Sauce Bottle Mockup. 

#37. Different Colors Of Sauce Bottle PSD File. 

#38. Barbecue Sauce Pouring From The Bootle Mockup. 

#39. Different Angles Of The Sauce Bottle PSD template. 

#40. White Sauce Bottle On The Table.