Gift Wrapping Paper Mockup | 30+ Best PSD Gift Wrapping Paper Template: During the festive season, gifts are exchanged and there is a huge demand for Gift wrapping paper to wrap those gifts. Regardless of how beautiful or awesome a gift is unless wrapped in a classy and attractive gift wrapping paper, it does not bring the excitement. A well-wrapped gift creates amazing excitement in the mind of a gift receiver. So obviously people look for a nice gift wrapping paper before thy present gift to their loved ones which definitely creates quite a demand for gift wrapping paper. Have you taken a design project of gift wrapping paper mockup to create something on your own and wish you had some inspiration? Not to worry because we have rounded up 30+ Best Gift Wrapping Paper Mockup PSD template in this post. All the PSD files are in high-resolution and have well-defined smart layers for easy customization. If you are a little comfortable using Adobe Photoshop then you won't have to do much to come out with a great Wrapping Paper design idea. Just use the smart layers of these well-organized PSD files to insert your own design concept in any of the desired areas to blend your concept into these ready-made designs.
Also, Check
Do advised that this collection is a mixture of free and premium Gift Wrapping Paper Mockup PSD templates. You can straightaway download free templates and start customizing whereas premium template would cost you a couple of bucks depending on the price structure and subscription policy. If you are a full-time designer then you can dive into an amazing treasure of Envato Marketplace where you would get 4,00,000+ designs just by paying $19/month. Great value for money!
In order to use any of these PSD Mockups, you need Adobe Photoshop 
UNLIMITED DOWNLOADS: 500,000+ Product Mockups & Design Assets
Get your product customized by us at Fiverr.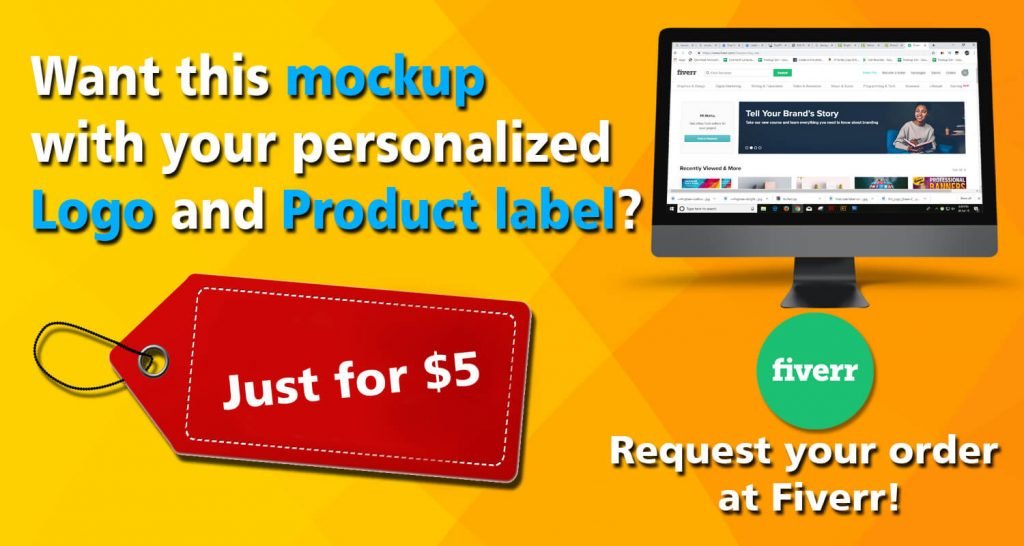 _______________________________________________________________________
Latest Design Inclusion July 2020

:
Free Wrapping Paper Mockup PSD Template
Colorful Gift Wrapping Paper MockUp
Nicely Wrapped Gift Box Mockup – Free Download
#01 – Blue Shaded Gift Wrapping Paper Mockup PSD

Here we brought to you a gift wrapping paper mockup in photorealistic format. This is aPSD format mockup with a smart layer which will help you to add your own design to the mockup easily as per your wish, change the background color and also get two different pattern effect i.e silver and gold.
#02 – Free Card Wrapping Paper Mockup PSD

This design showcase an Invitation card as well as a gift wrapping paper with a blue color abstract design printed upon it. You can see here an invitation card which is half wrapped. Get this mockup design easily from the button we provided below in smart layer.
#03 – Printed Gift Wrapping Paper Mockup PSD

An amazing gift wrapping paper set mockup is next in our list. This mock set file has well-organized layers that are easy to manage while customizing.
Key Features – 
You will be getting here 11 PSD files in 10 different views.
Get 4500 x 4500 pixel image size at 300 Dpi.
Compatible best with Photoshop CS6 version.
Well organized layer mockup.
Changeable color and designs.
#04 – Realistic Gift Wrapper Mockup PSD

Here you will be getting an attractive floral print design gift wrapping paper mockup tied with ribbon. In this design set, there will be 8 different designing ribbon among which includes, 3 white ribbons, 3 green ribbons and 2 Christmas font ribbon design. This is a fully PSD layered mockup design which gives you features like –
Smart Object.
Transparent Shadows.
6016 x 4016-pixel dimension image at 300 Dpi.
High-resolution mockup that is compatible best with CS6+ version.
#05 – Tissue Paper Wrapping Mockup PSD

It's a wrapping tissue paper mockup set in a layered and editable PSD file format. With the help of this mockup, you can easily display your own design. Moreover, this set gives you 3 PSD files with 3 separate views with custom color and smart object. Look below for more key features –
2 Separate design option i.e silver and gold.
3 Different background i.e custom, neutral and white.
Supports only Adobe Photoshop.
Image of 3000 x 3000 pixel dimension and at 300 Dpi.
#06 – Wrapping Paper and Mailing Box Mockup PSD

Here you get a combo of a mailing box as well as wrapping paper mockup. In the above image, there's a cup kept on a mailing box along with a wrapping paper in custom color format. To know more, read the below section –
This will give you a 3500 x 2500 pixel image and at 300 Dpi.
This mockup file ony works in Adobe Photoshop with minimum CS6 version.
#07 – Creasty Wrapping Paper Mockup PSD

It's a Creatsy gift wrapping paper mockup set which gives you 4 PSD files in 8 different views. You can use this mockup to display your own design by getting it to your device from the button we provided and adding your own image to it through smart object feature. You will get here multiple background preview like marble, wood, white and stone.
#08 –

Gift Wrapping Paper Mockup

Here you'll get a wrapped gift package mockup for Christmas and birthday. It's a 6 layered PSD file mockup design in PSD file format with a picture dimension of 5900 x 4000 pixel at 300 Dpi. In the above image, there's a Separate Shadow Layer for Advanced Lighting Control (from Mat to Glossy).
#09 –

Decorative Paper and Gift Wrapping Paper Mock-Up

You will get here a Photorealistic and decorative gift wrapping paper mockup in a rolls. This mockup design will give you 4 Photoshop files which are arranged in a circle and along with this, you will also get here paper wrapped pencil pot. You can also add your own design to this mockup and for this, there will be a help file provided which will guide you regarding how to edit.
#10 –

4 PSD Designing Gift Wrapping Paper Mockup

Here we have listed an attractive gift wrapping paper as well as gift box mockup with a red ribbon. It's an amazing paper mockup design in which, you can change the color, add your own image and much more. This file contains 4500 x 3000 pixel image at 300 Dpi with smart object.
As you can see in the above image, there is an illustration of a 4 different gift wrapping paper and gift box in 4 different colors and print tied with same red color ribbon. Each design features different background which can be changeable through Adobe Photoshop.
#11 – Wrapping Paper/ Gifts Mock-ups Set

This is a smooth layered and textured design gift wrapping paper mockup in PSD format. Mockup image illustrated in the above features an orange color paper roll and a wrapping paper sheet kept on a floor with multiple color texture designs printed upon it. You can customize this designs for ads, portfolio, banners and much more.
What Features You Get From Here – 
This will deliver you 6 Photoshop files which includes 3 textures and 3 lifestyles.
Ideal for gift box wrapping.
Organized layers.
Fully Customizable mockup.
#12 –

Amazing Gift box Mockup PSD
This is a wrapping tissue paper mockup bundle in 8 different sets which contains 132 PSD files that feature 6000 x 4000, 4000 x 6000 and 4000 x 4000 pixel images respectively at 300 Dpi. In this mockup, you will be getting over 50 designs ready in which, you can add your own designs and scenes.
#13 –

Christmas Gift Wrapping Paper Mockup PSD

Mockup design listed here is ideal for Christmas box packaging. It is a smart object layered PSD file where you can add your own design. As illustrated above, it's a gift box which is wrapped with white color paper with a Christmas tree printed on it and tied with a rope with steam attach to it.
#14 –

Clean and Clear Gift Bag Mockup PSD

#15 – Wrapping Paper Mock-up

#16 –

 Gift Wrapping Paper Mockup

#17 –

Wrapping Paper 2 Mock-up

#18 –

Multiple Gift Wrap Box Mockup PSD

#19 – Winter Gift Wrapping Paper Mockup Collection in PSD

#20 –

Simple Pattern Design Gift Wrapping Paper Mockup PSD

#21 –

Flower Gift Wrapping Paper Mockup PSD Design Template

#22 –

Wine Bottle Wrapper PSD Mockup

#23 –

Vintage Gift Wrapping Paper Mockup PSD

The theme vintage can suite perfectly for any christmas party and can bring back old nostalgic memories quite effectively. So why not planning this christmas party with a vintage theme to give the best possible surprise to your old folks? This Vintage christmas set design box is populated with 33 different objects consisting 5 Christmas wreath, 5 Gift boxes, 5 Christmas stockings and 18 Snowflakes which will give you plenty of alternative for decoration. All the mentioned files come in ready to print format and you can even customize the design template with chosen theme or color combination. Not only 10 High quality PSD files but you will also get 10 VECTOR EPS8 and PNG format for all design template.
#24 –

Deep Blue Shaded Gift Wrapping Paper PSD Template

#25 –

Gift Wrapping Paper on Wooden Floor Mockup PSD

While making the mockup collection we always keep in mind the listed item are picked from different categories and diversified in nature so whatever your requirement is, you may find at least one appropriate mockup for your project. In this collection of Gift Wrapping Paper Mockup, we have made sure they are showcased in different background and scenario and also equipped with proper related elements like gift items. Did you find the right Gift Wrapping Paper Mockup what you have been looking for in this collection? If yes do share us your pick and how you blended that into your work otherwise please let us know what we have been missing and we will try our best to add those kind of Gift Wrapping Paper Mockup into this collection. If you have any other query or advice related to this post, do drop us an email contact us through the comment section. We are soon going to feature design work from different designer. If you would like your work be to be feature in our website, contact us at contact (@) mockupden (dot) com.