Coffee Bag Mockup | 30+ Best Coffee Bag PSD Mockup Templates Free & Premium: So many people consider coffee as a 'life'. The kind of energy and boost coffee provides it's beyond explanation and there is every reason why coffee becomes so much popular after 1812. Since then coffee has become a daily nonalcoholic drinking beverage for adults around the globe. But the experience of having coffee wouldn't be that much enticing if it is not been packaged in a Bag that people even can have while on the go. For every new coffee producer or marker, it is quite a challenging fact to establish their new coffee brand due to the cutthroat competition the coffee market has.
So it goes without saying how important coffee packaging is for a new brand to enter the market. Here, we have the right instrument for you. Some of the most creative and professional 30+ outstanding Coffee Bag Mockup PSD templates to market your product and establish your own coffee brand.
All the designs are made with proper care and the right instrument for creating brand awareness. We have paid close attention while hand-packing these free & premium Coffee Bag Mockup PSD templates that they cover all the coffee bag packaging types like Foil Coffee Bag Mock-up, Brown Paper Coffee Bag Mockup, Grocery Coffee Bag Mockup and Full Scene Coffee Packaging Mockup Presentation, etc.
Also, Check – 
Here are all editable coffee bag designs and if you want that we customize any of these bag mockup design for you, then you can freely contact us at Fiverr.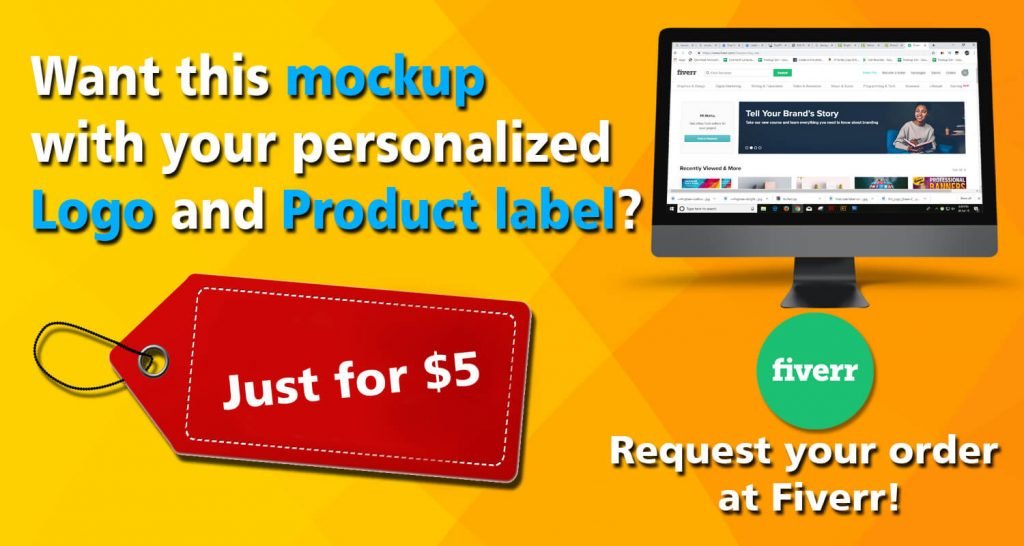 _______________________________________________________________________
Mockupden Exclusive Free Coffee Bag Mockup PSD Files for our Visitors:

Updated New Inclusion on 17/06/2021
Free Coffee Bag & Paper Cup Mockup PSD Template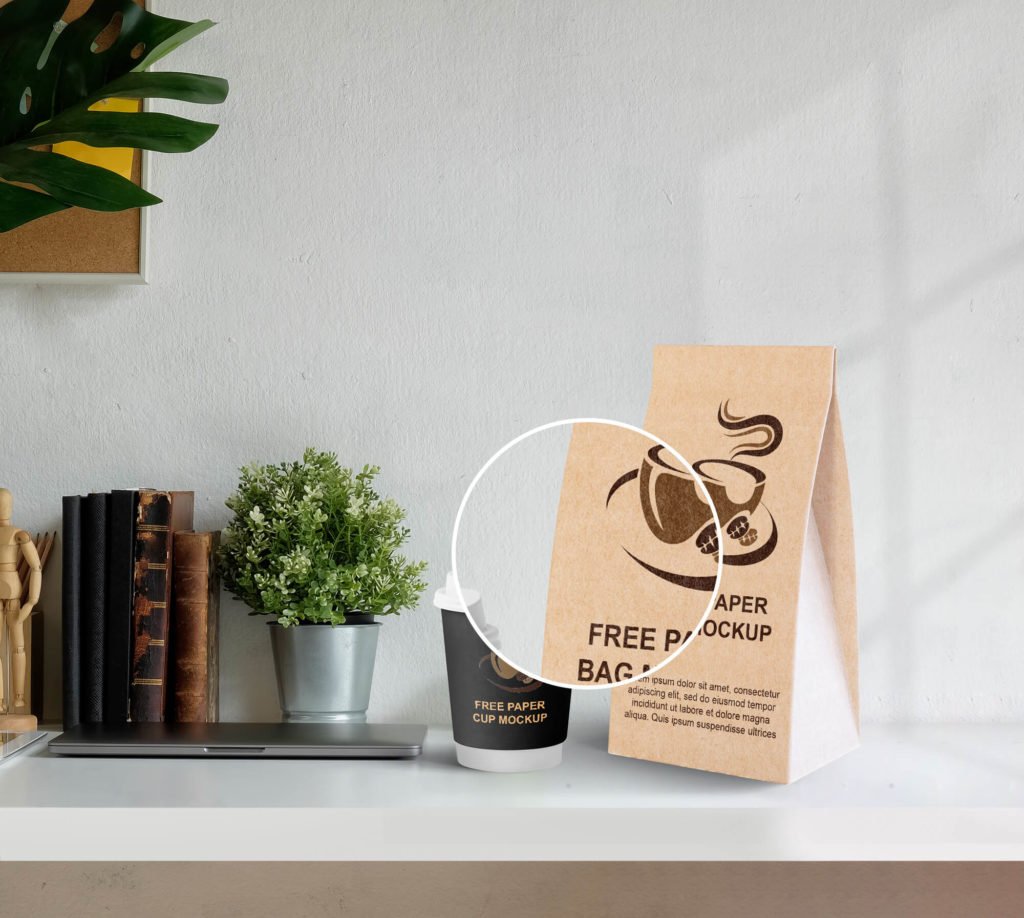 Free Coffee Bag Mockup PSD Template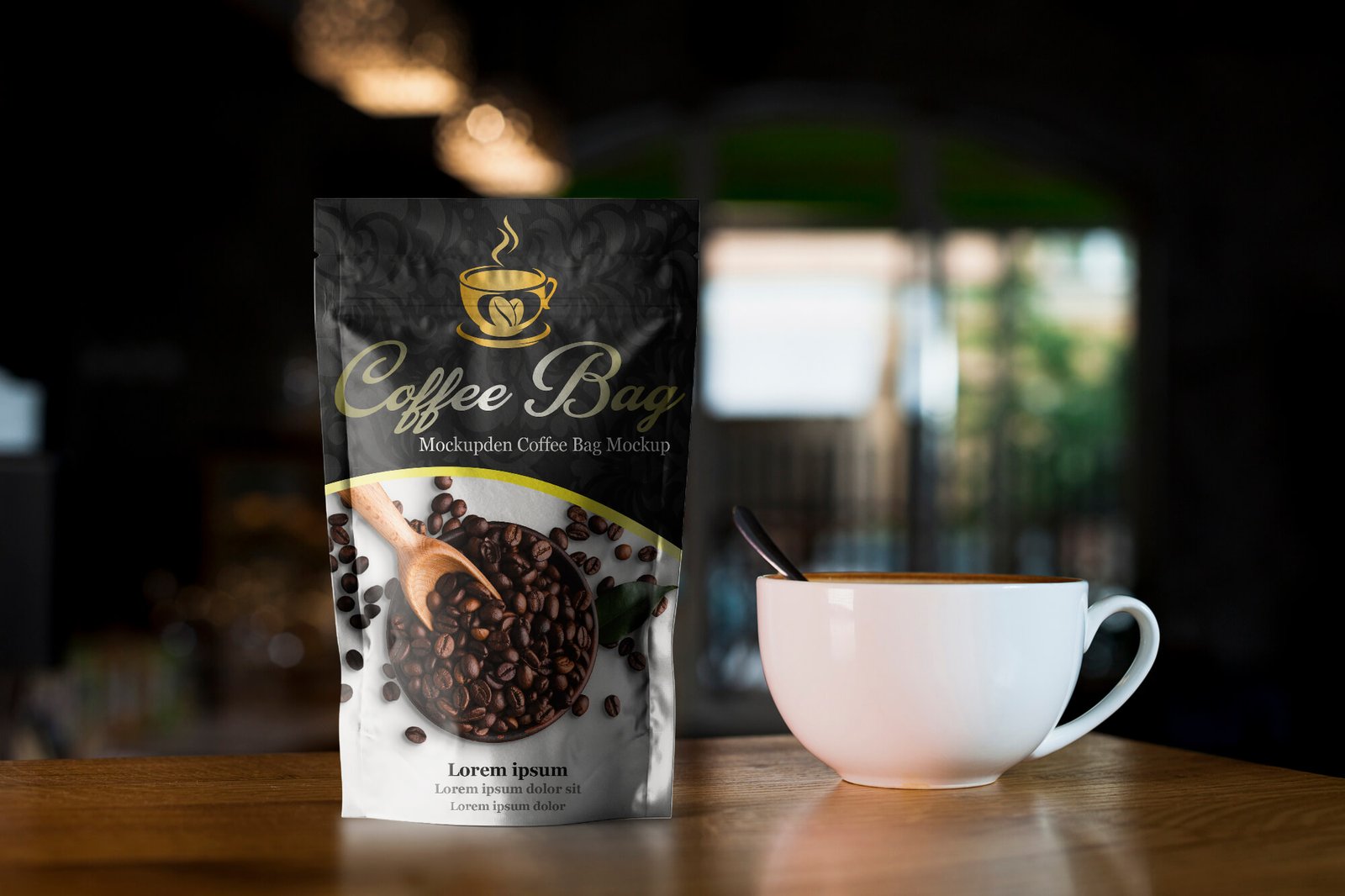 Free Coffee Bag Mockup Pack
#01 –

Blank Coffee Packaging Bag Mockup
This is a realistic grocery bag and coffee cup mockup with best graphic design available in PSD format i.e Adobe Photoshop. As it is shown above, it's a brown color paper bag with a white cup beside.
#02 –

Photorealistic Creative Coffee Bag Template Design
#03 –

Coffee Packaging Bag Mockup
This is the light brown color paper bag mockup used for packaging. It is composed of 1 PSD files template of 97.02 MB size with a designing print.
#04 –

Tri Color Coffee Packaging Bag Mockup
This mockup design features the best coffee cup as well as coffee bag set with coffee beans kept beside. You will be getting 26 MB of extension file of this template in PSD and CC format at 3000 x 2000 pixel resolution with a standard license to use it.
#05 –

Coffee Packaging Bag With Coffee Beans spreaded Mockup
If you are looking behind for the photorealistic print coffee bag mockup, then we would be recommending you to follow the design we listed above. This design showcases a coffee bag and a coffee cup kept beside with lots of coffee beans spread.
#06 –

Coffee Set Identity Branding Mockup
Get from here the coffee set identity branding mockup with a retro filter. This is free coffee set bundle that throws a realistic look in high-resolution.
#07 –

Multicolored Coffee Bag PSD Design
Available here is the three multicolor print coffee foil bag mockup with a professional look. This file has a layered shadow that helps to give a realistic and 3D look and the best part is that is that it is easy editable that saves time and gives you help file in PDF format.
#08 –

Attractive Coffee Set Scene Creator Mockup
Next in the list is one of our favorite Coffee Set Scene Creator Mockups pack. This mockup set has 7 ready to use scenes which are completely customizable with Adobe Photoshop CS3 and newer versions. This design has 14 Isolated elements which could be changed through a smart object or add Transparent shadows into it. All the scenes have 5400×3600 Pixel dimension. Through smart layers, you can easily Move elements of the design. One of the main benefits of this beautiful mockup is Glossy effect control.
#09 –

Tri-Color Coffee Packaging Bag Mockup
This design offers you the set 3 tri-color coffee packaging bag with many coffee beans spread beside. In this packaging bundle, you will be getting orange, green and yellow color packet available with smart object feature which helps in adding any extra image to this mockup anytime you want and easily.
You Can Follow Up The Key Features From Below –
Smart layered object.
3 PSD mockup file.
Supports Adobe Photoshop CS4 version.
Why it is important for Coffee to be Packaged Carefully
The main reason for the packaging of any food or beverage related product to keep the product safe and at the same time attracting customers' attention through product branding. So it has dual importance and both cannot be taken for granted. There are multiple famous coffee brands already out there in the market and they enjoy the maximum share of consumption and without a striking coffee bag mockup, it will be seemingly difficult for any new brand to penetrate the market. If you have an attractive coffee bag design with great looks they will certainly play in your favor when it comes to creating new brand awareness in the market.
Our collection of 30+ Best Coffee Bag Mockups PSD templates look professional and designed with care to live up to the occasions they have been created for. Use any of these premium attractive design to packaging your coffee bag and that will eventually help to build your own coffee brand identity, not to mention keeping the coffee beans safe inside that the quality remains intact for the period they are supposed to be used within.
Here are different types of coffee bag design mockups which falls under different packaging category. Check them carefully, analyze and compare with your product type, consider your marketing strategy and pick the one best suits for your coffee product.
Coffee Set Identity Presentation Branding Mockup: This mockup scene is a complete set for Coffee branding. It includes every element in the scene that is associated with coffee
Foil Coffee Bag Mock-up. Now coming to the particular coffee packaging method and foils are one of the best types you can use to package your company coffee beans. They are great for coffee beans preservation from extreme heat and when packaged cleanly they keep the beans safe from dust and make the bag airtight at the same item.
Coffee Paper Bag Mock-up. One of the most cost-effective packaging process you can count on when delivering coffee to doors or for take-out coffee shops. Coffees packed in a paper bag are subject to use for a small period of time due to the packaging nature.
#10 –

Espresso Coffee Bag Editable PSD Template
The above-listed design displays the 3 Coffee Bag and Coffee cup mockup that gives you different filters for DOF background effects. This coffee set model can be used best for any cafe presentation branding, any bakery shop posters, etc. In addition to these, it features 6 PSD files which are editable through the smart object and each of the mockup is available in 3486 x 2246 pixel size at 72 Dpi in RGB mode.
#11 –

Professional Coffee Bag Mockup PSD
This professional Coffee bag set offers EPS 10 vector documents along with 450 dpi High-Resolution Jpeg files with a customization facility. You will also get 37 Vector EPS files and 37 Jpeg Files. You can use this unique design in any of your Coffee, Milk, Wine, range Juice Chocolate Bar, Honey Jar, or Tea packaging design project. This mockup scene demonstrates a designed coffee bag placed on a wooden table with a transparent background.
There is a text "dark roast coffee" written on the coffee bag packet which you can change into in your own company branding text. You can insert your company logo in the center of the coffee bag or anywhere you like. The color combination of this coffee bag design in light yellow and light chocolate that you can alter to any other color combination.
#12 –

Photo Realistic Coffee Bag PSD Mockup
This mockup offers 3 different design files that could be edited via smart object. If you are looking for photorealistic results or presentations for your coffee bag design project, then feel free to try this 6140×3000px mockup file which has separated elements in an organized way for easy customization. There is a realistic background presentation in this mockup scene.
#13 –

Paper Coffee Packaging Bag PSD Mockup
#14 –

Coffee paper Packing Bag Mockup
Fully customization enabled pattern or mixed colors are the main UPS of this modified mockup scene showcasing two coffee paper bag from front and side view. This mockup design file is updated by the creator to make it more user-friendly and so many added features like multiple color panels earlier, it had only a single color panel and now the sticker is also available.
You can alter the coffee bag paper texture and color to match the design or background. You will also get the opportunity to change the size, color, add or alter text or illustration and see the change in live mode how the customization is going on. Coffee, tea, candies, cookies or even for Chocolate bar whatever your design subject is, feel free to try this unique multi-facility mockup file. Users are advised to adjust the blending modes to get the best possible result to make the design compatible with background and color effects.
#15 –

UNICON Coffee Shop Vector Mockup SET
To add a little variation to the list we have added a Coffee Shop Vector Mockup SET in this list. As the vector files are easy to edit so this set will give you wings to customize any of the icons according to your choice. Change the properties to get the desired look to use these icons in your mobile or web-related project.
#16 –

Simple Coffee Bag Free PSD Mockup
#17 – 

Brown Sealed Coffee Bag Mockups
#18 –

Creative Coffee Bag Mockup PSD
Showcase here is the floral design print coffee packaging bag mockup in two different PSD format. This design features 12 pre PSD files in high resolution in photorealistic format. More than this, it features fully organized layers.
#19 –

Coffee Bag and Mug Mockup PSD
#20 –

Fine Coffee Packaging Bag PSD Mockup
Next comes the bi-color Coffee packaging bag mockup with a wooden print background. It's a brown and green color coffee bag available in PSD format that comes with easily customizable features and in a realistic format.
Know More –
2300 x 1600 Px format.
Available in Layered PSD format.
Supports Adobe Photoshop CS4 version.
#21 –

Free PSD Coffe Bag and Cup Mockup PSD
#22 –

Coffee Shop Vector design Mockup
This design presents a Coffee shop vector illustration in a abstract art design and isolated dark color background. It delivers you vector EPS10, AI CS6, JPEG, PDF, PSD and Adobe Illustrator file in high resolution and with a transparent background. The best part is that even if you edit this template, the resolution remains the same i.e compress to any size without any loss of picture resolution.
#23 –

Trendy Coffee Bag Design Mockup PSD

#24 – 

Transparent Stand Up Doypack Mockup
#25 –

Yellow Color Coffee Packaging Bag Mockup PSD
If you are looking for the hardcover coffee packaging box with a bi-color print, then you may find this one appropriate for your match. This is the photorealistic mockup that comes with a front and back side views, clean background and easily customizable feature. It is best compatible with Adobe Photoshop CS4 version.
#26 –

Smart Layered Coffee Packaging Box Mockup
#27 –

Silver Coffee Package Mockup PSD
#28 –

Coffee Beans Bag and Mug Mockup PSD
#29 –

Vintage Coffee Packaging Bag Mockup PSD
#30 –

Editable Jute Coffee Bag PSD Mockup
#31 – Realistic Coffee Bags Mockups
What are the elements you should include when designing your own Coffee Bag Mockup:
As we mentioned before packaging plays quite an important role for coffee bag branding. So it should be properly design in order make it look attractive and useful. There are some certain things you should always include when designing a coffee bag mockups like your company or brand logo, coffee beans and coffee cup with product logo which will actually become sole identity for your product.
Here are some other things you should include while designing a coffee bag mockup:
The name of your brand should be promoted in bold letters on the coffee bag packaging. If you have already created a customized logo for your product then do not forget to use that on a prominent place of the coffee bag design.
Include all important details like how and where your coffee beans are produced. If the story is exclusive and enticing do not forget to harness the benefits in your favor,
The coffee package should be properly sealed with validity date.
Do not forget to include the total contain amount of coffee on the coffee bag packaging.
State the type of coffee on the packaging.
You can even state some general interesting facts about coffee like its health benefits.