Wall Mockup | 25+ Photorealistic Wall Art PSD & Vector Design Template: If you are a designer and looking for some Wall Art PSD mockups for your new project, then we are glad to tell you that we have added the best 25+ Wall mockups, which are certainly going to serve your purpose. As the wall art design is somewhat a new trend and depends on wall settings, location, and measure, it has to be chosen carefully that the design compliments the rest of the room. One can opt for Poster mockups to decorate a wall, but if anyone wants to decorate the entire wall, then doing wall art would be a perfect choice.
As we mentioned before, the wall art depends on many factors. It would be prudent to test and validate your design work with different wall mockups and figure out which one best suits the criteria and attributes before you put it into the client's front. There is no better way to figure out that then using wall Art Mockup.
The idea of a mockup is to have a rough idea of how the simple design will look like when printed. Simultaneously, a mockup would also allow you to review the work and do the necessary alternation, improvement, modification, etc. if needed. When the designer and client are both satisfied with the design idea, they can finalize the design, which will save a lot of resources and time. Here we have added some of the most attractive and creative wall art designs to start your journey as a wall art designer.
In order to use any of these PSD Mockups, you need Adobe Photoshop.
All the Wall art mockups listed in this post are made with Adobe Photoshop, and downloadable files are in PSD format. To customize these files, you would need Photoshop CS4 and above. You can edit any design through smart objects and insert your design as well.
Also, Check – 
UNLIMITED DOWNLOADS: 500,000+ Product Mockups & Design Assets
By using these mockup designs, you can easily showcase your own presentation. In case, if you want to make any addition to these designs or customize this design, then we help you out in this and for this, you need to text us Fiverr.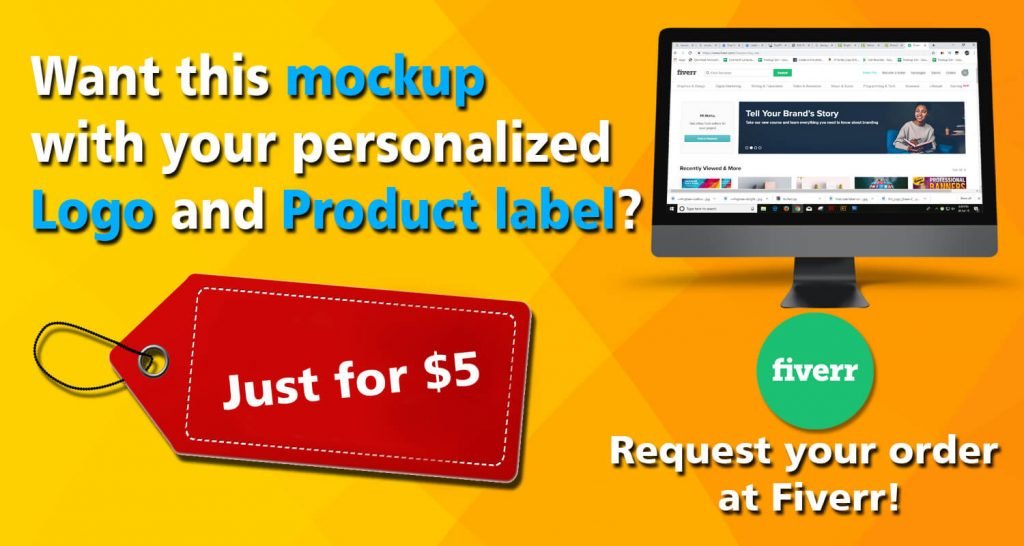 _______________________________________________________________________
Mockupden Exclusive Free Photo Realistic Wall Mockup PSD Files for our Visitors:

Updated New Inclusion on 07/09/2020
Free Street Art Wall Mockup PSD Template
#1 Animal Wall Art PSD Mockup
This vibrant wall art mockup could be a perfect fit for a kids room. Animal art featuring Giraffe. You can easily change the background any insert any color or image into using smart layers. layered PSD has several smart objects for easy customization. Mockups comes in 4000X3000 PX at 300 DPI. Need Photoshop Version CS4 minimum to edit and file size is 62 MB.
#2 Blank canvases on a white brick Wall Mockup
#3 Geometric designed Wall Mockup Decoration
Purchase Now
#4 Kids Wall Art Mockup
Buy Now
#5 Water painting Wall Mockup art Design Template
Buy Now
#6 Kids Interior Wall Art Mockup
Purchase Now
#7 Kids Wall and Frames Mockup PSD
Buy Now
#8 Christmas Wall Mockup Art PSD Template
Purchase Now
The Elements of a Creative Wall Design
The design created on the wall depends on various factors. While crafting a realistic design on the wall, as a creator, you should consider the theme of the room, location, area of the wall, and overall customer criteria. There are many ways to design a wall to give it a real photo look. For instant, one can display posters, use wall decals, or craft realistic painted artwork. Below we have mentioned some of the ideas one can opt for to beautify wall design.
One of the easy and effective medium to beautify wall design is to use natural sceneries. If the room has got no particular theme, then using pictures is the best option to fill up most or entire space. A wild picture with plenty of green is technically a stress buster and helps bring peace in mind—an automatic choice preferred by many people. Natural sceneries include nature, beautiful landscapes, horizon, sunrise, forest, waterfall, etc.

The concept of wall designs comes from the creative mind, but the designer should always consult the idea with the customer first. Maybe the view is impressive, but the customer may way something different. This is why designers should have backup design ideas in their kitty in terms of alternative mockup templates.
#9 The deer wall art Design Template in Customizable PSD
Download Now
#10 Wall Frame and Flower Pot Design
Download
#11 Painting hung on a Wall Mockup PSD 
Download
#12 Two canvas portraying one picture hung on a wall Design template
Buy Now
#13 Flower Art Wall Creative Design Template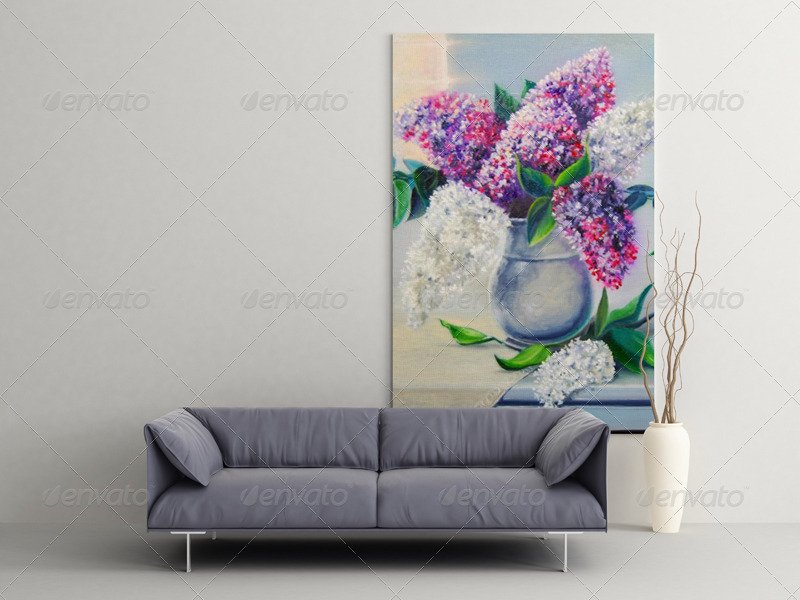 Buy Now
#14 Wall Art with lights hung in front Design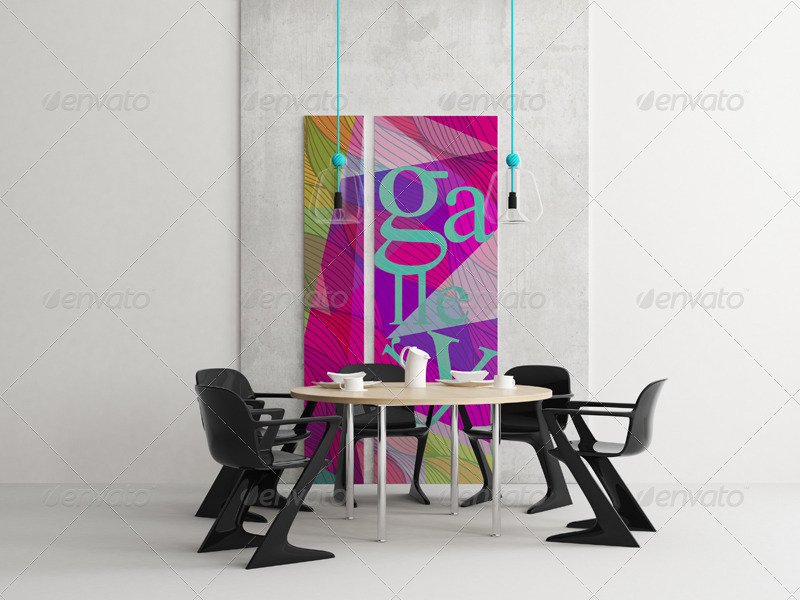 Buy Now
#15 Art Wall Creative Design in PSD
#16 Bedroom Wall scene PSD Mockup
Buy Now
#17 Wall Picture Art Mockup PSD
Purchase Now
Photorealistic Wall Art Design Ins and Outs
Desing which you plan to put on walls should be chosen carefully because the success of wall art design depends on the theme of the room, size, color, attributes, settings, room type, etc. After putting all these things into consideration, one should choose the right mockups that will closely match all criteria and justify the design concept. A single poster or a couple of complimenting poster series may give the best thrilling result rather than decorating the entire wall. The motto should always be figuring out which design type would best suit the wall keeping all the factors in mind. if you think a whole all art would be the perfect choice for the room, then here are some of the suggestion that which type of mockups you should go for or which type of mockup would best suit for the room
Determining the design according to the room type

: This is one of the critical factors choosing the wall art design as room type defers like drawing-room, sittings room, bedroom, kids room, etc. So the wall art design should be selected according to it. It should not be a great choice if you put sky-diving art in a kids' room.

Natural Scenery

: Once you have known the criteria, you can choose natural scenery wall mockup for an office room or a great wall to fill in.

Photography

: For the vibrant atmosphere, one can choose for Bright Colored photography.

Theme Based:

 

You can choose any particular theme according to the room type and use it on the wall to decorate.

Event-Based

: As we say, an image speaks a thousand words, and you can make a full-out of if when designing a wall. You can undoubtedly make wall art based on any particular event.
#18 Interior Art Wall Mockups PSD
Buy Now
#19 Work place wall art view Mockup
Buy Now
#20 Elegant Wall Art Mockup
Buy Now
#21 Entire wall art Mockup PSD
#22 The Colourful Wall Mockup Art PSD Design
Purchase Now
#23 The Wooden wall art Mockup
Purchase Now
#24 Art On Wall Mockup Scene Creator
#25 Art On Walls – Canvas Mockups – Frame Mockups – Wall Mockup Vol 3