60 Hand-Picked Free Poster Mockup PSD Template for Designers – To use any of these PSD Mockups you need Adobe Photoshop.

In order to spread the brand awareness of a company or product, Poster plays a significant role. The poster is one of the important elements of an advertisement campaign. So, every business allocates quite a sum of money to obtain the best possible poster design to be ahead in the marketing game. In order to achieve their goal, they hire a professional designer, state them about the advertisement campaign, outlook, requirements and ask them to demonstrate with the poster mockup design which would give them a basic idea about how the actual poster going to look like. Once the mockups of the poster are being presented by the designer, the business can take a look at the designs and obtain for the one which best suits their company image, preference and advertisement campaign. They even will have the option to ask for alteration to the design.
So, if a designer has quite a sum of amazing Poster mockups ready in his portfolio, so when asked by the company, they can lay down a vast array of attractive poster design mockups for them to have the initial mileage to obtain the business for them. In this publication, we are going to enrich your Poster mockup portfolio by providing 55 amazing hand-picked free poster mockup templates from the web for you to download and use at your will. These mockups are being made in Adobe Photoshop with several smart layers that could be utilized to easily modify the core file and make the alteration. Apart from these, you can take a look at Premium Poster PSD Mockups for more design idea, reference and ready-made use.
For your convenience, we have added a vast array of mockups in different shapes and sizes. You will find horizontal, vertical Poster Design, some for open-air use and some could be used indoor as well. Not only that, but we will also keep adding new Poster Mockup whenever we find one worth adding to this list. So feel free to bookmark this post if you work on the Poster template.
Free Creative Poster Mockup PSD Template
Free Urban Poster Mockup Design PSD Template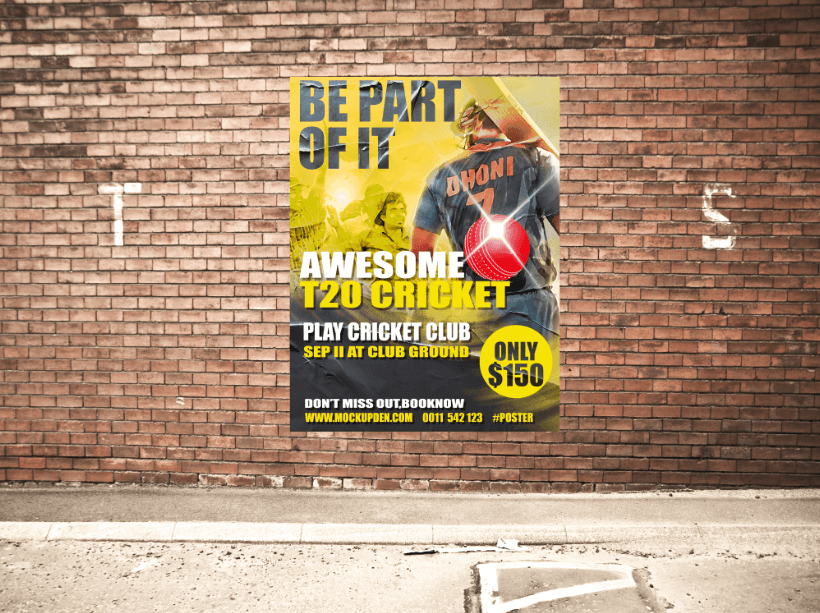 Free Shop Poster Mockup PSD Template
Free Portrait Poster On Study Table Mockup
Free Poster Office Scene Mockup
Free Bus Stop Poster Mockup PSD Template
Free Street Wall Poster Mockup PSD Template
Free Woman Holding Poster Mockup PSD Template
Free Landscape Poster Mockup PSD Template
#1 Sport & tech concept poster mock-up Free Psd
#2 34 poster mockup bundle
#3

Poster Mockup
#4 Poster Mock-Up
#5

Flyer / Poster Mockup
#6 Big Poster Mockup
#7 Interior Scene Poster Mockup

 
This amazing freebie is beautifully created to showcase your artwork, posters design and even photos in an attractive interior scene. This mockup featuring a Poster Frame on a wooden table along with a diary, pen, a pen holder and a table light. It has a small black frame which nicely compliments the white frame inside. The PSD file has a smart layer which could be utilized by the designer to insert his design. It has Layered PSD format with smart objects enabled that stands in 3000X3000 PX dimensions at 300 DPI. Anyone who wants to edit the file needs CS3 Abobe Photoshop version which is the minimum requirement. File size is 107MB.
#8 Road Side Poster Template Mockup PSD
#9 Creative Free Poster Mockup
#10 Elegant Design Poster PSD Mockup
#11 Advertising Poster Mockup PSD
#12 Hanging Poster Mockup Template
#13 Dark Background P

oster Mockup Psd Free

 
#14 Realistic Design Poster Mockup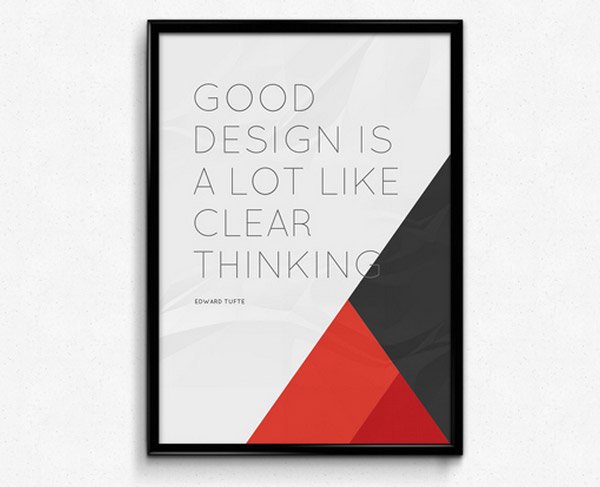 #15 Blue Color Poster Design Mockup
#16 Yellow Color Poster Frame Mockup
#17 Photo Realistic Poster PSD Mockup
#18 Free PSD Horizontal Poster Mockup
#19 Amazing Background Poster PSD Mockup
#20 Love Quotes Poster Mockup
#21 Wall Hanging Poster PSD Mockup
This wall hanging beautiful indoor poster frame mockups displays a book lying on the bookshelf, a hanging light and gray themed poster frame on the wall. Perfect to showcase your indoor poster design ability especially for an office project. Several Smart objects will give you the freedom to change the photo inside the frame, remove or add items through smart layers. This high-resolution file comes in 300 DPI.
#22 Free Poster PSD Mockup
#23 Large Poster on Wooden Floor Mockup
#24 Editable Graphic Design Poster Design psd
#25 High Resolution Poster PSD Template Mockup
#26 Poster on Table PSD Mockup
#27 Free Valentine's Poster Mockup PSD
#28 Hanging multicolored Poster Mockup
#29 Black and White Color Poster PSD Mockup
#30 Branding Poster PSD Mockup
#31 Creative Poster Mockup PSD
#32 Ultra Realistic Poster Mockup
#33 Poster With Flower Pot Mockup
This Styled Stock Photo, Frame mockup has the feature to use background image to display your artwork, prints or photos in a lucrative manner. You can even use it in your website or blog as a background image. 2 High-resolution (300 DPI) files included.
#34 Artistic Design Poster on Wood Table Mockup
#35 Man Holding Red Poster Mockup
#36 Man Holding Party Poster Mockup
#37 Party Poster Mockup PSD
#38 Editable Bus Station Poster Mockup
This poster of a bus station mockup is one of the most attractive and effective mockups out there which has the capability to hold beholder attention in a first glance. This PSD file has several editable smart layers which indeed could be utilized to insert the picture you want in the poster area. High-resolution file comes in Dimensions 2766 x 1844 px at 300 DPI. Required Adobe CS4+ to edit and file size is 34.29 MB.
#39 10 Smart Layered Poster PSD Mockup
#40 Photoshop Design Poster Mockup
This diversified Multipurpose Photoshop Poster Mockup will serve every purpose of Poster design mockups. It has the ability to justify showcasing posters, artwork or A clean and beautiful A4 flyer poster mockup without a frame which you can use to make a beautiful presentation other design including a picture in a most realistic way. The PSD file has different options enabled and you can choose from different frames and hanging clips which best suits your project. High-resolution PSD file needs Photoshop CS4 onwards to edit.
#41 Free Poster PSD Mockup
This easy on eyes Clean poster Frame Mock-up is simple to use. You can present any of your work like Posters, flyers, picture, Stationery etc in style.
Check below attributes of this mockup:
1 PSD File
2000×2000 px dimensions
Fully Customizable background and color
Easy to use without any difficulty through smart layers
#42 Clean Poster Design Mockup
This clean closeup big Flyer poster mockup has different lightning and dotted background option which could be utilized to design whatever suits best with the main picture in the frame. This PSD file with smart layers will let you change main Poster picture easily along with background style.
#43 Editable Flyer Poster Mockup
#44 Landscape Poster PSD Mockup 
This high-quality mock-up freebie has the features to present your artwork or poster designs in both landscape and portrait views. The PSD file has 91.7 Mb size and contains separated objects and shadows in 4500×3150 px Dimensions. You can easily create the right composition, change or insert new picture, alter background color in ease through smart layers.
#45 Deep Color Poster PSD Mockup
A perfect closeup poster mockup for displaying your design work to the client. 
Fully layered
 PSD file with high-resolution 2400X2400 PX dimensions has several smart layers included for easy customization.
#46 A4 Flyer Poster Mockup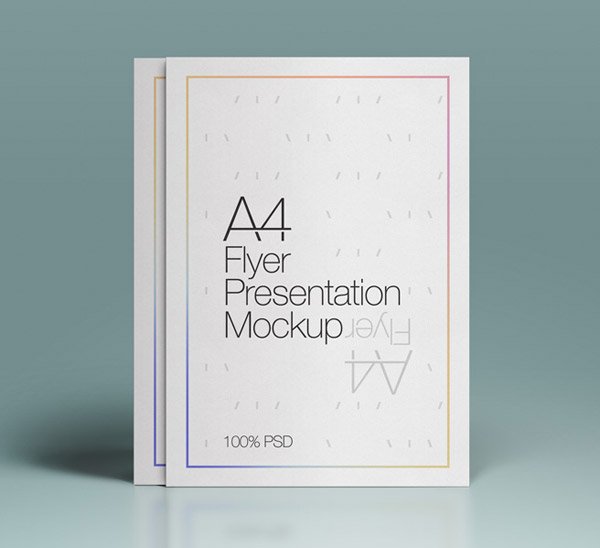 A clean and beautiful A4 flyer poster mockup without a frame which you can use to make a beautiful presentation of your artwork, Poster or even picture. Quickly drop in your own design through smart layers which stand in high-resolution 1400X1400 PX at 300 DPI.
#47 Quotes Poster Mockup PSD
This duel beneficial Photo Frame & Typography Poster Mockup PSD is quite capable of highlighting your typography poster more emphatic and distinguishable way. Close up PSD will definitely highlight the main frame picture to hold customer attention without any doubt. Grab this free PSD and see the enticing result.
#48 A0 Poster PSD Mockup
#49 Multi Color Realistic Background Poster Mockup
#50 Blank Poster Mockup
Here is another free Poster PSD Mockup for you to download. This realistic interior themed mockup allows you to showcase presentation of your poster and artwork is a stylish manner. This PSD featuring a Picture frame mockup along with a lamp on suitcase and a small plant tub. You can easily change the background image, color using the smart object and insert your design into it.
Key features:
4288×2848 pixel resolution at 300 DPI
Smart objects enabled
Help PDF file
File type – PSD
#51 Pink Poster Mockup
#52 Editable Free Poster Mockup
#53 A0 Poster PSD Mockup
#54 Colorful Poster PSD Template 
#55 Man Holding Black Poster Mockup
#56 Dazzling Photorealistic Poster PSD Mockup
Here is another free for commercial use PSD template which comes with several options for customization and make your own design. This classic PSD Mockup frame of the poster is capable of working with the portrait, square as well as landscape images. In this PSD there are different attractive features are included like different hanging options: folder clip, clipper etc. There are many background options are already included and you are also free to use one of your own.
#57 Best Graphic Design Poster Mockup
#58 Free Billboard Poster Mockup
This new addition is indeed quite an attractive Poster PSD Mockup which certainly demands to be in your portfolio. This mockup is featuring a billboard at a public bus stand which rightly focuses on the mainframe picture. High-quality PSD file made at 300 DPI with several smart layers for easy editing and new design addition. Grab this mockup at once because it is completely free to download.
#59 2 Artistic Design Poster PSD Mockup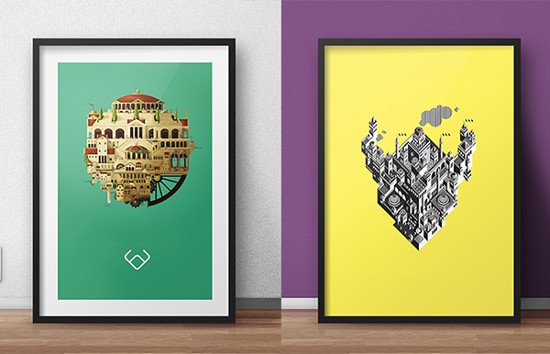 #60 Blue Layer Poster Template PSD