Notepad Mockup | 21+ Spiral, Plain Notebook PSD Templates: In today's handout, we will share some of the best Notepad Mockup and Templates with fantastic presentation scene for branding and exposure. These mockups are easy to use as all the design elements are kept categorically organized, named layers that modification is easy and straightforward to perform. These are ready-made templates that will give you an exact outlook on how to final product design will look like; even if you have anything designed, you can insert the artwork and preview the output. All you have to do is insert your design concept into the right layer (background, font, text, added element, whatever it is) for the desired result.
If you have already worked with the PSD file template, you know how to customize the design elements using a smart object identified by named layers. Select the layer to start editing, like inserting a new artwork (that you can be performed by dragging the artwork into the layer). You can immediately see the notebook's customized design outlook.
As you all know, people use notepad basically to note all their essential works/Notes and some uses for sketching. In this roundup, we have gathered some cool and trendy PSD templates which you can utilize to quickly access your creative piece and refine or alter until you get the desired look according to your client's requirements.
Also, Check
UNLIMITED DOWNLOADS: 500,000+ Product Mockups & Design Assets
How to use Notepad Mockup:
The uses of these listed mockups are straightforward. Considered them as ready-made dummy template frames where you can insert your design and get the final desired design product. The best thing one can expect from these mockups is creating multiple design templates from a single mockup is just a click away. They are the master file that could be altered as many times as you want and comes out with different design perspectives with increased workflow. Having issues customizing your preferred template? Get your favorite design customized by us at Fiverr.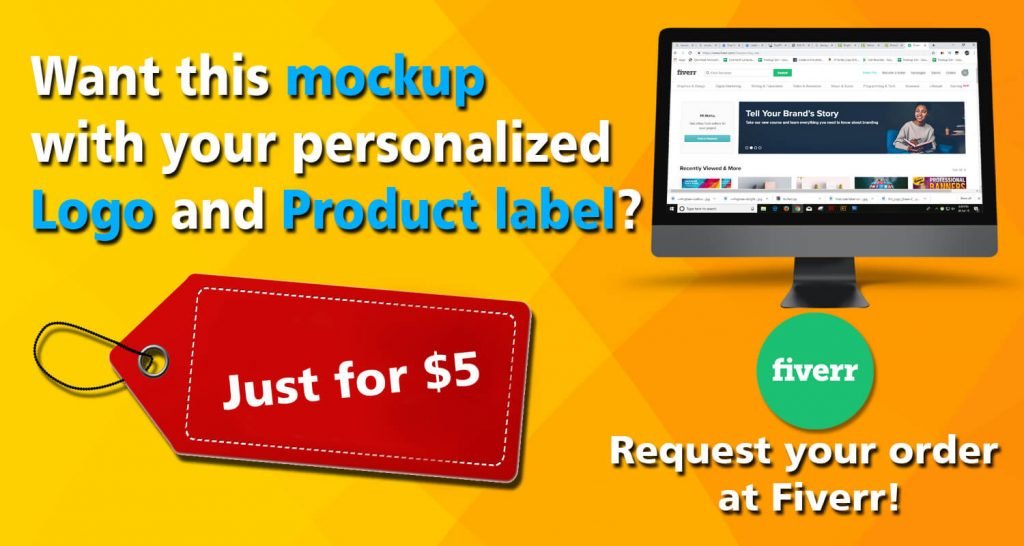 _______________________________________________________________________
Mockupden Exclusive Free NotepadMockup PSD Files for our Visitors:

Updated New Inclusion on 15/06/2021
Free Flower Decoration With Notepad Mockup PSD Template
Free Spiral Notepad Mockup PSD Template
Free Notepad Mockup On The Office Desk PSD Template
Free Landscape Notepad Mockup PSD Template
Free Top View Notepad Mockup PSD Template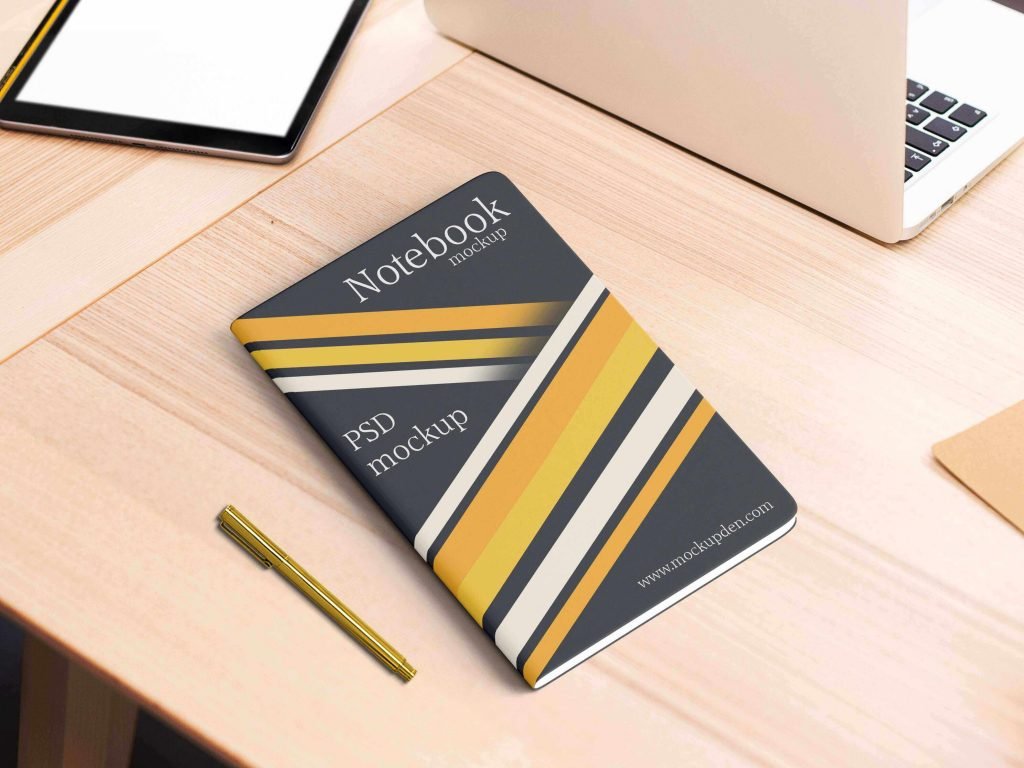 Free Notebook Stationery Mockup PSD Template
Free Rounded Corners Notepad Mockup PSD Template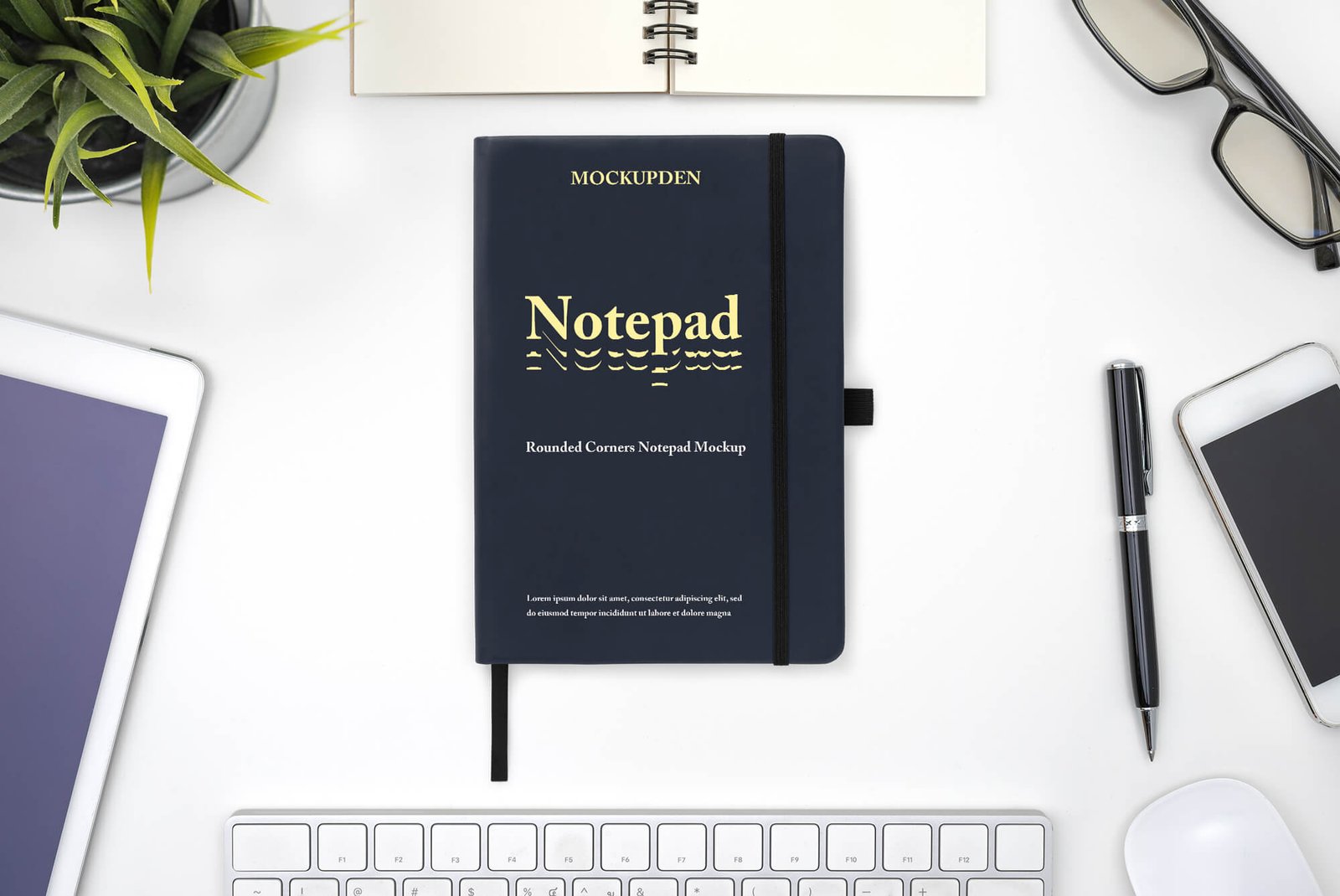 #1

Blank Notepad Mockup
There is no better way to test your design other than a blank template. Just grab and insert your design into the ready-made frame and see how they appear as the final product. It is especially crucial for a notepad as the better part of the product has to be blank where use can note down their resources or notes for future references. They are better to be simple, and one should not over complement the Notepad's central theme. This particular design template perfectly reflects the main objective of a standard notepad design. Clean, simple, and smooth design with all required features makes it a perfect choice to use in your project campaign.
Layered PSD will let you change the background color, text to the company name, the font could be used any other than the default. You can also add related items like a pencil, pen, or other stationery items for satisfying decoration. Three different presentations represent this mockup pack featuring three psd files:1 closed / 2 opened rendered in High-quality. Update your company brand easily with the smart layers.
#2

Editable Notepad Mockup PSD Design Template
Next, the list features a high quality rendered mockup file with massive pixels Size 6000×4800PX. This creative artwork will let you present your design work in a pleasant realistic way. You can include any other decoration scene, like including a person or place a pencil on the notepad for a beautiful presentation to impress your client. The added benefit this file offers is it could be customized using any Photoshop CS version. Features you can expect are:
Created in 300 DPI
CYMK color mode
100% PSD file with named layers
Folder paper or cover color could be changed to any other to complement the presentation background if utilized any.
It also features smart Photorealistic effect
3#

Notepad Mockup Pack in PSD
This is by far one of my favorites notepad mockup template set featuring seven photorealistic presentations. This clean, smooth, attractive, comfortable, and photorealistic presentation will bring the desired smile on your customer's face at the time of presentation. Images are made in a whopping 4500×3375 pixel resolution that you can even crop them to fit with the project dimension without being worried about the loss of picture quality. Add blur effect with two variant modifications by selecting the desired layer, which is organized.
#4

Standing Notepad Mockup PSD Design
Presentation is the key factor which every designer should keep in mind. Even a simple design theme can stand out if presented right. This mockup design rightly proves that. A simple notepad design is presented here with side faced stand-up view with a 3D appearance that viewers can have a great understanding of the product. A renowned author creates this freebie from PSDcover for personal use.
#5

6 PSD Notepad Mockup Template Design Pack
If you have already created artwork of notebook design and would like to have some presentation template for inspiration, consider this notepad mockup pack created by talented designer bulbfish. This notepad presentation pack offers six photorealistic PSD design templates, giving you enough variation and realistic presentation ideas. use the customizable background to insert any picture which you think will perfectly match with your created design. By default, all the mockups of this pack have yellow color; if you think that would not fit with your design theme, change the color combination using the smart layer. Design templates are placed differently, and using these templates; you can present your artwork in front faced view, top view, side view, and even open notepad view. Another fantastic benefit this PSD template offers is that you can crop the extra portion after inserting your design in this template.
#6

Free Editable Notepad Mockup PSD Design
In an editable spiral notepad design template, you can insert any design you want through smart objects created with smart layers in Photoshop PSD. Our next inclusion in this list is featuring precisely the same. This easy-to-use design template is simple, and without making it much complicated, you can add a motivation quote/ fact or stat about education or the world and yet make it a stunning design. PSD smart layers will help you instantly check the modified design outlook, and you can see how the final design looks. Make the fine-tuning, if required, to produce your masterpiece. A fully editable simple one-color background, a spiral notebook, and a pencil are the minimal design template objects. Feel free to add it in any background for creating your own according to your client's preference.
#7

Multi-Color Cover Notepad Mockup PSD Format
We all need backup plans. To add a little variant in this compilation, we have added a notebook mockup pack template if you need one. This realistic life-like mockup template offers three different views for realistic presentation. Showcase your fantastic creation in this ready-made template by dragging your PNG file to the main body layer. The beautiful color combination is used with the proper amount of light shade that perfectly creates a realistic atmosphere. This scene features 3 spiral notebooks; the left one is front-faced, showcasing the cover's simple minimalist design. The second one is an open spiral notebook placed under the first template. The final notebook design features the back cover of the design template; if you wish to showcase a notebook design perspective from all different angles, this freebie could be the appropriate choice.
#8

Leather Calendar Notepad PSD
A well-designed mockup is a useful tool that offers multiple functions and helps to reduce work time drastically. This Calendar Notepad Leather Case Cover Mock-up add on is a classic masterpiece with three different black templates waiting for your design idea to be inserted. Using the same ready-made template, you can make as many variants you want merely by placing your artwork into it. Pre-populated to several color variants, and you can add your own as well. White is always a useful background because it highlights the main design frame prominently, using the PSD layer to change it to any other color than the default white. If you are uncertain how to perform any changes, consult the user manual attached to this design pack. Side view, back view, front view anything can be altered through the unique technology of blending via layers and shadows.
#9

Blue and Black Color Standing Notepad & Notebook Mockup
A cute floral themed notepad mockup set is our next inclusion in this list, which of course, comes in an editable format that allows simple drag and drops features. The theme is white, but you are free to play with different color combinations and other design aspects. The design theme is populated with several add ons. A Pencil, a clip, a binding thread, a small scissor, and a flower bouquet are placed beside the main spiral notepad mockup for the presentation's beautification. To get the final product, all you need to do is drag your artwork on the spiral notepad's front cover. Artwork could be anything like a simple quote, a classic picture along with the product name, company branding can also be used. Another alternative idea could populate the front cover with the product name along with the features.
This simple design template is fully layered with organized chronological order that anyone can effortlessly use it. All other elements which are used for beautification can be easily removed because they are all kept in a separate layer. Just turn off the layer or delete it to get rid of any add-on.
#10

Blank and Red Color Creative Notepad Design
#11

Pen and Notepad PSD Design
#12

Corporate Identity Notepad Design PSD
#13

Floral Presentation Notepad PSD Template
Every different occasion calls for different creative needs. Anyone who would like to have some real notepad design inspiration can consider this listing. This special design template is something worth considering to use in the demonstration. It can also be a very useful medium showcasing your design work on the website, design portfolio. Black front cover can be used to inserting design and make this project-wise customization.
As an example, a heart shape or a beautiful couple picture with a meaningful message can make this simple template a worthy Valentine custom-made gift for your loved ones. Use any other creativity to live up to the occasion with this beautiful editable template. Tiny scissors, a couple of flowers, a pencil, and some other beautification items are in the template for presentation purposes. Include or exclude anything according to the theme, and you are good to use this ready-made template.
#14

Artwork Notepad PSD Design
#15

Clean Notepad Mockup PSD Design Illustration
#16

Photo Realistic Notepad Mockup PSD
Having a multi-purpose template is a huge benefit because regardless of its purpose, you can always come up with a suitable design presentation. This classic mockup template pack is one such multi-purpose creative work by Wpway (one of the renowned designers in office and stationery branding). Append your details with your creative work, and inserting them into the right place is all you have to perform to get the desired output. After finishing the editing part, have a clear understanding of how your finalize work looks and, if satisfied, get the print out ready for distribution.
This premium package comes with seven photorealistic presentations, all CS3 compatible. There are even some example designs from which you can get the initial idea about how the design and color combination works. Use the smart layers to have an automatic background perspective. These Designs have massive 4500+px dimensions, so do not forget to Crop the images to create emphasis on your design and make them look more realistic.
#17

Free Notepad Mockup PSD Mockup
#18

Ultra Realistic Notepad Template
#19

Notepad-mockup Premium Psd
#20

White open Notepad Mockupand red pen Premium Psd
#21

Two notepad mockup Premium Psd