Coaster Mockup | 40+Free & Premium Coaster PSD Templates 2019 Updated Collection: If you are looking for some innovative collection to showcase your Coaster design idea to your client, we can assure you would not require to look any further than this amazing and diversified list we have rounded up here. After doing thorough research we have collected 40+ Free & Premium Coaster PSD Mockup templates from the web which you can surely utilize in your next project to impress your clients.
These listed coaster mockups have different styles starting from Square, round to side view closeup for different design requirement purpose and presentation. We would like to advise our readers to go through the entire list before they decide their final design work. Please be aware these high-resolution Coaster design mockups are totally customizable as all the elements of the design are well segmented in smart layers. These mockups are great to use in any food-related design, restaurant, bar or Coffee shop theme project.
In order to use any of these PSD Mockups, you need Adobe Photoshop 
UNLIMITED DOWNLOADS: 500,000+ Product Mockups & Design Assets
Get your product customized by us at Fiverr.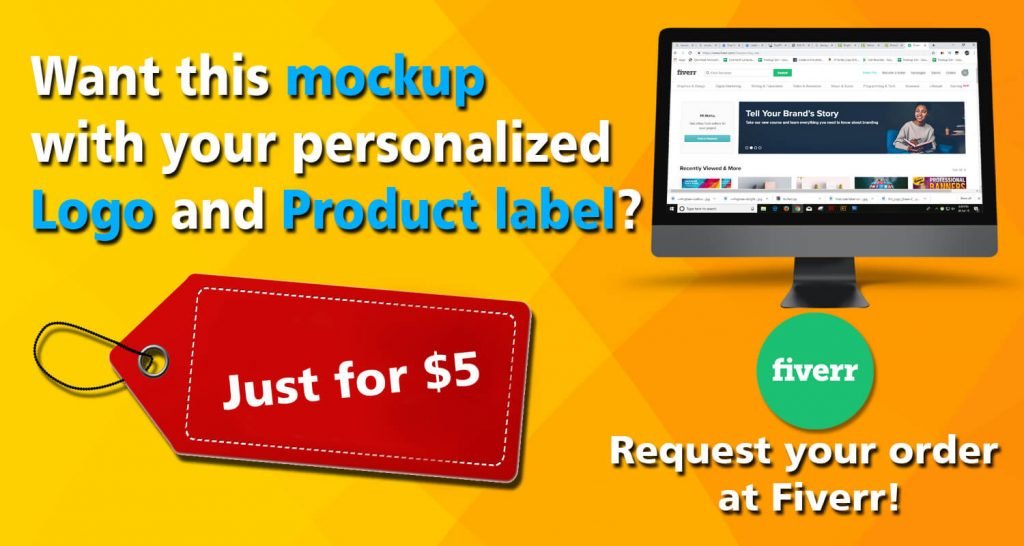 _______________________________________________________________________
Latest Design Inclusion

October 07, 2020

:
Free Beer Coaster Mockup PSD Template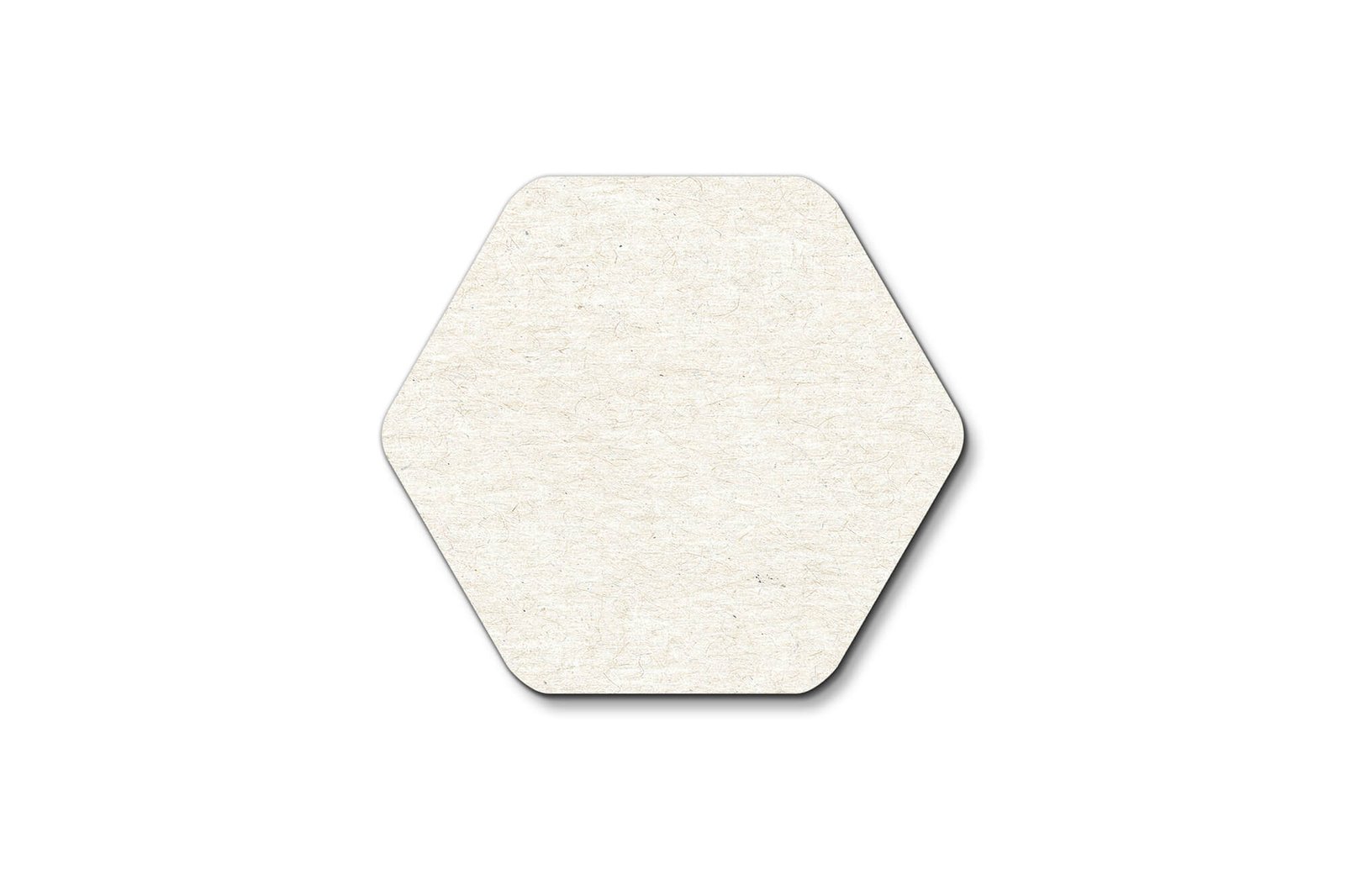 Free Coffee Coaster Mockup PSD Template
Free Round Coaster Mockup PSD Template
Free Square Coaster Mockup | PSD Template Design
#1. Free PSD Coaster Mockup.
This coaster mockup can be used to showcase your design by adding your logo and stickers as this PSD file has smart object layers it will be easy to add your design easily.
#2. 2 PSD Coaster Mockup.
In the file there are 8 different views of coaster design are included. It will be easy to place your design through smart objects. Some other features are given below:-
Changeable background.
Control upon lights and shadows.
There are 8 bits of color mode.
Has got a dimension of 3000*2000 px with 72ppi.
Add your own text.

#3. Circle 5 PSD Coaster Template.
This PSD file contains 5 high quality mockups that are shown in the preview option. A round thick yellow colored coaster of 300gms in given in this mockup. As the layers of this mockup are well organised you can paste your design by using smart objects.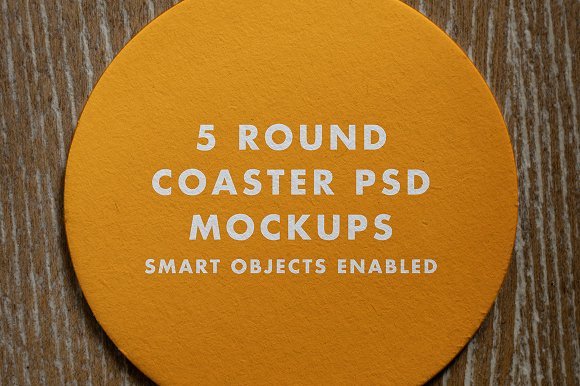 #4. Realistic Coaster Template.
This bear design coaster has got a bear theme with different styles. In this EPS file the elements are 100% separated and editable. The preview size of this mockup is 5000*5000 px and it is ready to take your design and color through different smart objects. 
#5. Square Coaster Mockup PSD.
This high-quality and realistic mockup works only with Photoshop. This file is included with a user guide to create a customized product with traditional design. There are 7 different placement of coasters given in the preview option. As this mockup is editable it is possible to add glasses in this picture and 4 background colors will be available. The size of this file is 2300*1500 px with 72 dpi. 
#6. Photorealistic Coaster Design PSD.
This file has a set of realistic coaster with their own smart objects. Create your own design by inserting images to the mockup by simply double-click as the layer are marked in red.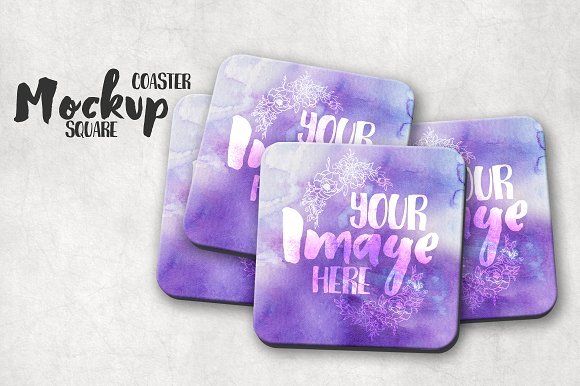 #7. Sublimation Coaster PSD.
#8. Mermaid Coaster PSD Template.




#9. Beautiful Design Coaster PSD Mockup.




#10. Amazing Border Design Coaster Template.
This coaster mockup comes with stylish fonts and patterns. The coasters are round and white in color are placed on a white wooden table. There are 11 PSD files in full version which cannot be ignored by your customers. Some other features of this mockup are:-
High resolution of 3000*2000 px.
Layers and folders are organized.
Fully editable designs.
Adjustable lights and shadows.
Easy to paste your design via Smart objects.

#11. Hexagon Shape Coaster Design Template Mockup.
In this coaster mockup, there are 7 different pre-made scene to choose your recommended design from. There are two realistic designs of the coaster are placed in a marble texture background. As the layers and groups are professionally designed it will help you move objects given in this mockup and also background color and texture are changeable. The file has got the size of 3500*2500 px with RGB color of 300 dpi. 
#12. Premium Drink Coaster Template Mockup PSD.
Show-off your design with these amazing coaster. There are five coaster placed on a wooden table. The coasters are in duo color with a logo and a premium tag. Place your own logo and design to these coasters by smart objects to this high-resolution of 3500*2500 px mockup. The background is replaceable with other design and adjust the shadows by using the Photoshop app.
#13. Square Shape Realistic Coaster Template Mockup.
#14. Drink Donuts Coaster Mockup PSD.
There are two round shaped coasters are placed in this mockup. One has a donuts sticker printed and the other has a hamburger are placed in the blurry background. There are 6 different views adobe CS4 or higher. The designs of the coasters are editable with smart objects and also has the ability to change colors to the side coasters. 
#15. Ceramic Coaster Design Mockup PSD.
The complete picture of using coasters are given in high quality with 8 PSD file. There are 4 square-shaped coasters with different texture printed is placed in light blue colored background. A cup of tea is placed on one of the coaster to provide an example of how these coaster can be used. Some other features of this mockup are :-
Well organized layers.
Three different colors to add-on the background.
Color depth has 300 dpi.
The size of the ceramic coaster is 9 cm(w), 9 cm(b) and the thickness of 0.6 cm.
All the objects contain their own layers.
Customize your design by using smart objects.
#16. Label Design Coaster Design Mockup PSD.
#17. Cressy Design Rectangular Coaster Template.
The combination of black and white coasters in a rectangular shape is the best design you will find in the market now a days. With a cup of tea and a spoon is placed a beautiful breathtaking background. As the layers are well organised, you can replace the things given in this mockup. With 4 different views, the dimension on this mockup is 3000*3000 px
#18. Dinnerware Coaster PSD.
#19. Elegant Design Coaster PSD Template.




#20. Paper Coaster Mockup PSD.
#21. Circular Coaster Mockup.
#22. Different Designed Coaster PSD.
#23. Square Shaped With Round Corner Coaster Mockup.
#24. Blank Coaster Surrounded With Leaves Template design.
#25. Dinner Coaster PSD File.
#26. White Coaster Mockup.
#27. Photorealistic Coaster Mockup.
#28. Overhead View Of A Coaster Mockup.
#29. Coaster On A Wooden Table Design.
#30. Round Shaped Coaster Mockup.
#31. White And Round Coaster Mockup.
#32. Coaster Placed In A Paper Box PSD.
#33. Coaster For Restaurant Template Design.
#34. Bar Coaster Mockup.
#35. Drink Coaster PSD.
#36. Honey Bottle On A Coaster Template PSD.
#37. Coaster Template PSD.