Corporate Identity Mockup | 32+ Stunning Design Templates for Branding – Communication is the most important part of any business to get success and achieving this target. A corporate identity is an awesome tool for professionalism in that field. Corporate identity is mainly used as a trademark for corporations, business enterprises, firms, etc. The identity has mainly contained the name and brand logo along with the product, services, customer relations, and slogans in the visual appearance of a particular company. The principle work of corporate identity was to maintain the relationship between owners and customers. 
We have selected the best 32+ corporate identity mockup templates for you to showcase your presentation in a realistic way. The files are basically in PSD format, so you can easily modify your selected mockup design using Adobe Photoshop. You can change the colour, name, design, logo, texture, etc. according to your need or we are also providing the service of modification of any mockup at Fiverr. So if you need any help, feel free to contact us at Fiverr.
Also, Check – 
UNLIMITED DOWNLOADS: 500,000+ Product Mockups & Design Assets
We also customize various mockups at Fiverr. If you want to get any of your designs to personalize as per your wish, then you can freely text.
______________________________________________________________________
Mockupden Exclusive Free Corporate Identity Mockup PSD Files for our Visitors:

Updated New Inclusion on 31/08/2020
_______________________________________________________________________
Free Branding Identity Mockup PSD Template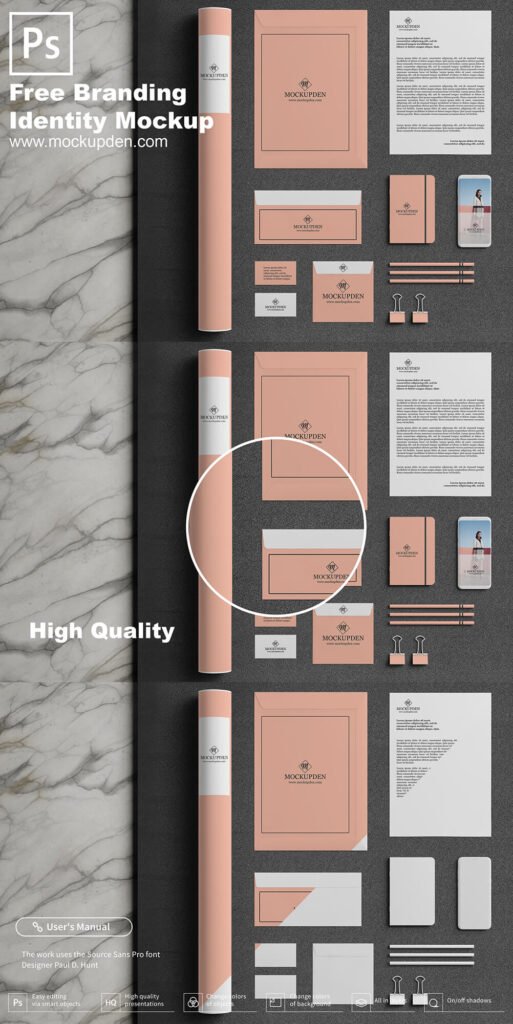 #1 Blue Corporate Identity Mockup PSD

This is a fun way of displaying a blue corporate identity mockup to show your design. An A4 sheet, A4 folder, envelope, business card, CD cover, clip, pencil, rubber and more are placed on the blue background for an amazing look with all the essential stationery elements. It is a photo-realistic mockup with the interchangeable items showing on the screen. You can alter the colour, logo, design, position of the object, etc. using smart objects. The file is available in the PSD format made with a dimension of 5670×3840 pixels. You can download this mockup in 80.3 MB size.
#2 Identity and Branding Mockup PSD

For the stunning presentation of your branding mockup, use this mockup made with a complete package of corporate identity elements. An A4 size paper sheet clipped with two paper clips is placed on the centre of all other items to maintain the focus on the main items. A brown paper bag, bag scale rubber are placed on the right side of the paper, and a ribbon, two pencils, visiting card, brand tag are placed on the left side.
Insert your company name, logo, design on the brown and black paper bag, visiting card, for promotion. The high-resolution PSD file allows you to easily create beautiful close-ups and previews of your design with the assistance of the minimum version of CS4 Adobe Photoshop. The dimension of this mockup is 3500×2700 px, and the file size is 31 Mb.
#3 Free Brand Identity Mockup PSD

Next addition in the list features a creative artwork which is perfect for corporate design presentations. Here the design template is displaying a letter in A4 size with a blue envelope in order to keep the connection between the potentials clients and the business owners. Three business card and a paper clip is placed on the top of the paper, and two pens are placed in the below portion of the mockup. You can place your brand name, logo, design, contact information the business card and envelope to give your clients a real impact on the business. Display your logo design on the pen for branding.
This mockup will give you the freedom to get full control over each and every element, i.e. you can replace any items from the mockup and place your own items for the presentation of your project. The resolution is 2900×2200 pixels at the optimization of 300 dpi in the 5.9 MB size.
#4 Realistic Corporate Identity Mockup PSD

#5 Identity Mockup Free PSD

#6 Corporate Identity / Branding Mockups

#7 Free Stationery and Identity Mockup PSD

#8 CD Cover and Identity Mockup PSD

#9 Logo and Corporate Identity Mockup PSD

#10 Flat Stationery and Identity Mockup

#11 Ultra Realistic Branding and Identity Mockup PSD

#12 Notebook and Identity Mockup Free PSD

#13 Isometric Design Identity Mockup

#14 6 Object Stationery and Identity Mockup

#15 Packaging and Identity Mockup

#16 Corporate Identity Mockup

#17 Corporate Identity Mockup

#18 Yellow Color Set Stationery and Indentity Mockup PSD

#19 Device Identity Mockup PSD

#20 SE Corporate Identity

#21 Web Design Proposal

#22 Purple Color Shaded Identity Mockup

For making a strong link between the business and the clients, use this new branding, stationery design made in the modern, professional, minimalist style. Showing a laptop, dairy, notebook, two business card, and a cup of tea. All these items are placed on the multicolored background to enhance your presentation in front of the clients. Place your brand name and design on any item except the cup for visual appearance of the brand. Just use smart object for selecting the color, design for your presentation. Obtain this file in the PSD format in the 26.4 MB file size.
#23 Bi Color Background Identity Mockup

#24 Black and White Attractive Color Brandig Mockup

#25 Stationery Corporate Identity 005

#26 Corporate Identity Mockup V2
#27 Eye Catching Branding Mockup PSD
The mockup contains a paper board with A4 paper clipped on it, a dairy and a pencil stand with some pencils in it. Place your brand name, logo, designs and other details about your company on the items present in the mockup. All the items are leaned againts the pink wall and placed on the blue ground. If you like this file and to use it for your branding, download in the link below.
#28 Full Corporate Identity Mockup Package
#29 Dolo Corporate Identity Template

#30 Garelobet – Law Firm Corporate Identity

#31 Corporate Identity Mockup PSD / AI
#32 Blue Corporate Identity Mockup PSD

If you own a business of food company, use this corporate identity for your restaurants, shops, bars, bakery, etc. Here the design is Showing food-related elements like meat, tomatoes. eggs, tea along with the A4 size paper for description of food items, small paper for menu and business card for branding. All these items are placed on a gray wooden table for the better visual appearance. All the elements are fully in the split form so you can easily change shadow angle and background colour. Move the elements from one place to another using a smart object. The file is present in the PSD format with a dimension of 4200×3500 pixels.