36+ Best Free Daily & Event Ticket Mockup Templates in PSD, AI & Vector Format: Regardless of the event size/nature or mode of transportation, a ticket is a vital medium to cross verify the registered users. A ticket is used in so many different places and scenarios in our daily life. If you want to use any transportation like Airplane, bus, or train, you need to buy a ticket. Visiting a museum or any other historical place with family, you need a ticket at the entrance gate. Attending a festival fair or in any event, you need an access ticket.
Well, depending on the event type, ticket design and details vary quite a lot. If you are an organizer and plan to organize an event, you may be confused about the ideal event ticket design template and the details you should include in that ticket. It could be overwhelming for you because there are hundreds of free ticket design templates out there on the web, and you have no idea how to pick them or customize according to the event time you are going to organize. This post could be a helping hand choosing the best possible ticket design template
Also, Check
UNLIMITED DOWNLOADS: 500,000+ Product Mockups & Design Assets
_______________________________________________________________________
Mockupden Exclusive Free Daily & Event Ticket Mockup PSD Files for our Visitors:

Updated New Inclusion on 10/27/2021
Free Movie Ticket Mockup PSD Template:
Free Plane Ticket Mockup PSD Template:
Free Concert Ticket Mockup PSD Template:
Free Theatre Ticket Mockup PSD Template:
Free Concert Ticket Mockup PSD Template:
Free Season Ticket Mockup PSD Template:
Free Event Tickets Mockup PSD Template: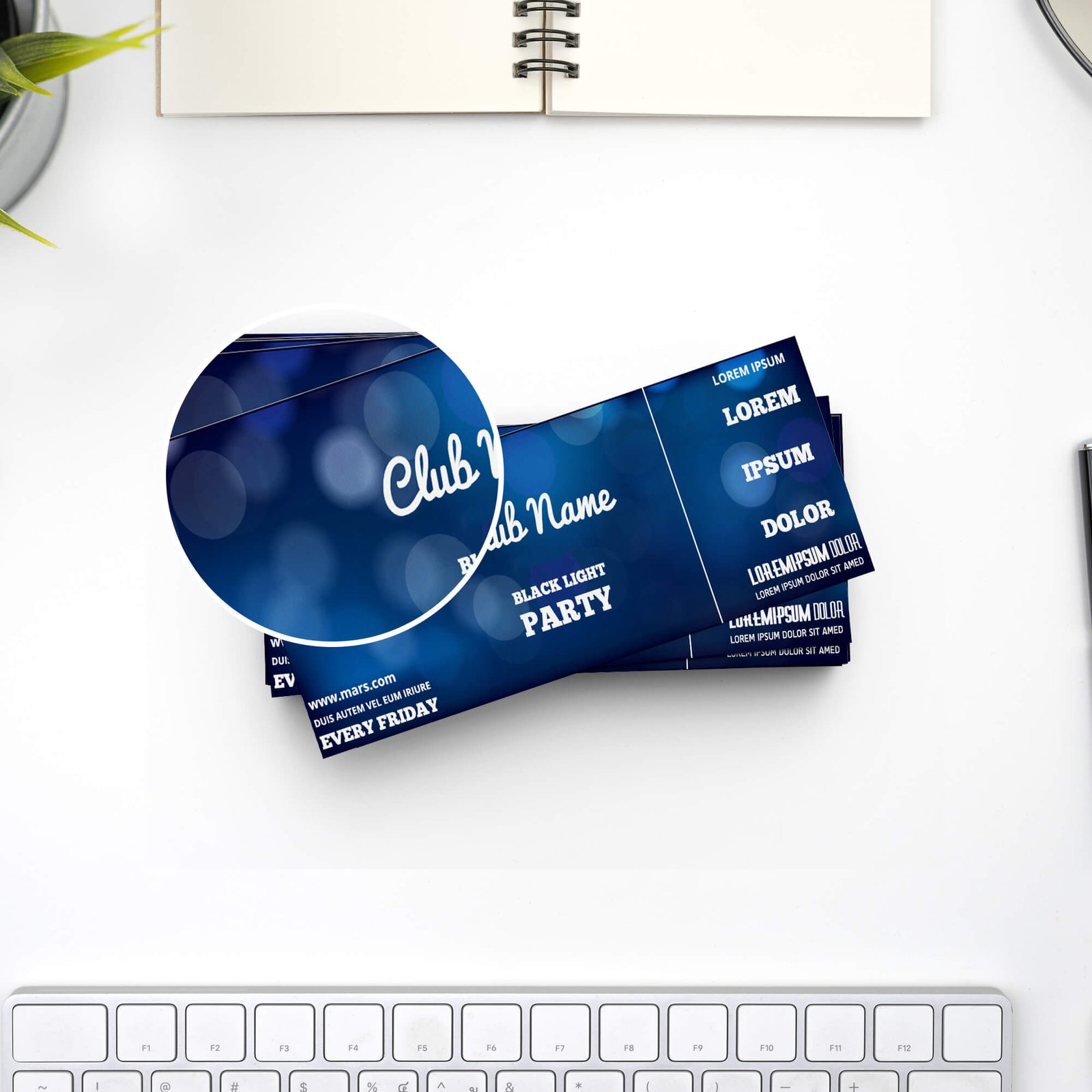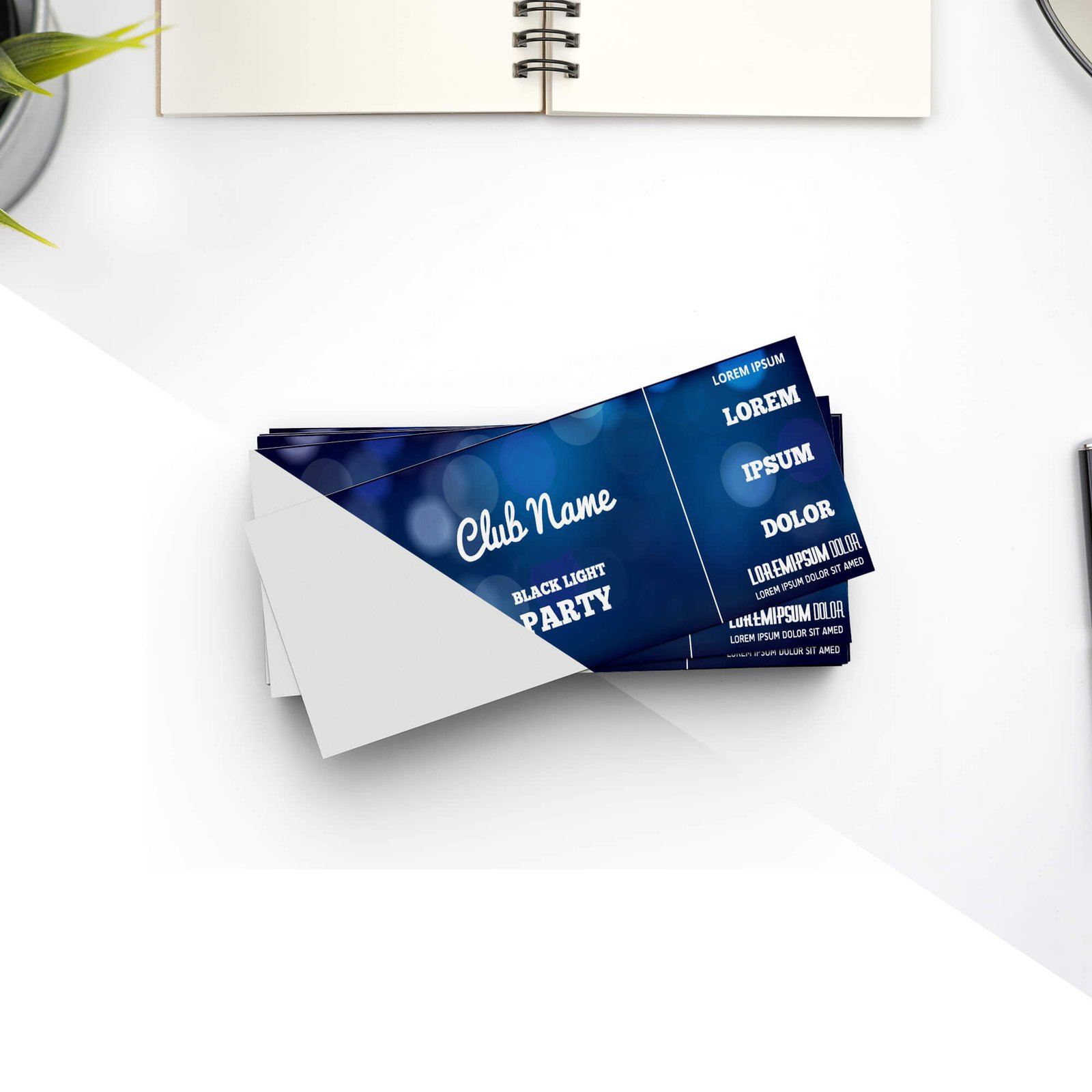 Free Top View Ticket Mockups PSD Template
Free Music Event Tickets Mockups | PSD Template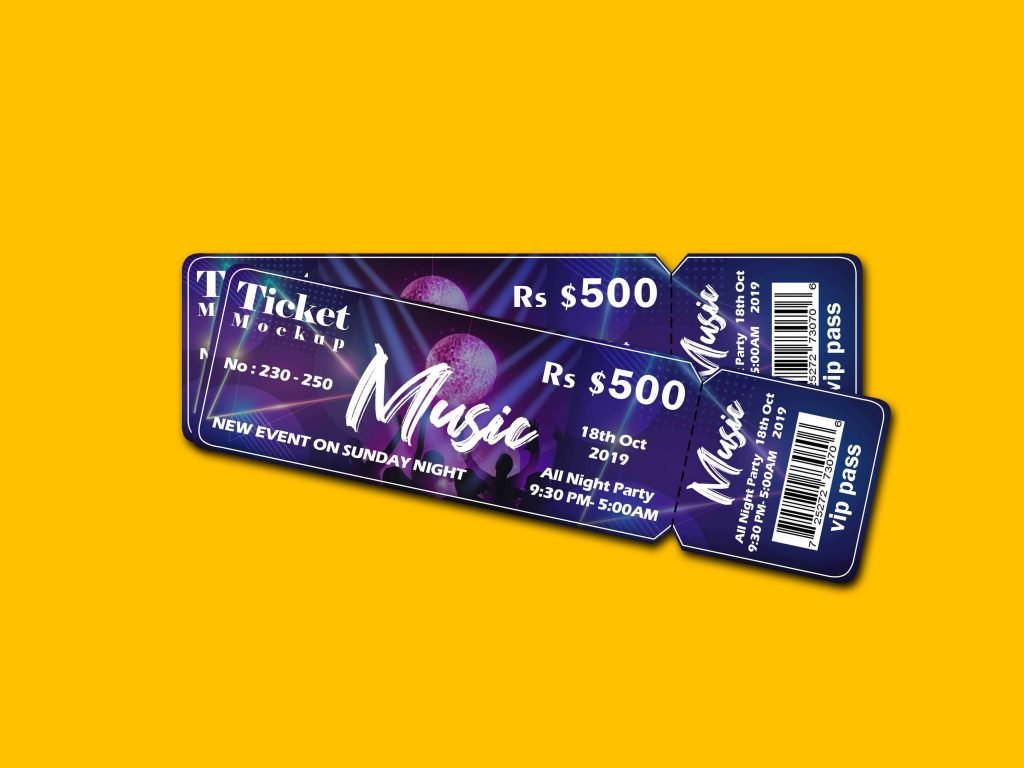 We will kickstart this list with our free music event ticket design template. We have tried to make this design template as simple as possible with bare minimum design elements and details. You can find two blue event tickets on a clean one-color background that main focus remains on the main design. Details like event name, venue, or place where the event is going to occur, the price for each ticket, date, and timing of the event are printed on the event ticket in a separate layer. Use smart objects via Photoshop CS3 or higher version to edit those details and populated according to their event information.
A bar code place is also created on the button of the ticket for electronic verification if there is a high-class security measure. The counterpart is also there with a perforated easy separable option.
#1.

Yellow Color Free Ticket mockup
If you are an event organizer and there is an entry fee for the user, then a ticket is necessary. This template could easily be a preferred choice.
#2.

Water Color Print Ticket Mockup
A music festival is one of the everyday events around the world. It brings good positive vibes among the music lovers to enjoy an excellent different quality music genre with friends and family. The music festival arranges various music style performances, so the music event ticket should not specify any particular music type and carry an overall music vibe.
We have added a classic design template that is sophisticated and perfectly represents the main music event theme. This ticket can be used as a single entry or as a season ticket as there is a date range portion added on the bottom left of the design template. In that section, you can add your event date and duration. The price of the entry fee, venue location, and timing details are printed. There is a special discount part section, and you can use that if you are offering any discount for online booking. Ignore or get rid of the discount section by deleting the layer in the PSD file. If you would like to replace that section with anything else, create a separate layer and drag and drop into that area.
#3.

Rounded Corner ticket mockup PSD Template Design
#4.

Dj Party/Event Ticket Mockup
Are you planning to organize a party in town in this festive season? Use this glorious creative piece by renowned designer "RD.designstudio." This PSD file pack offers five different design templates rendered separately. It also has the standard Optimized 5×2 inches print size for all 5 PSD files that just by changing the required details, you can take the print out and distribute.
There are a couple of alternative perspectives that you can use to view the changed effect. Background texture, fonts, service, artist, or product image can be replaced through smart objects.
#5.

Bar code Print ticket mockup Design
#6.

Light Blue ticket mockupTemplate
#7.

Abstract Print Ticket Vector Design
Promotion is essential, and we can not deny that it also has a significant effect on making any event successful. Unless we promote, we will not be able to spread the news that there would be an upcoming event, and it will go completely unnoticed. Earlier, we relied on only conventional promotion types like hoarding or banner display, on radio or TV to promote and upcoming events. But nowadays, it is no more limited to those options. Social networking site advertisement is more preferred when it comes to reaching out to people. Use this template for advertising your event and letting user book tickets directly.
#8.

Two Simple ticket PSD mockups Design
#9.

Music Party ticket mockup Design
#10.

Two Flight Ticket Mockup
#11.

Customizable green color ticket mockup illustration
#12.

Slim ticket mockup template design
#13.

Summer event party ticket
#14.

Black and white ticket psd design
#15.

Passport Booklet and ticket template
#16.

Full Matt Black ticket design
#17.

Bi-color Ticket with bar code on it template
#18.

Smart deign single ticket illustration
#19.

20×6.5 Ticket template design
#20.

Club Party Ticket
#21.

Customizable Ticket Template Design
#22.

Smart Print ticket mockup
#23.

2 PSD Design Ticket
#24.

2 Carnival Party Entry ticket Illustration
#25.

Photorealistic Event Ticket Vector Design
#26.

Model Photo Print Event Ticket
#27.

Photo Festival Ticket Design
#28.

Ticket PSD Free Mockup
#29.

Mountain Music Festival Ticket Illustration
#30.

 Event Ticket Mockup
#31.

Small Event Ticket Mockup
#32.

Summer event flyer and tickets on sand Free Psd
#33.

Retro & Vintage Style Print Ticket
There are some specific event which displays the theme of retro and vintage to bring back the nostalgia. Old classic music, games we used to play in childhood, 70's/80's artwork, and old book reading are performed in retro & vintage theme events. Do you think using a modern ticket design will fit with the theme event? Of course, it will not, and if you use a stylish style ticket template, that will have a negative effect.
Tickets can also be treated as a branding instrument because they have all the required quality, which could be harness to build a strong brand. In any ticket, we can insert the organizer's name and the event, so whenever anyone purchases the ticket, they know who is organizing this program. If they like the event or arrangement, they will attend other programs organized by the same organizer.
Make no mistake to use the vintage or retro based ticket template in an old classic based event type. They will add up the feeling and make the event more successful.
#34.

Music Festival Ticket Kept On Wooden Table