30 +Best Free Hang Tag Mockup Price Tag, Label Tag PSD Templates For Designers: Product hang tag/Price Tag, or Label Tag is quite important from a marketing and sales perspective. To display product specifications, there is no alternative to Label tag. It also helps convey the right product information to the customers without having any sales representative present at the spot as there are a vast array of different product categories. The design of the Hang Tag should be different and match with the product type. We have collected an awesome list of 30+ Best Hang Tag Mockup /Price Tag or Label Tag Mockups PSD template, which you can use to showcase your design idea while presenting a packaging design project.
Also, Check
We have made sure to include different Hang Tag or Label tag design varieties in this list that whatever the packaging project you have got, you at least have one suitable design concept for the product. These listed Hang Tag Mockups are suitable for different packaging products starting from Jar, Beer Bottle, Cake, Soap Packaging, perfume Packaging to Snacks packaging, and even using these Label tags on all types of clothing items. This label tag represents different styles, such as classy, vintage, modern, minimalist, etc. Please be advised we have included some premium PSD templates in this list, which would require you to subscribe to Envato Marketplace or Cretivemarket to download these files in your device.
If you have selected any of these mockups for your presentation purpose and want to edit this design as per your wish, you can request us at Fiverr or tap on the banner for more details.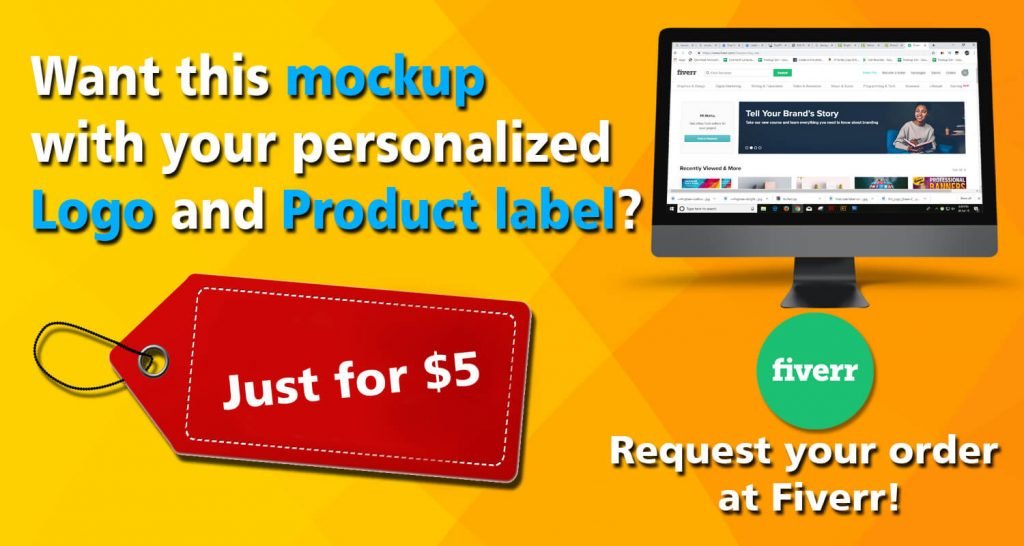 _______________________________________________________________________
Mockupden Exclusive Free Hang Tag Mockup PSD Files for our Visitors:

Updated New Inclusion on 1/04/2022
Free Jeans Label Mockup PSD Template:
Free Black Color Clothing Label Hang Tag Mockup PSD Template
Free Kraft and Paper Label Hang Tag Mockup PSD Template

Free Hang tag mockup PSD Template



#2

– Pink And Green Color Elegant Style Hang Tag Mockup Vector File
This is a realistic pink and sap green color elegant design hangs tag mockup. The image showcased in the above displays an abstract design print, and a butterfly printed hangtag photo with text written on it and kept on a wooden floor. It's a free tag mockup in a rectangle shape with a feature to change the background. Use a company or brand logo to give the desired customization effect for your client.
#3

– White Label Hang Tag Mockup PSD File
Showcased here is a white color label and tag mockup in handcrafted format. This is a perfectly designed handmade tag that you can use for branding project by adding your company name, logo, and tagline to it through the smart option feature enabled here. Moreover, a layered PSD file mockup in 5000 x 3500-pixel size supports Adobe Photoshop CS4 or higher version for customization.
#4

– Green And White Color Easter Tag Mockup
Listed here is a smartly designed sap green color printed hangtag mockup. The image displays six well-placed hang tag with rabbit and abstract print on it along with the text. This is a rectangle shape tag containing 1 EPS file with the option to change color, size with no quality loss, and the 6 PNG files in high-resolution at 300 Dpi.
#5

– Cardboard Paper Hang Tag PSD Template
This is a perfectly designed Kraft paper made hang tag mockup. There's a logo printed along with text on hang tag with hang thread fix on it that you can use to showcase your branding. This picture features changing color, add image and text to it of your own wish easily using Adobe Photoshop. Moreover, it is a 25.03 MB file that you can get from the below button.
#6

– Bi-Color Hang Tag PSD Design
It is an example of a two cloth hang tag mockup design in the different color outlet. This is a brown and cream color tag placed on a single hang thread best for cloth tag and label design. You can add the logo, text, and color of your wish without any quality loss in this tag. Download the fully HD displays, high-quality mockup in awesome PSD file format from the below button.
#7

– Floral Printed Label Tag Mockup
This is a die-cut multiple hangtag mockup designs in a 6 PSD view that supports Adobe Photoshop CS4 or higher version. Image showcases in the above display a single tag design with a floral print on it with water-color. It also features to change the rope color and tag color easily through Adobe Photoshop.
#8

– White Color Hang Tag PSD Mockup
The mockup listed in the above displays multiple colors hangs tag in a realistic format. This is a natural hangtag that features easy editing through Adobe Photoshop and a logo printed on it. You can also add here text as well as your brand logo for promotional purposes. Moreover, it's a smart layer PSD file mockup that easily changes the tag color through a double-tap on the image.
#9

– Brand Identity Design Hang Tag Template
Listed here in the above is a deep brown color cardboard paper designed hangtag mockup along with different stationery set kept beside. This is a realistic mockup design that displays a letterhead, stamp, tape, and a clip beside a hang tag with a yellow color background that is easily customizable using Adobe Photoshop. It's a layered file in 3200 x 2133 pixels with the smart option enabled.
#10

– Sap Green And Orange Color Tag Mockup
It is an example of sap green and orange color hang tag mockup design with a glass bottle, button scattered beside. This is a PSD format mockup that allows you to add a logo and text to the tag easily through the smart option in Adobe Photoshop.
#11

– Light Blue Color Tag Mockup
#12

– Wine Bottle Hang Tag
#13

– Designing Hang Tag Vector Illustration
#14

– Brown And White Color Tag Mockup
#15

– Cardboard Paper Design Hang Tag Template
#16

– Attractive Design Hang Tag Template
#17

– White Color Printed Hang Tag
#18

– Realistic Hang Tag PSD Design
#19

– 3 PSD Design Black Color Hang Tag
#20

– Tree Photo Printed Hang Tag Customizable Template
#21

– Classic Design Label And Tag Mockup
#22

– White Color Printed Tag Mockup
#23

– Grey Color Tag Mockup
#24

– Colorful Hang Tag Design Illustration
#25

– White Color Lable And Hang Tag Mockup
#26

– Classic Lable And Hang Tag Mockup Template
#27

– Colorful Hang Tag Mockup Design
#28

– Orange Color Id Card Mockup
#29

– Professional Design ID Card Mockup
#30

– Customizable Hang Tag Mockup Illustration
#31

– 13 Apparel Hang Tag And Label Mockup
#32

– Tag Hang On Jeans Mockup
#33

– Bi-Color Luggage Hang Tag Editable PSD Design